Heading off the beaten track constitutes a risky game which boatyards don't play without apprehension! With their new Open 40, Nautitech is bravely affirming their creative potential and determination to cleverly set themselves apart from their competitors. Late March we spent two days aboard, sailing in the approaches to La Rochelle, in fairly strong conditions to test in real life conditions this 40 footer with very open ambitions.
The story of the open deck
Naval architects everywhere have been competing in inventiveness in the field of cruising catamarans without a deck cabin. It's a question of whether to remain deliberately simple, and loyal to Polynesian lines (such as James Wharram), or to combine sporting performance, comfort and low price, innumerable prototypes (a handful of which were successful) have been crossing the water since the rediscovery of the idea in the 1950s. Several contemporary attempts are still going strong, but it seems that the taste for wild voyaging is less fashionable these days! Many of these multihulls (from the Corneel 26 by Joubert-Nivault to the Punch 1000 by Harlé or the lively creations of Malcolm Tennant and the 350 Stiletto sold in the USA) offered interesting dynamic characteristics, remarkable aerodynamic qualities and enviable weight savings. Alas the absence of a deck salon (whose appeal has spread) has killed off this idea for the majority of enthusiasts!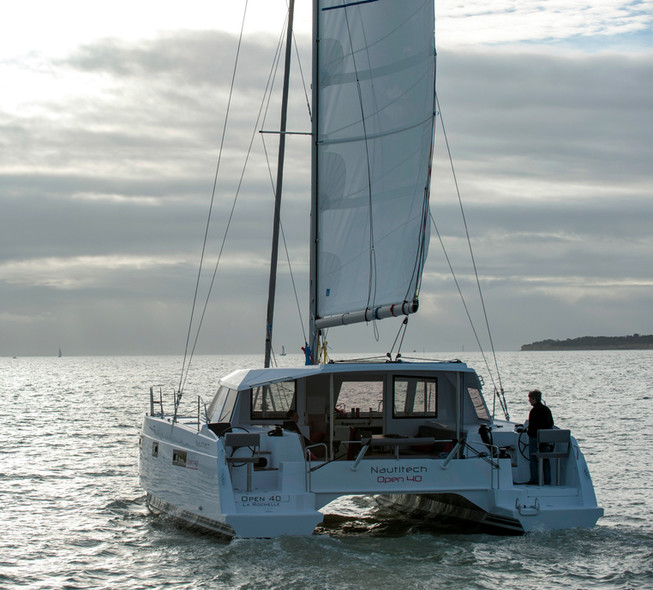 The concept of the Nautitech Open 40
Curious, then, some say, that this "open" Nautitech spor...
To read in full,
Buy the boat test
Boat Test price$5.00Inc. tax
Purchase
What readers think
Post a comment
---