By the time you're reading this, the Outremer 4.Zero and her crew will most likely be mid-Atlantic, in the wake of Magellan and his faithful second mate Elcano. Though Jimmy Cornell has presented in person, and in detail, his technical and historical challenge, we couldn't miss the opportunity to test ELCANO 500, this Outremer of the future also known as Aventura Zero. As soon as the catamaran was launched, we took advantage of a short weather window in early October to test this prototype for you. We were able to take part in one of the very first sea trials, before the boat cast off for Seville, Magellan's port of departure some 500 years ago.
Test location: La Grande Motte, France
Wind: 8 to 12 knots southeasterly
Sea state: smooth to slight
---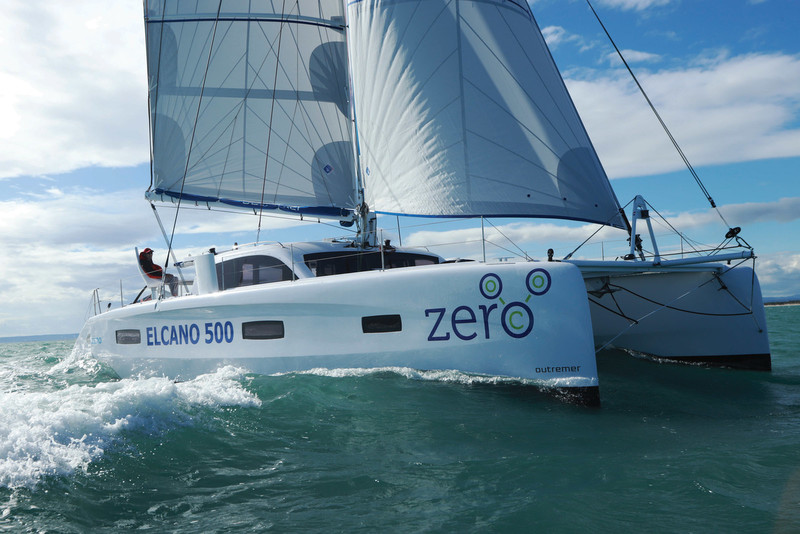 This Outremer 4X is not equipped with internal combustion engines nor a generator - everything is electric!
For any multihull and cruising enthusiast, this 100% electric 4.Zero Outremer is a double surprise. The first is to find Jimmy Cornell at the helm of a composite multihull that's fairly performance-oriented. Trailblazer of four round-theworld voyages aboard monohulls and champion of the aluminum centerboarder, Jimmy was back from the Northwest Passage on his Exploration 45 - twice as heavy as his new two-hulled vessel, yet of the same length. The promise had been made to Gwenda, his stainless-steel crew/ spouse, that this time he would retire from the sea. We imagined him pruning his roses in the beautiful house in the South of France that he uses as his base camp. Yes, but then Jimmy had a new idea. And Gwenda gave in, aware that the happiness of her sailor husband cannot be satiated without cruising plans to implement (see MW173).
Test pilot for an all-electric boat
The second surprise in all of this is to find Outremer Yachting as part of the project. Above all, the...
To read in full,
Buy the boat test
Boat Test price$5.00Inc. tax
Purchase
What readers think
Post a comment
---