Test report price$5.00
Buy now
The Sables d'Olonne-based builder continues updating its range; after the successful evolution of the 37' model into the 395, which judiciously retained the personality of the former, it is now attacking the 50' sector and has turned the 465 into the 495. We made the most of a fine, windy November day to try the restyled version of this 15-metre Privilege on the water.
GENERAL PRESENTATION
For obscure reasons and in common with many other cruising catamarans, the 465 was created in a 'truncated' form. Was this dictated by the useful area? Or was it a perverse effect of the 'official' length? Or again, in submission to rising port charges? Fortunately, Alliaura has freed itself from these constraints and is now offering the 495, which has the extra length that was lacking in the 465; bravo, three cheers! This 50-footer is classically beautiful with harmonious proportions; the short cabin roof extension shows off the hulls, the wedge shaped lines improve the aerodynamics and the silhouette and rostrum blend well into the overall lines! Apart from their practical uses, the 5 rectangular portholes in the hull contribute to the excellent aesthetics of the 495. The restyling does not stop there: the rig has been upgraded and the builder has completely rethought the arrangement of the nacelle.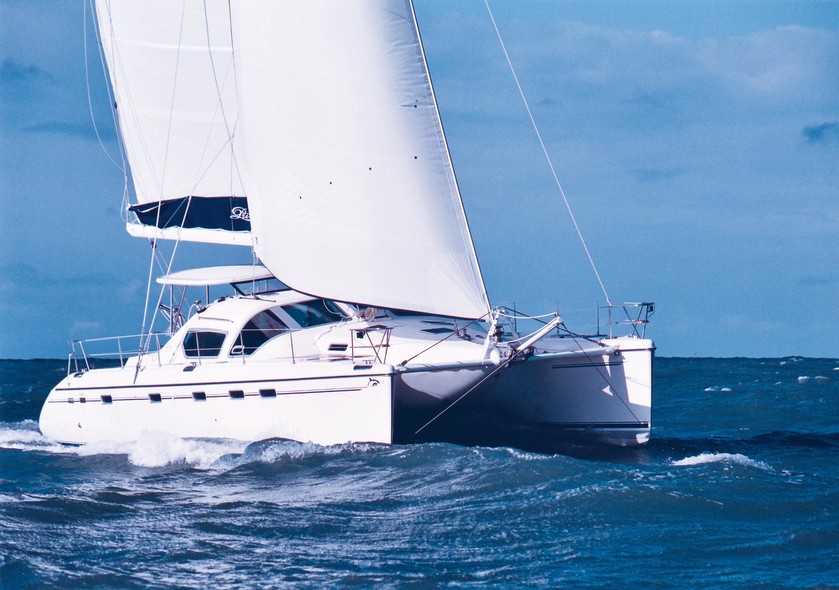 CONSTRUCTION AND ARCHITECTURE
The 495 is built in a mould by contact lamination of a PVC (80kg/m3) / glass / isophtalic polyester ...
To read in full,
buy the test report
Test report price$5.00
Buy now
What readers think
Tell us your opinion