A year after the launch of their first catamaran, the young builder Windelo, who are heavily implicated in eco-responsible construction and sailing, have launched their second model, the Windelo 54. With 4 feet (1.22 m) more hull length compared to the 50, this 54 keeps the same characteristics as her little sistership... with even more comfort and performance!
Test location: La Grande-Motte, South of France
Conditions: 5 knots of wind, calm sea
We were able to discover the Windelo 54 Yachting at this year's International Multihull Show at La Grande-Motte in the South of France back in April. In her gray livery, the catamaran looks great: she picks up on the design of the 50 with narrow but tall hulls, bows noticeably reversed and imposing nacelle windows that are all vertical. That briefly explains the outline of this design by Christophe Barreau, and then the construction is very innovative with the use of basalt fiber and PET foam (from recycled plastic bottles/PVC). The shipyard estimates their carbon impact to be reduced by 47% thanks to the use of this material, but also to internal manufacturing and local supply.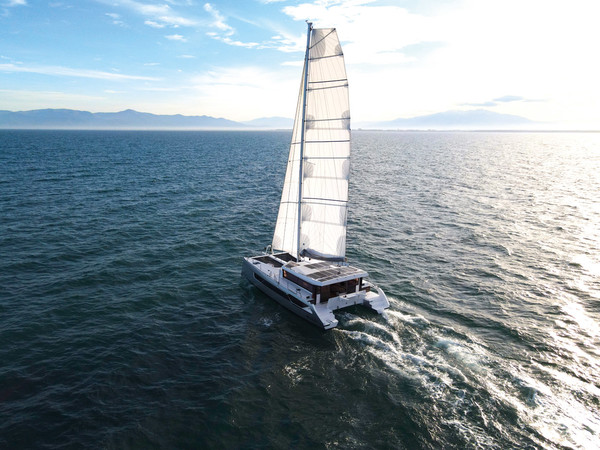 The manufacturer's promise to reach 20 knots under sail is not utopian: the day before our test, the Windelo 54 was clocked at 17.5 knots…
Hybrid electric propulsion
The builder has obviously opted for electric motors: on this example, 2 x 20 kW and various means of charging. To start with, an imposing array of solar panels totaling 4,500 Wp. The manufacturer claims a recharge of the 1,120 Ah / 48 V battery bank from 20 to 80% in 22 hours, so 1.8 days' worth. At a good speed (11 knots) under sail,...
To read in full,
Buy the boat test
Boat Test price$5.00Inc. tax
Purchase
What readers think
Post a comment
---