With 300 units built over more than 20 years, the F-31 is undoubtedly one of the most remarkable 30-foot (9 m) trimarans on the market. For a long time seen as overpriced, this foldable and transportable little rocket is now much more accessible.
This is a trimaran that hasn't aged: her design is still in tune with the times, with an elegant coachroof and fine, racy hulls. This model is an adaptation of the F-9, intended for amateur construction. "Home-building" small trimarans has always been very popular in Australia – and it still is today. Like many models that have enjoyed a long career, the F-31 is available in a variety of versions. The best known are the C for Cruising, and the R for Racing. Between the two, a difference in sail area provides extra horsepower in light airs. When Ian Farrier and Corsair went their separate ways, this model continued her career under the name of the Corsair 31. The C model became the CR and the R version adopted the name RS. A carbon rig was offered, then later there was a one-design series (1D or One Design). Corsair also developed a central cockpit with an aft cabin: the CC model.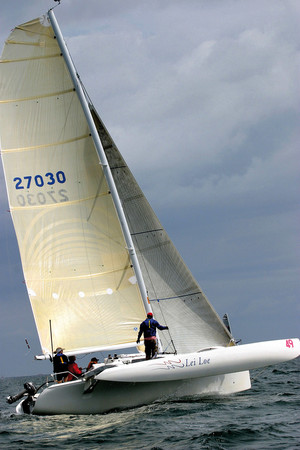 Sailed well, the F-31 will always be a formidable opponent in a race.


For speed enthusiasts
As soon as the sails are hoisted and trimmed, it'll only take you a moment to figure out the character of the F-31: this is indeed an excellent boat, above all built for performance. For the appendages, there ...
To read in full,
Buy the boat test
Boat Test price$3.00Inc. tax
Purchase
What readers think
Post a comment
---