Danish builder Quorning Boats was already producing the Dragonfly 12 M, a large confidential 40-foot model. After 16 units had been completed, production of this luxurious trimaran was interrupted for a complete redesign of the range. The DF40 is now becoming the flagship of the Skaerbek shipyard: its definition is very different to that of the 12 M, as is its ambition to sell in the same numbers (4 to 5 units per year). The silhouette and interior design are more modern, the performance has been increased and the sail handling ergonomics totally revised. We were able to try one out a few months after its only presentation so far, at the 2020 boot Düsseldorf.
Test location: Skaerbek, Denmark
Conditions: 10 to 14 knots of wind, slight sea
---
The DF40 is a very versatile trimaran: thanks to its folding arms, it can slip into a monohull dockspace, being just 13'1" (4m) in beam. For coastal cruising, it benefits from its centerboard configuration. For racing, the Ultimate version comes into its own. But despite all this, the 40 differs from the other models in the range by having a much greater focus on being a "blue water cruiser". The same goes for its almost luxurious character.
This high-performance trimaran adopts modern floats with inverted and voluminous bows. The crossbeams are well clear of the water, giving the DF40 remarkable elegance and a nimble passage through rough water. Particular attention has been paid to the styling of the coachroof and the side windows. The sleek rig -Touring or Ultimate with its additional 6'7" (2 m) mast - highlights the sporty character of this trimaran and reflects its performance ambitions.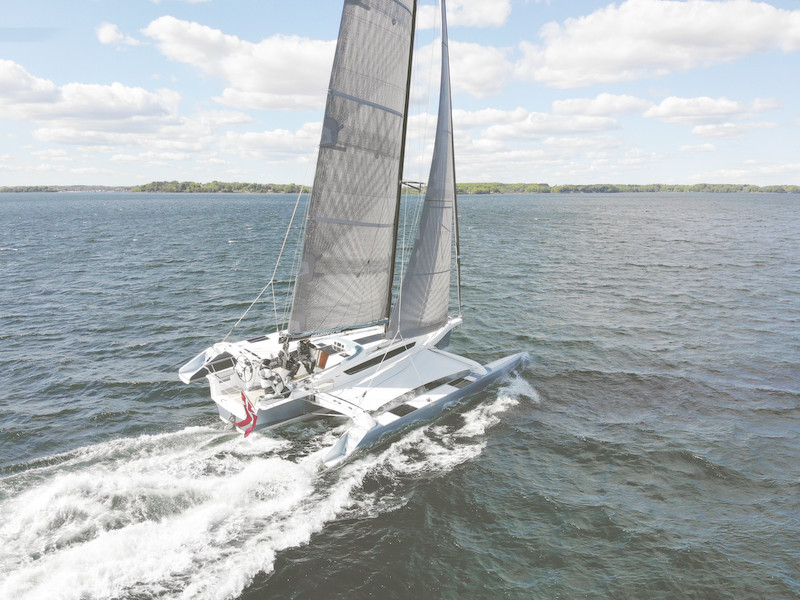 The Dragonfly 40 produces averages above 10 knots from medium airs upwards.
Architecture and construction
While testing the Ultimate prototype, we were lucky enough to discover the second example b...
To read in full,
Buy the boat test
Boat Test price$5.00Inc. tax
Purchase
What readers think
Post a comment
---