Following a career spanning two decades and with 400 units built, the Dragonfly 800 - DF800 for the connoisseurs - is certainly one of the most remarkable successes in the category of small transportable trimarans. Nearly 40 years after it was launched, this model remains a very attractive proposition!
With its coachroof that covers the full width of its central hull, the Dragonfly 800 sticks to a recipe from many famous monohulls, including the Corsair or the Catalina 22. The only difference is that while the overall living space offered corresponds to that of a monohull of 6 or 7 feet shorter, the trampolines offer much easier circulation on deck - not to mention space for lazing around! The general design of the DF800 is very eighties-style, which is to be expected, given that it was launched back in 1984. The deck is perfectly horizontal, with a colored band around the windows and the coachroof, maintaining the look of many monohulls of the period, and the transoms are inverted and rounded. Below the waterline, the hulls are narrow, and the appendages can be raised up. The Dragonfly 800 continued its long and brilliant career under various versions: the MK1 then MK2 came with fixed linking arms, though these are still removable for transport and storage. In 1989, the Danish shipyard Quorning Boats launched the Swing Wing. This latter version, built in 143 examples, adopts the famous folding arms that are so practical for limiting your beam in port.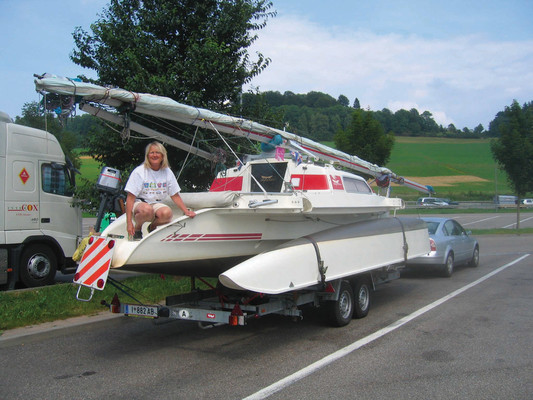 Earlier models were dis...
To read in full,
Buy the boat test
Boat Test price$3.00Inc. tax
Purchase
What readers think
Post a comment
---