It might seem that there's no longer a market for fixed-arm trimarans... but Neel has demonstrated the opposite with large cruising boats. In the 7-12m (23-40') market, the Libertist's ambition is to confirm this success. Bearing the signature of Erik Lerouge, the Polish shipyard Rega Yachts still offers this series of trimarans in a folding version. A formula that allows it to enter a small but active market, mainly occupied by Dragonfly, Corsair and Tricat. We tried the fixed-arm version of the 853, following the International Multihull Boat Show.
Big potential for performance
This muscled-up trimaran left no-one indifferent on the pontoons at La Grande Motte 2019: the Libertist is beautiful! The design of the arms is a success. Their harmonious shape, as well as the impeccable surface finish of the composite, contribute to the immediate seduction. The assembly principle is intelligent: the arms are embedded in a deck space and firmly bolted, as are their connections with the floats. The latter have a large volume associated with fine-entry bows. There are also two small fixed carbon foils. The central hull is a real exercise in style: the lines spin magnificently; the proportions are skillful and the bow (straight) doesn't give in to any passing fads. The lively, tense works reflect the potential for performance, but the ergonomics of the deck, arms and trampolines are pleasant and compatible with family cruising. The cockpit is comfortable and safe.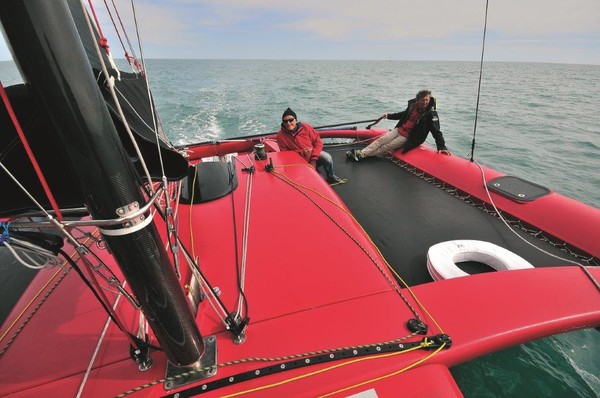 Surprising interior volume
When newcomers go aboard this 28-foot-long sports trimaran, they are amazed by her remarkable interior volume. The headroom is surprising and the two long seats facing each other are really comfortable and friendly. Daylight is diffused thro...
To read in full,
Buy the boat test
Boat Test price$5.00Inc. tax
Purchase
What readers think
Post a comment
---