It's a fact: Libertist trimarans are bright red and turn heads as they pass. The designs of brilliant naval architect Erik Lerouge associated with the iconic color of the most famous Italian car brand really hits the mark and suggests a beautiful sportiness. We got the opportunity to sail on the brand new 703, just after she was launched...
Test location: La Rochelle, France
Conditions: 4 to 5 knots of wind, flat calm sea
Following the remarkable arrival of the 853 at the International Multihull Show in La Grande Motte in 2019 (test in MW167), it was almost two and a half years before we were able to discover her little sistership, the long-awaited Libertist 703. At the La Rochelle boat show, this time it was the strong personality and the potent look of this small trimaran that caught our eye - the 703 is reminiscent of the great Ocean Fifties, all things considered. With her flush, aerodynamic deck, the central hull even looks somewhat like SVR-Lazartigue, François Gabart's new Ultim. That's all it takes for the Multihulls World editorial team to get excited: no, we really couldn't miss the opportunity to be the first to try this boat... because there are sometimes situations where enthusiasm prevails over reason, passion over patience, the determination of the players over the caution of the boat testers.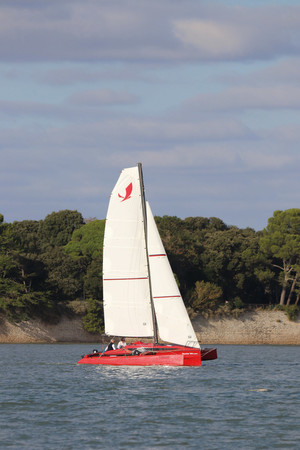 The self-tacking jib, with its two battens, offers a bit of roach.
A promising layout
Our haste has a price, however: we won't be judging the interior of the Libertist 703 in this test. The interior is as it was when the hull came out of the mold and will be returning to Rega Yacht's Po...
To read in full,
Buy the boat test
Boat Test price$5.00Inc. tax
Purchase
What readers think
Post a comment
---