Neel Trimarans is a young French company which broke new ground in 2009 with a prototype 50 footer and then managed to establish their 45 in a world where the catamaran occupies a predominant position. Now there's a new challenge. Neel have just launched a 65 foot trimaran, shown for the first time at Cannes Boat Show. We took a trip on board in early June for an amazing test sail.
Éric Bruneel and Neel Trimarans
The founder of Neel Trimarans is an experienced sailor and businessman. Having become the French sports catamaran champion in 1987, a specialist in Class C, he started at Fountaine-Pajot and launched the Corneel 26. A French development, blending the American Stiletto and the Danish Mycat, this little cat was a combining of the cruising cat and the sports cat, and an efficient and playful little machine which introduced the concept to many future multihull enthusiasts. Following this commercial success, over the next 25 years Eric reinforced the development of the yard, being in charge of exports, and then becoming Vice Director-General. He took a bit of a step back in the early 2000s to get involved with the new M50 class at the helm of his Trilogic, in which he won The Transat in 2004 and came second in the 2006 Route du Rhum, before launching himself into the adventure that is Neel Trimarans.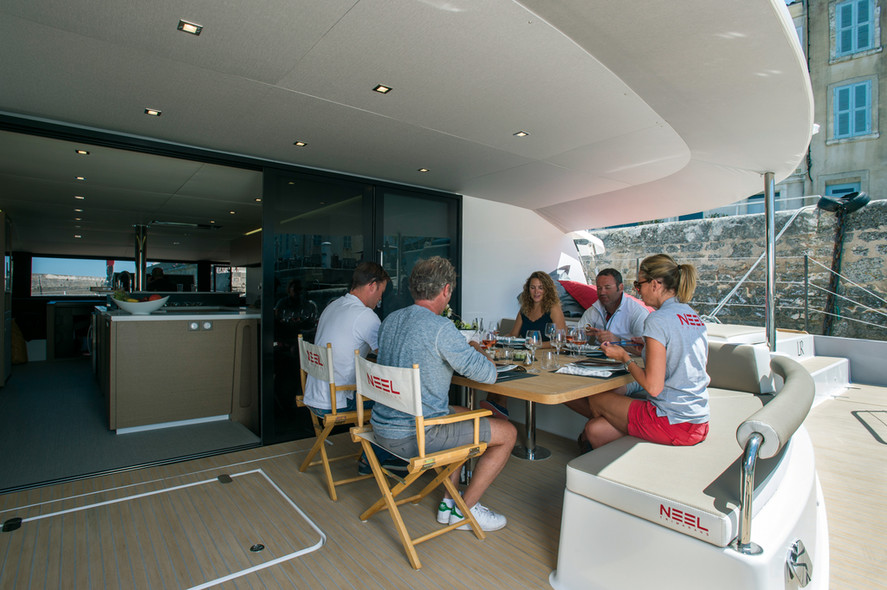 A pioneering and structural architectural concept
The production of a full set of molds confirmed the yard's determination that they hadn't designed this 19.8 meter trimaran as a prototype, but as a semi-custom production model. The vacuum...
To read in full,
Buy the boat test
Boat Test price$5.00Inc. tax
Purchase
What readers think
Post a comment
---