Cruising
Catamaran Javerne - Locked down on an Indonesian island for 5 months!
After more than two years spent in Southeast Asia, we decided to start our circumnavigation. First step: crossing the Indian Ocean. At the end of February, we had arrived in Phuket and were restocking all the supplies in anticipation of a long sail aboard our Catathai 44. We had about six months' worth of all kinds of supplies on board. At the beginning of March, we left Thailand, heading for Langkawi in Malaysia, in order to top up our supplies with products not available in Phuket, as well as drinks. On March 11th, we set sail with the catamaran fully victualed, towards Sabang, our entry point into Indonesia, to participate in some of the stages of the Sail West Sumatra Rally. This event is organized by the Indonesian Tourist Office. Our goal was to join in as far as Padang, where we planned to do all the exit formalities and then sail along the Sumatran coast as far as the island of Pulau Enggano. We then planned to head for the Cocos Keeling, the first stage of our crossing.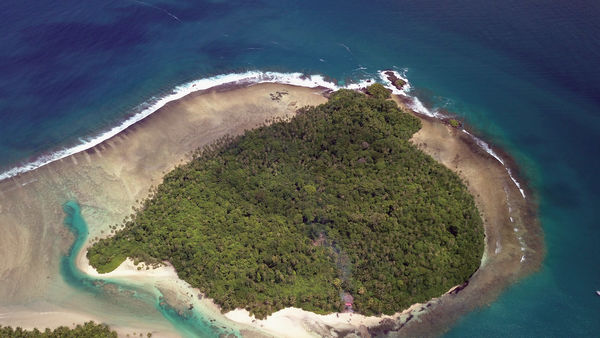 NOT WELCOME ASHORE
Our situation then became more complicated. There were about fifteen boats in our anchorage, but nobody had any idea what was going on. We had a meeting with the Rally's organizer who explained that because of the pandemic, we were not welcome on land anymore and would have to stay on our boats. On March 17th, the port authorities kindly asked us to leave the area as soon as possible. We took advantage of this short delay to do some shopping for fresh produce. Back on board, we didn't know where to go ...
We were talking among ourselves; some boats were regrouping and planning to head to another island, further south, but there's no anchoring allowed, so please continue on your way... We were luckier: Javerne spent the night in a small sheltered cove, far from any dwelling.
Our WhatsApp network kept crackling, telling us that this or that boat had been banned from this or that anchorage. The residents fear that we are sick, so we choose deserted anchorages. If we stay with two or three other boats it's a little easier. The organizer of the rally was desperately looking for a solution. In the meantime, the instruction is not to go ashore.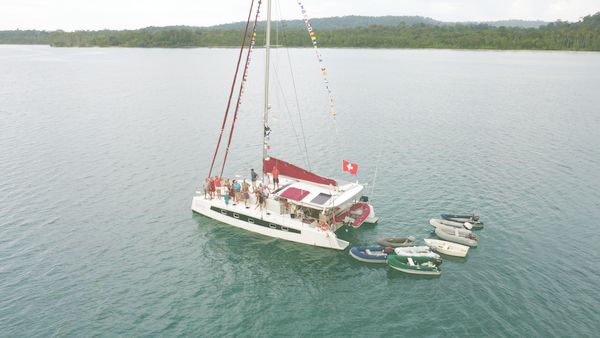 Along the way we got the news: we could anchor in Teluk Dalam, to the south of the island of Nias, in the west of Sumatra. We arrived there on April 2nd. After a brief health check with temperatures taken, we received our health certificates and were allowed to go ashore. Phew! It felt good to walk around the city. Very few people were wearing masks and all the stores and restaurants were full, as in «normal» times.
On April 5, after having stocked up again with fresh produce, we left Teluk Dalam, bound for Pulau Barogang. It was this island that was to become our «golden prison» for 5 months.
The organizer of the rally, the high officials of the Tourist Office of Malaysia and the Governor of the Province of Nias agreed to «offer» us an island during the lockdown. A weekly shuttle will bring us ...
Become a member
Become a Multihulls World Community Member for free and get exclusive benefits
Become a member
What readers think
Tell us your opinion