Multihulls Match
Designer of dreams…
We had asked for a quiet table in a popular Italian restaurant at Bayside Marina. He slips his glasses on, which he only needs for reading the menu. Despite his graying hair, he doesn't look his age. It's clear he takes care of himself, only drinking water, and not finishing the lemon chicken pasta he ordered. With much humor, Alexander sometimes raised his voice, at times even waiting for the loud waiters to finish their solos! But nothing could stop him from sharing his enormous passion for boats. If he is asked to introduce himself, Alexander Simonis gets straight to the point and says "Yacht Designer. Well, it was either that or prison!", he says as he burst out laughing. Multihulls are his life. He chose them instinctively. Simply by having been bowled over by the staggering speed and agility of a Hobie Cat. That, and at the age of eighteen, a magical meeting with Nigel Irens, whom many naval architects consider to be the pinnacle of multihull design. His studies only served to confirm this overwhelming passion. While he was still just a kid he persuaded his parents to change their boat for cruising, racing, winning. What pushed him most toward multihulls was the need for speed. His interest in monohulls was to make the go faster, installing two rudders like you would have on a catamaran! He still has fond memories of the big Folie des Grinders, designed for Pascal Herold. But it's undoubtedly Nicorette, two-times winner of the Sydney-Hobart, for which he is remembered most by racing fans. With his sense of humor, in his own way Alex explained that this project was running behind and could easily have ended in disaster!

As a citizen of the world, he splits his time between his native South Africa and the Netherlands where his buddy and associate, Maatern Voogd is based, and the United States, at the heart of the market. Not being so keen on the crowds at boat shows, he prefers being back in Cape Town. From his home office he enjoys uninterrupted views of Table Mountain. He is just as attached to his way of life as he is to his boats. He is intensively involved in every project, with the same degree of extreme excitement to find the best ingredients for the backer's plans. It's without doubt that this is what attracted the Robertson and Caine yard to him, and they have placed their faith in him since 1995. By the end, the South African yard, which has since been taken over by Moorings, was to have built more than 1,500 catamarans, borne of the collaboration between these two companions. Together they have designed 19 models, and Alex makes a point of the "together". He states that the famous forward cockpit was their idea from the outset, which he brought to life. Together: that means with Maarten Voogd. Alexander insists that he specifically mentioned. He is fascinated by the way their partnership has endured both time and distance. They are unequivocally on the same wavelength. Together at last, along with all the external contractors who regularly participate in the ten designs produced every year. He paints a picture of a united team, all going in the same direction. He conveys a sense of respect for all these individuals come together from all different backgrounds, but with a coherent professional goal. Like a symbol of the best of everything the Rainbow Nation can produce. South Africa, that's where it all began. There, where the sea is tough. A country from which you have to sail thousands of miles before reaching the gentle waters of the Caribbean. So really you need to design good strong boats. Europe is far away, and sometimes radically different options are required. Alexander believes that today's boats are closer to those of twenty years ago. That people have learnt from their mistakes, and that making boats easy to sail is the most important aspect. So what are the universal goals now? That everyone, whatever his background, his maritime experience or his interest in sailing, should feel good on board. His backers' belief that sailing should be available to everybody is demonstrated that in the last year they launched one catamaran every working day. But not necessarily sailboats. Alex is convinced that the market for power cats has a bright future. A platform which is not only built for sailing, but also for living aboard.

For his own catamaran, it would undoubtedly be around 50 feet, but would be compact and simple. All carbon, even so, because he is a purist. More an idealist, he confesses, something the world is lacking. So what it his ideal boat? The next one. One which hasn't yet been drawn, but every day he envisages in his mind. Every new project is an incredibly exciting new challenge. The word "exciting" is the one he utters most often. Finding new territories, exploring new routes, this is the sort of thing which makes this forward-thinker tick. The front windows of the coachroof are like a cinema screen on which you can watch the world go by. A real revolution which has, in just a few years, become the norm. Finding the idea which stands out, which really marks an era. With great modesty of course. Because this unrepentant creator loves nothing more than going back to his South African "home sweet home". And even though he loves the fact that he was able to turn his passion into his job, and his job into his life, he does still like to get away from boats. So he goes cycling, or diving, then comes back to sit and design, in front of his big window overlooking the bay, enriched from his diversions. Always looking for the perfect design. He revels in starting at the beginning, enthusiastically miming the cycle of the process of creation. And with pencils having given way to computers, he is able to infinitely test more possibilities.

So what does he make of the America's Cup now being on two hulls? Here we hit the nail on the head. A wave of enthusiasm sweeps over him. His pace picks up, and starts gesticulating with his hands to demonstrate the complicated balance between these hybrid vessels, half-bird, half-boat. His eyes sparkle, and he focuses on what could have happened for the Americans to so brutally overturn the course of events. His first theory remains a secret. But you get the sense that it annoys him a little. He who only believes in racing between two identical boats, where only the abilities of the skipper and the crew can make a difference. A bit of a surprise for an architect, no? So what now? Which direction to go in to continue this enthusiastic dream? China in fact. He is interested, curious. A new Eldorado? A land where everything is possible, with marinas and yacht clubs which need to be quickly filled with boats, with a willing government. Almost three hours have flown by. We haven't noticed the time disappear. There are still a thousand questions to ask, but this is what happens when you talk to real enthusiasts: they entice you into their lives and their dreams, their passions!

The following day while we heading to the famous forward cockpit of the Leopard 48 for a photo session, two visitors to the Miami Boat Show are sitting down, enjoying taking it all in. One of them stands up, but the other makes a point of telling us about the clever architecture, which allows him to enjoy this particularly well-located living area without having to go on deck, or negotiate his way round the coachroof. He obviously doesn't recognize Alexander Simonis, the designer of the boat in question. Almost embarrassed, he is happy to reply with "Yes, that's nice…" That's how Alexander is. He is chatty, creative and ingenious, but above is humble and affable, and his face permanently features a big smile. Essentially, because he would have you believe, mischievously, that in fact he isn't a naval architect at all, but a "translator of dreams"… What a great job!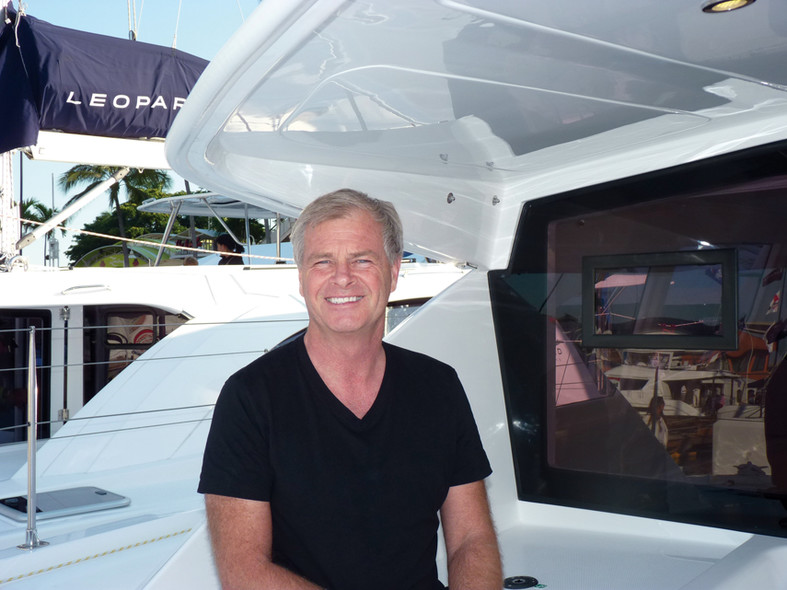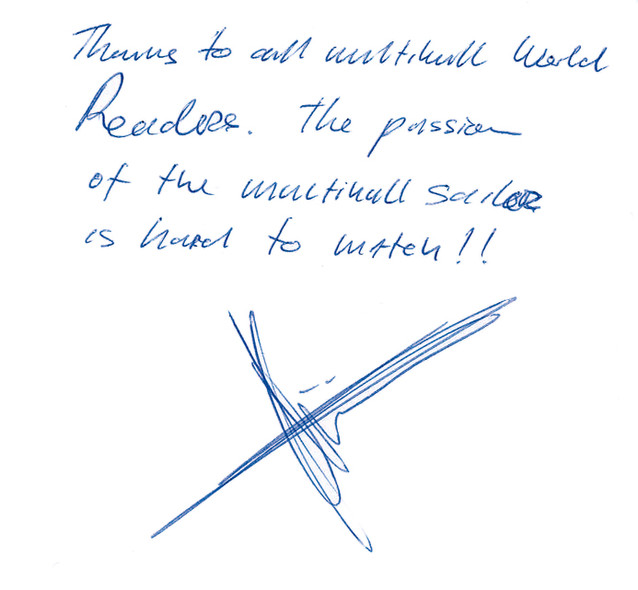 What readers think
Tell us your opinion