Multihull
Designing a multihull - From prototype to production model (2)
Some of you may have had the chance to witness a phase of the construction of your catamaran or trimaran during a visit to the shipyard. A multihull under construction is impressive because of its generally imposing size, and seeing all the operations performed is quite a spectacle. If you are satisfied just taking delivery of your multihull that's 50 feet long and 22 or 25 feet wide, that's fine... but you should know that during the few months since you signed your purchase order, each stage of the industrial development, from the prototype to the production boat, has been the subject of particular attention to detail in order to achieve perfect production control. This maturity of process guarantees several important elements for both the builders and their customers: the most attractive price/performance ratio possible, the satisfaction of a reliable, safe and high-performance unit, as well as the essential profitability for the shipyard. There is no point in having designed a marvel with extremely exacting specifications if the final product turns out to be full of defects or approximations, or if its mass production turns out to be a financial fiasco for the company.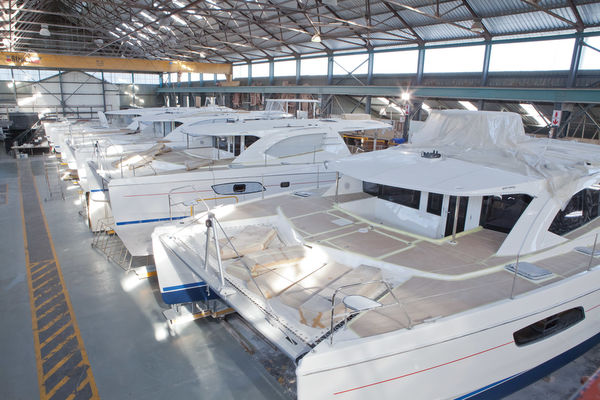 Series production of multihulls, as here at Leopard, is not an easy task...
A lot of implementation and flawless methodology are required to transform a beautiful concept into an industrial and commercial success.
High financial stakes
For a manufacturer, finding the right balance is not easy. The history of the marine industry is unfortunately peppered with bankruptcies, transfers or disappearances that attest to this. Research, development, manufacturing of molds and tools for production all represent significant investments and are not without risks. The situation is certainly different depending on whether it is a model destined to exceed a hundred units per year or a small series of, say, twenty. If in the case of a one-off, profitability must obviously be immediate, but for an industrial process of series production, the calculations must be carefully undertaken according to the number of potentially saleable examples - the more one seeks quantity, the more of the budget for design and development can be depreciated. Of course, this quantity will be a direct consequence of a hyper-competitive selling price, with an optimized margin. But will include an inevitably sensitive index of profitability. All the more reason to have a rationalized production in order to ensure an output capable of meeting the objectives, not only in terms of speed and quality, but also budget. To achieve this, the higher the stakes, the earlier the manufacturing method is determined. Right at the development stage in fact. At the Beneteau Group, for example, "There are several departments working together: product marketing, that defines the customer's expectations; the design team, who develop the product under the guidance of a project manager; then the design, composite and ...
Subscribe
Subscribe to Multihulls World and get exclusive benefits.
Subscribe
What readers think
Post a comment