Offshore racing
Hamilton Island Race Week - A few boats were lifting a hull…
The 2019 multihull fleet totaled 40 boats and ranged from the MOD70 Beau Geste (ex-Foncia) that I was privileged to race on, to much more modest, locally built, cruising catamarans. Split into two racing and one cruising division, there was competition among most boats but not so much for us in our class with seven racing multihulls.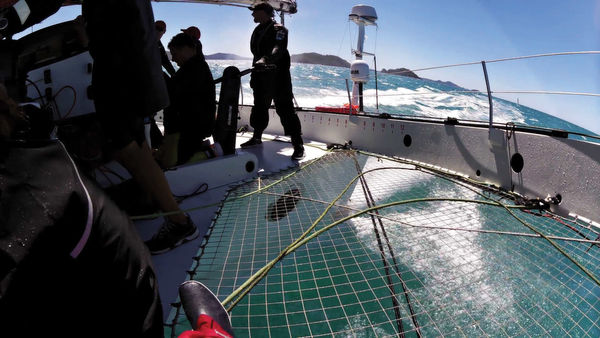 The former MOD70 Foncia, now renamed Beau Geste, reached 33 knots in the sheltered waters off Hamilton Island.
Our New Zealand skipper, Gavin Brady, had different objectives than exploiting his machine to 100%: "We've brought the trimaran over from New Zealand as a training exercise because we've only been sailing it for about two years. This boat is one of only seven MOD70s and I think the only one that's not capsized, despite doing a higher mileage than most others, so I intend to keep it that way," laughed Brady. I remember a thrilling race, passing the Sydney Opera House doing 34 knots on the former Banque Populaire IV, renamed Team Australia. That trimaran has since been sold to become Scallywag, now based out of Hong Kong. The MOD70 Gitana, which was renamed Maserati Multi 70, then Oman Sail, MOD70 Argo, Paprec Recyclage, and finally, Powerplay. And that sets the stage for multihulls in Australia.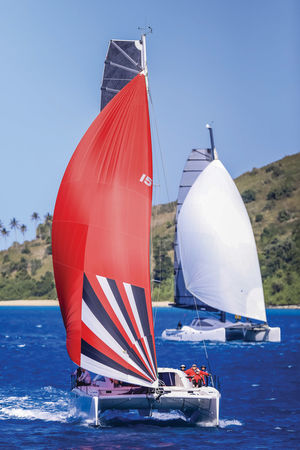 Two divisions of the multihull cruising fleet enjoyed 20 knot winds and 77°F (25°C) temperatures throughout the six days of Hamilton Island Race Week.
A BRUTAL SAIL
Moving to open water at the south of Hamilton Island and reaching off against the 20-knot southerly wind, the show began: the MOD70 weather ama flew high as we accelerated, the crew winding hard on the two sets of pedestal winches to tension the luff and sheet-in. High on the windward ama skipper Brady held onto the long tiller with one hand and the traveler sheet with the other – ready to dump; his foot also on a stirrup controlling the mainsheet. The brutality of sailing these trimarans quickly became apparent as the waves burst through the cockpit netting as our speed reached 33 knots and the windward ama flew alarmingly higher into the air while our eight crew huddled behind the stern crossbeam for protection against the cascading waves and apparent wind. This was good practice for our race start some minutes later. We sailed a windward course in open seas, then unfurled our Code 0 to fly downwind past the islands and toward the mainland town of Airlie beach. Alongside us, many monohull competitors looked as if they were at anchor!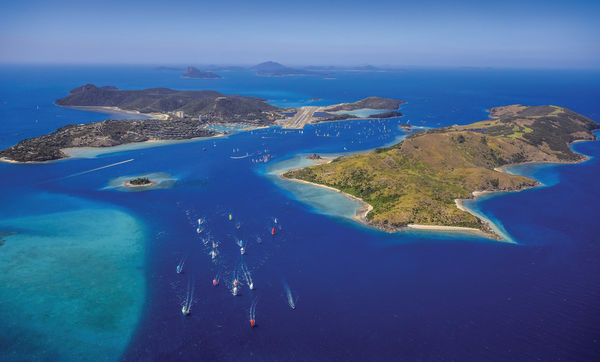 Passage races went around some of the 74 Whitsundays, allowing crews close views of this tropical region just inside the Great ...
Subscribe
Subscribe to Multihulls World and get exclusive benefits.
Subscribe
What readers think
Post a comment