Cruising
MangeNuage - From Formula 40 to Circus Catamaran
MangeNuage is an atypical catamaran that immediately catches the eye. If it gets noticed, it is not just because of its vibrant red color. It's also the double rig and its circular stage which make it a unique multihull. Originally, the Formula 40 had no deck or living area. Designed exclusively for racing, it was as streamlined as possible: two hulls, linking arms, a mast and shrouds - the rest was just textile. This new version of the catamaran was created to serve as a floating stage and swinging trapeze structure. However, there is no question of MangeNuage staying in port and having the local oysters grow under its hulls. This is an itinerant project, and does not only use the sailboat as a set and artistic support. The multihull is also a home and a means of transport for the artists who use it during their tours. All of this is the culmination of a long journey that has been undertaken by Anne. In 2015, she was looking for a catamaran that could be used as a prop and a stage. She was in contact with the naval architect Denis Kergomard (Alibi Architecture) who helped her in her search. After having explored several multihulls, they chose two Formula 40 hulls that had been abandoned in a shipyard in the Thau lagoon. This catamaran was Totem, formerly Data General. It was a racing catamaran that had been built in 1987 by Jeanneau Techniques Avancées using the plans of the architect Nigel Irens and skippered by Pierre Le Maout. With its foils, the boat was very successful and was bought by Yves Parlier. It was then sold and used for day trips with guaranteed thrills in Palavas in the Gulf of Lion. After being struck by lightning, the catamaran was taken out of service and dismantled in 2010. So there it was, awaiting a new destiny, at the back of the Navibois yard, in Sète.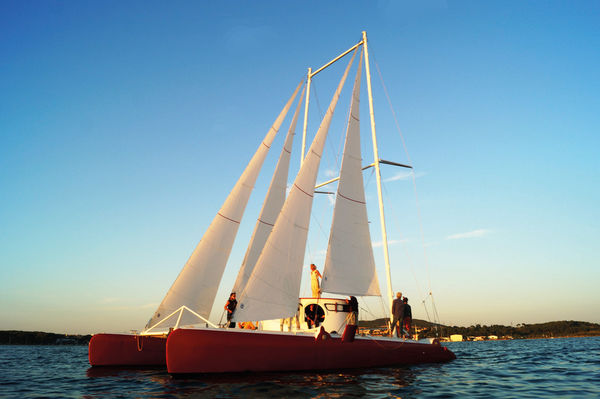 The parallel biplane rig only supports headsails - four very sleek jibs mounted on self-tacking tracks. 
A FORMER RACING KIT BOAT
With its two hulls and a mast (that Anne would later sell), this kit sailboat enabled the trapeze artist to have access to a boat base for a small budget... but there was a lot of work to do in terms of the construction. Initially, the project took shape in the architect's head: from these hulls, the objective was to create a platform from scratch, as well as a very light yurt nacelle (which would act as a cabin), a stage, but also an adapted sail plan. Denis was also interested in inventing a rig that could be used for both sailing and performing. This was not his first challenge and he always enjoyed unusual assignments. He had already participated, for example, in the Pianocéan project, whose piano schooner also served as a stage and studio, with its removable piano between the deck and the aft cabin. Anne wanted to learn and felt her dream taking shape when she saw Denis' drawings. He studied the feasibility of the project, calculated, invented, drew, hesitated and advised. He gave her access to an incredible space which was his ...
Subscribe
Subscribe to Multihulls World and get exclusive benefits.
Subscribe
What readers think
Post a comment