Multihull
Rusty Pelican - For the love of trimarans
THE WIZARD OF MASSACHUSETTS
Richard Newick (1926-2013), better known as Dick, was one of the most talented multihull architects of the latter half of the twentieth century. Dick was paddling on European rivers from just after the end of the Second World War, gaining a perfect knowledge of kayaking, and therefore of gliding through the water. But he had other sources of inspiration: Polynesian maritime heritage, being one. Dick metabolized and fixed for eternity the DNA of a lucent feature of the marine landscape: the Newick trimaran! Dick sometimes confided that Walter Greene and Damian McLaughlin were the best interpreters of his creations – and he knew what he was talking about! The attitude of these two boatbuilders somewhat shook up the image perceived in Europe of an agitated, globalized, over-urbanized, industrial America, overrun by disturbance and engaged in a headlong rush. Their creative approach, like their philosophy, was that of artisan-artists who practiced that art in workshops on a human scale, between forest and sea - Massachusetts and Maine. The West (epoxy-saturated wood) System construction method developed by Meade and Jan Gougeon was an ingenious invention that made it possible to build stiff, light and durable multihulls. Dick Newick's creative abundance was just waiting for this technique to fully express itself: wood/epoxy/glass is 80% vegetable matter and 20% glue and cloth: a true avant-garde material!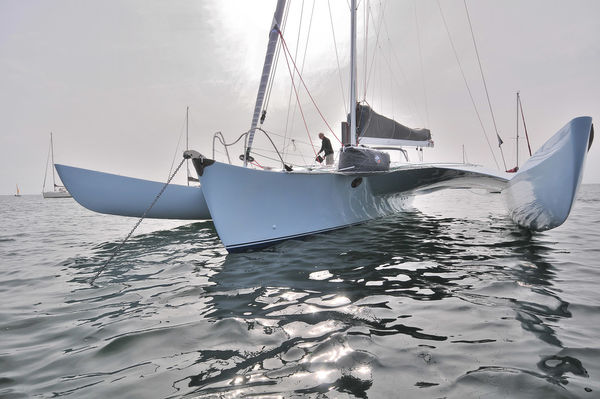 Rusty Pelican at anchor off the island of Houat, in southern Brittany.
Is it really necessary to highlight the elegance of the lines imagined by the famous Dick Newick?
RUSTY PELICAN, THE HEIR TO THREE CHEERS!
For the 1972 Transat, Tom Follet, the skipper who had miraculously finished 3rd in the previous edition in 1968 with his proa Cheers - a real 'enfant terrible' - had Dick Newick design a magnificent, comfortable and robust trimaran. He was to finish 5th in the race, in 27 days. The trimaran, rigged as a ketch, was bought by Mike McMullen for his disastrous 1976 Ostar: his wife Lizzie was tragically electrocuted during the preparation stages in the yard, and the skipper later disappeared in the North Atlantic. Dick revived the soul of this visionary design in different interpretations: the three Mk 3 Cheers (Fleury Michon 4, Bonifacio, and Lejaby Rasurel) and the modified Mk 4: and this is where we find Rusty Pelican. At 46 feet, this trimaran was able to dispense with some of the volume in the wings, while remaining welcoming and comfortable. The double arms allowed extra power for a more "racing" use than the famous Native and Creative wings. The rigorous respect of the weight specifications by the builder McLaughlin allowed Rusty to express her full potential while providing real comfort at sea, with a beautiful double, or four-single aft cabin as today, a generous cockpit, a real saloon, lateral berths and a forward cabin with a shower/WC. By Dick's standards, this 46-foot boat is almost a ...
Become a member
Become a Multihulls World Community Member for free and get exclusive benefits
Become a member
What readers think
Tell us your opinion