Multihull
Secondhand - 10 multihulls from $ 100,000 to $ 200,000
We have selected for you 10 multihulls from $ 100,000 to $ 200,000. These ten models range from 38 to 44 feet, and are well represented all over the world, but travel restrictions can make it difficult to visit if they are far from home. More's the pity, because the more remote units are often priced lower - an on-site agent can be particularly useful in this case
---
 $ 100,000 - Athena 38 - A curvaceous design / Test in MW29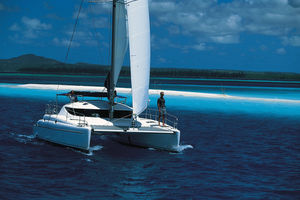 Appearing in 1994, the Athena 38 slotted in between the Tobago 35 and the Venezia 42, two units whose designs (rounded lines, stubby bows and coachroof with cap) it picked up on. The lines may be a little dated today, but the overall design of this unit is still convincing. Slightly heavier than the very early Fountaine Pajot models, it is a little slower; the 38's hulls are significantly beamier, and the freeboard is greater. In fact, the Athena is perfectly suited for passagemaking in the West Indies or the Mediterranean, for a couple or the whole family. On the other hand, for long crossings, it probably lacks a little length to pass through the sea smoothly. Nevertheless, the load capacity is appreciable for a catamaran under 40 feet. Pleasant under sail, easy to handle, this model quickly became a great commercial success – both with charter companies and private individuals - to the point that it remained in the manufacturer's catalog for almost 10 years. In 1998, the Athena was improved: a better view forward was achieved thanks to a new helm station, directly inspired by the one on the Bahia 46. There was also a solid gangway fitted aft of the mainsheet track. The strong points of this model: great comfort despite its modest size, fluid circulation on the deck as well as inside and a particularly successful rounded saloon. The finish on this model is clearly better than previous generations; we just noticed some headlining glued up here and there.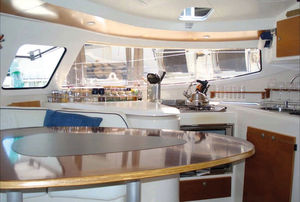 Builder: Fountaine Pajot
Material: polyester sandwich
Architects: Joubert/Nivelt
Hull length: 38' (11.60 m)
Waterline length: 37' (11.30 m)
Beam: 20'8" (6.30 m)
Draft: 3'3" (1.00 m)
Displacement: 13,225 lbs (6 t)
Upwind sail area: 947 sq ft (88 m²)
Mainsail: 538 sq ft (50 m²)
Genoa: 409 sq ft (38 m²)
Engine: 2 x 18 HP inboards
Secondhand price: $ 100,000 to 130,000 ex-tax
Production: 222 units from 1994 to 2003
Quality/price ratio:  ***
Availability on the market: : ****
The plus : a very practical catamaran for its size, good performance, and a very pleasant nacelle to live in.
The minus: not very comfortable upwind in big seas, tiny hull portholes, small nav station
POINTS TO CHECK: Most Athena 38s are still in good general condition, but the level of equipment varies greatly from one unit to another. To watch out for: sails, engines, electrical circuit, standing and running rigging. For those setting out a long trip, check the following points: forestay and gooseneck attachment and steering cables.
---
$ 110,000 - Corsair 36/37 - Foldable and ...
Become a member
Become a Multihulls World Community Member for free and get exclusive benefits
Become a member
What readers think
Tell us your opinion