Download test
The ambitious young brand from the Catana Group is making a foray into the coveted and not-always-easy power cat sector: is it a test drive, something they fancy trying, are they just bluffing? We were keen to find out more after the first presentation of this 4.3 MY at the International Multihull Show back in April...
Like all the big manufacturers, Bali is addressing a fairly large market - 40 to 54 feet at the moment, and more particularly, the 40/45-foot sector. This strategy has been successful in their sailboat range, and in this context, Bali is proposing for this first production power cat, a (relatively) modest size of 43 feet. The Bali 4.3 MY is based on the 4.3, albeit heavily redesigned. In 2017, initial tests of a Bali power cat prototype powered by Nanni motors, showed very encouraging results (performance / fuel economy) with Xavier Faÿ's hulls. We took to the water to see if the 4.3 MY has inherited this DNA.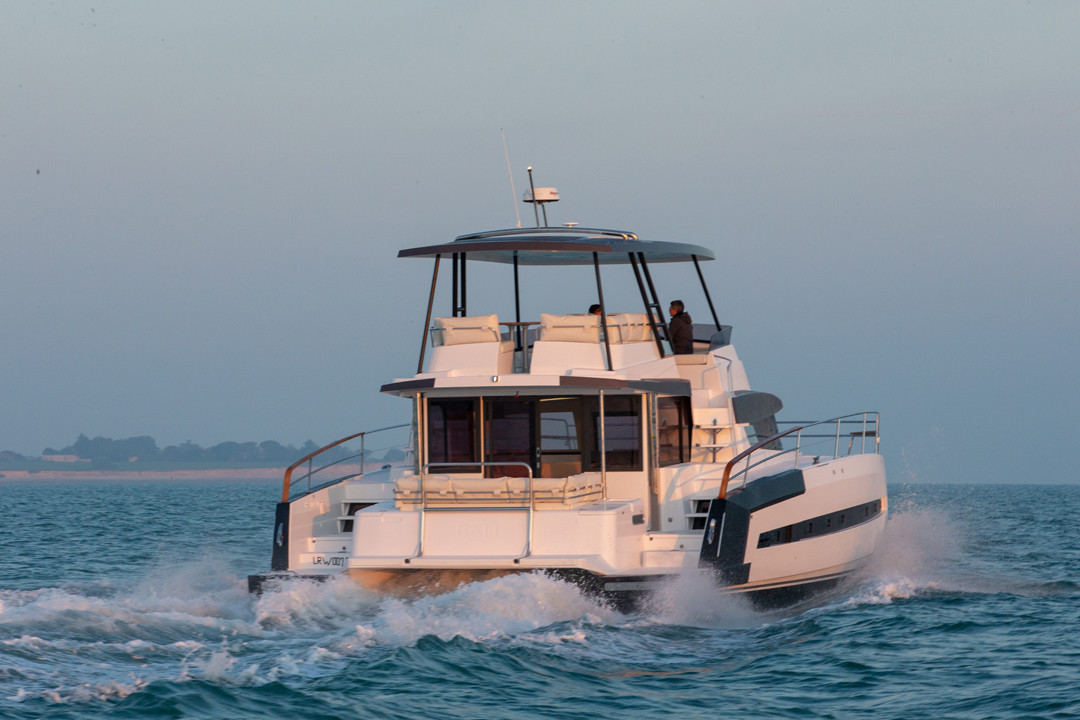 Successful lines 
It took two years' work to get from the prototype to the final version, but the effort is proving successful. The external design of a motor catamaran is a tricky business: too much "trawler", and it no longer corresponds to the demand; too avant-garde, and it won't flow correctly. On the 4.3 MY, the rigid foredeck is fully apparent, and the high, clear tunnel is a key asset for sailing in rough seas. Turning the original sailboat version into the 4.3 MY is a real transformation of the product into a brand-new boat that perfectly follows the codes of the genre, while being able to retain a large part of the manufacturing tools - except for the aft third of the hull. The grafting of the flybridge, the cockpit and the suspended rigid bimini are ergonomic and aesthetic achievements, which deserve congratulation! The rigid guardrail that surrounds the deck contributes to motorboat conversion as well as to safety. The wooden handrail over the sugarscoops is as practical and pleasant to the touch as it is visually relevant. The recesses that house the opening side windows are nicely integrated into the topsides and contribute to a perception of tightness to the lines. The exterior decor – thee colors on the bimini sides, the topsides aft, sugarscoops, metallic satin-black metal struts - is very successful: it elegantly and appropriately transforms the silhouette, making it attractive in this niche sector.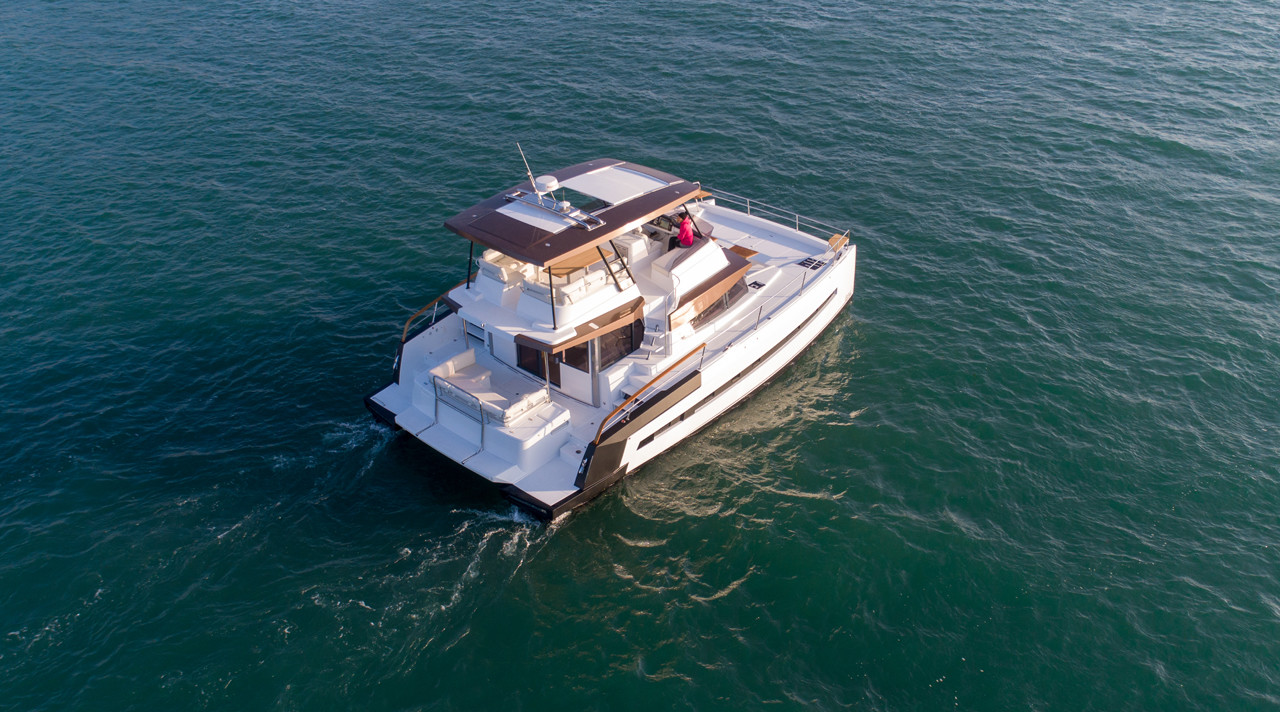 Layout: opening to the outside world 
Bali's philosophy in terms of design is transparency, openness to the outside world: the fusion between indoor and outdoor. To do this, they have had to master new modularities that had not yet been explored by the competition – a rigid foredeck capable of accommodating a cockpit and a sunbathing area, opening windshield, electrically tilting rear bulkhead, sliding side windows, etc. These innovations have pushed the usual boundaries, and in just 43 feet, Bali has dealt with all the issues. The saloon on the upper deck is spacious and comfortable, the cockpit perfectly designed, the mini wet-kitchen is intelligently positioned. The partially retractable bimini roof is a success, and the structure is super solid. Below, an L-shaped galley is installed forward in the nacelle, just to port of the interior helm station. The table is large enough to seat 12. The perception of quality is obvious, the interior design tasteful and the attention to detail much in evidence. Lighting, headlinings, ventilation and cabinetwork are improving compared to the standards we're accustomed to with Bali. The Bali 4.3 MY is available in three versions: 2, 3 or 4 cabins.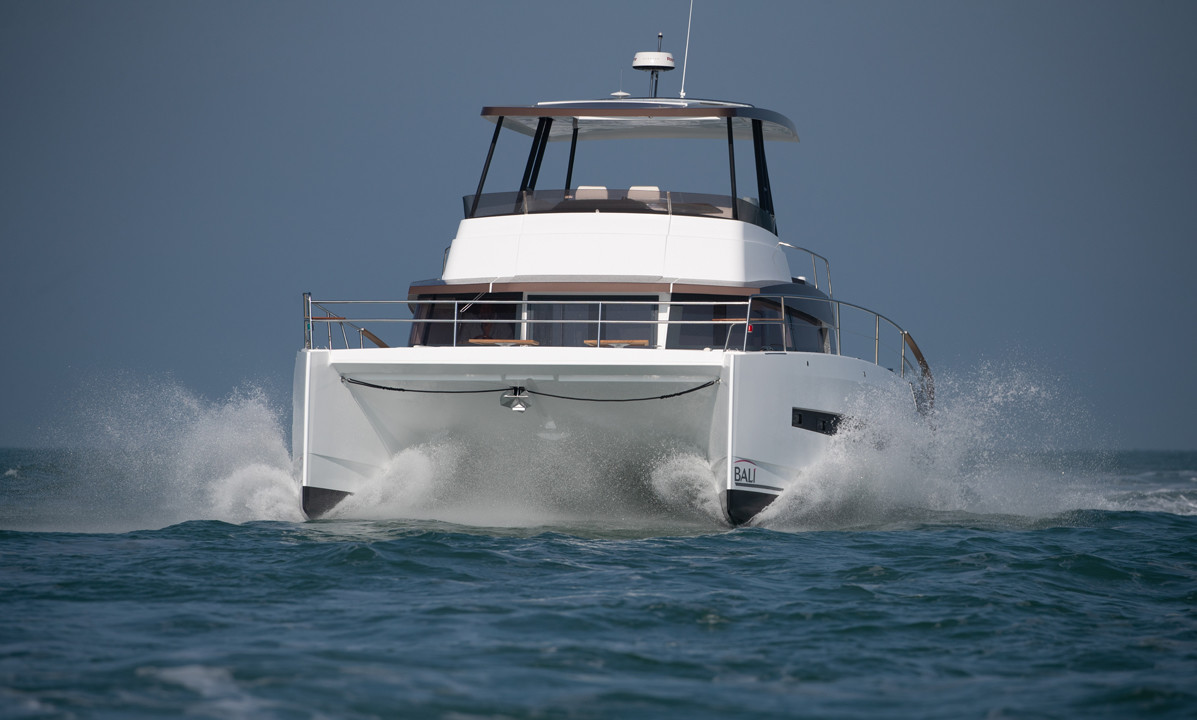 Latest-generation engines 
The secret to a successful multihull is the consistency between the "engine" (sails or otherwise), hulls, appendages and weight centering. For our Bali 4.3MY, it was Yanmar that were called upon, with their brand new 4LV250, a compact 4-cylinder block of 2755 cc, cooled by a heat exchanger, that develops 250 hp at 3,800 rpm. It features common-rail direct injection and an intake blown by a low-pressure turbo compressor and is cooled by an intercooler. This set-up complies with the latest environmental standards and weighs only 384 kg (850 lbs) with gearbox; the transmission is of course carried out via a propeller shaft.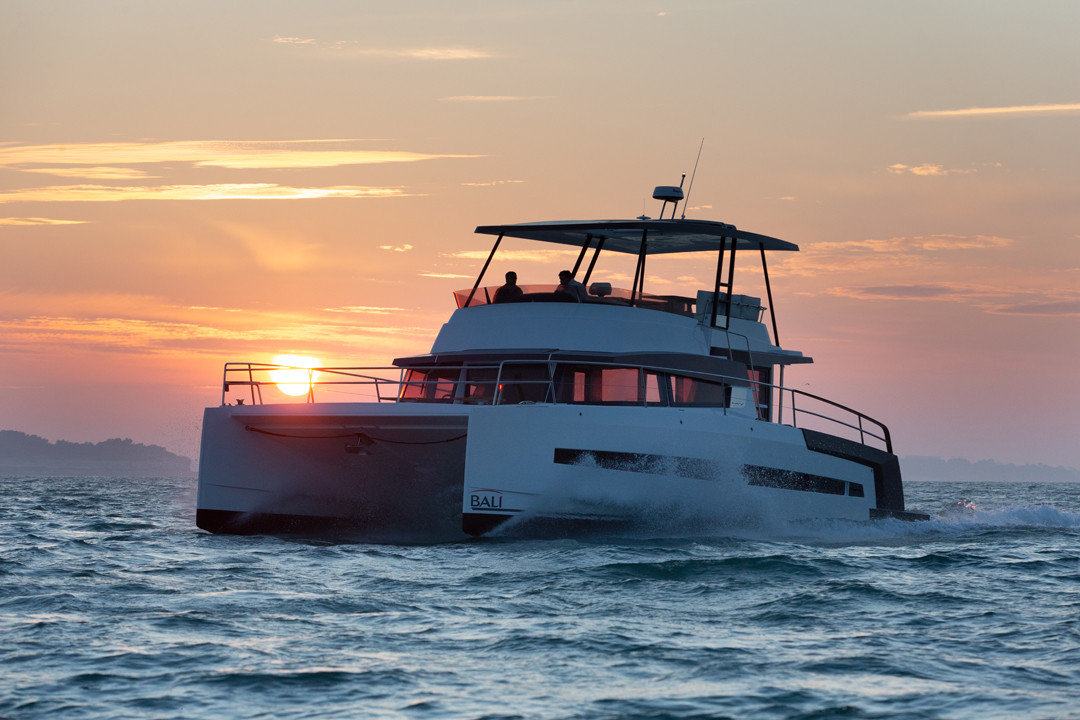 Seakeeping behavior and reliability: proven over 2,500 miles!
Our test boat has just sailed around Spain from the Marans shipyard (on France's Atlantic coast) to Port Pin Roland (at Toulon, on the Mediterranean coast). No breakdowns, no problems: remarkable for a hull number 1! These 2,000 miles were covered with a consumption of 48 l/h (12.7 Us gal/hr) or 24 l/h (6.4 US gal/hr) per engine at a fast speed for a delivery - 12 to 14 knots with rough weather conditions. The engine compartment is remarkably accessible for a boat of this size and maintenance operations - checks of the water-cooled stern gland, gearbox, raw water impeller, and oil changes and air/water/fuel filters, level checks, etc - can all be carried out easily without the need for a contortionist. While they were warming-up, I was listening to these engines and was aware how discrete they were and how smooth their operation. Knocking, slamming and other parasitic vibrations seem to have been eliminated during the design of these motors; no burning gas odor either - the findings will be identical at 3,000 rpm if you go down into the engine room. High-tech machines, these engines! Their discreteness in operation remains surprising when under way: with the cockpit bulkhead closed, engine noise is barely noticeable. You can speak without raising your voice and the perception of vibration is extremely low. These characteristics, combined with high-performance hydrodynamics, are the elements of real comfort at sea. The Mistral was blowing at over 25 knots and the sea was rough, giving ideal conditions for a high-speed downwind test. The seakeeping behavior at 20 knots (consumption: 65 l/h – 17.2 US gal/hr) in the waves was stunning and provided an astonishing impression of safety. The passage of the bows through the water raised little or no spray. As for pitch, it's perfect for surfing and roll is almost totally absent. I noted 23 knots at full speed on my Navionics plotter with 400 liters (105 US gal) of fuel and 300 liters (80 US gal) of water. Trying the test again, into the sea and wind this time, at 14 knots, our consumption was around 48l/h (12.7 US gal/hr) and dropped to 40l/h (10.6 US gal/hr) at 12 knots, which corresponds to a range of 500 miles. Seakeeping is quite remarkable at these high speeds into a rough sea. The feeling underfoot? Total comfort. No devastating slamming, shocks or other parasitic noises. Bravo Bali! A trial run, a masterstroke…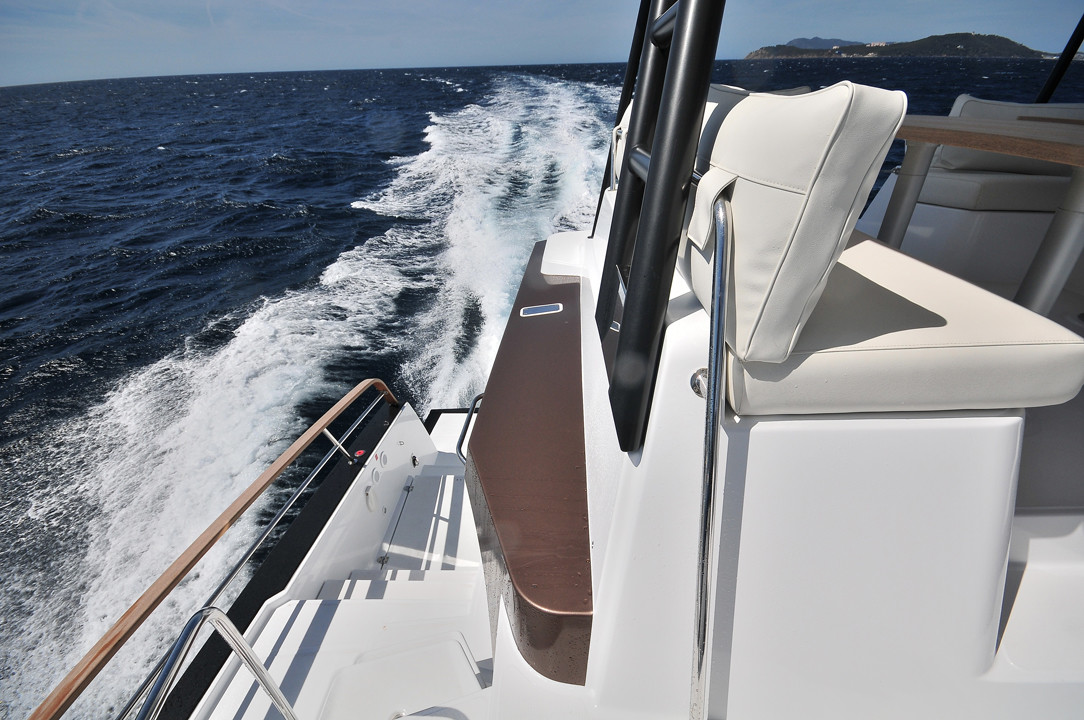 Conclusion
I discovered an amazing power multihull: this adventurous craft has the wisdom to keep an acceptable size for sneaking into marinas. Her seductive silhouette is devoid of ostentatious arrogance. And to avoid spoiling anything, comfort is remarkable – both at sea and at anchor. This 12.95 m (42'6") boat offers the performance of a larger model and has real dynamic qualities, as confirmed by the trip around Spain in all conditions. Our test in rough seas and strong winds gave us much confidence and peace of mind.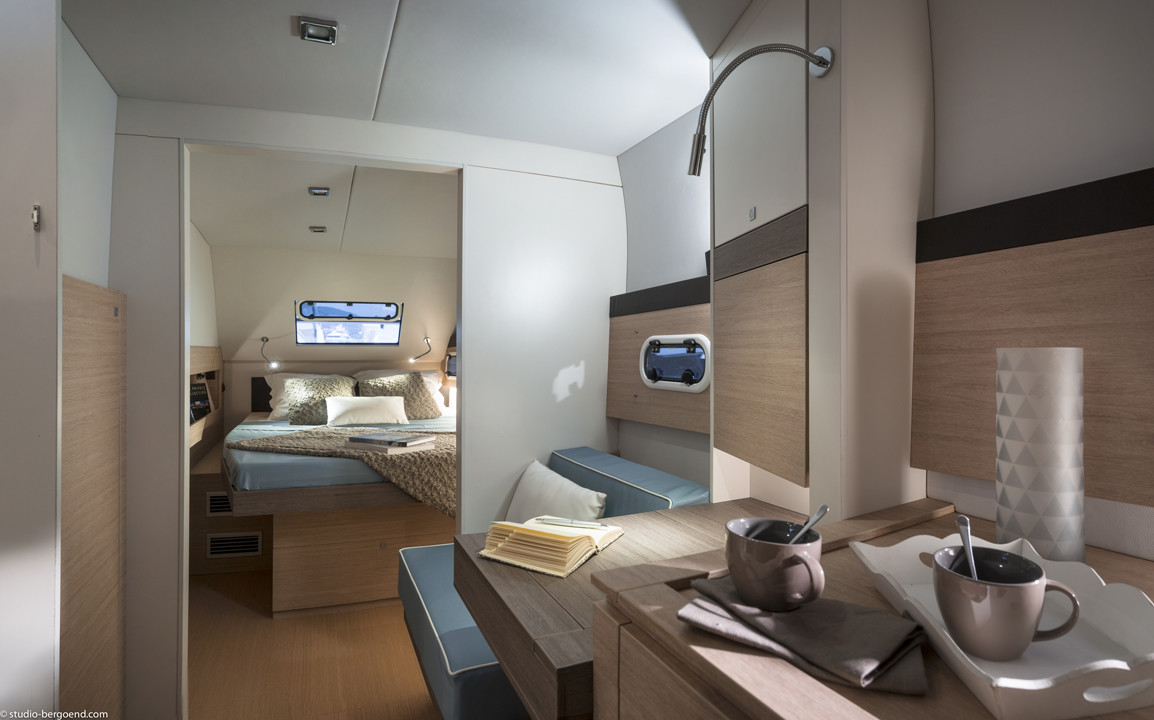 ---
TECHNICAL SPECIFICATIONS
Builder: Catana Group
Design: Olivier Poncin and Yann Chabaud
Architect: Xavier Faÿ
Interior designer: Samer Lasta
Construction: foam/glass/polyester sandwich
Length: 12.95 m (24'6")
Beam: 7.12 m (23'4")
Displacement: 12.7/18.6 t
Fuel: 800 l/221 US gal (or 1,600 l / 442 US gal optional)
Water: 800 l/221 US gal
Motors: 2 x 180 hp or 2 x 4LV250 Yanmar
Price excluding tax with 2 x 250 hp motors: 3-cabin, 2-bathroom version: € 536,500 / 4-cabin, 4-bathroom version: € 541,500
Options in € ex-tax
Excellence Pack (tilting aft door, exterior upholstery, improved electrical autonomy, flybridge windshield, etc.): 39,800
Generator: from € 17,000 to 23,000 according to power ratings (4 to 9kWA in 220 or 110V)
Air conditioning: from € 18,000 to 30,000 depending on the choice of power and areas
Watermaker 105 l/h (27 US gal/hr): 13,490
Additional 800-litre (221 US gal) tanks: 3,850
Carpet in the saloon and cabins: 3,920
Electronics pack: 20,380
---
A word from the designer, by Olivier Poncin, Chairman of the Board of Directors of Catana Group

The world of motor catamarans is different from that of sailing in several respects, which is why we had to be even more attentive to the specific expectations of boaters interested in our Open Space concept.  Two years of reflection have been put in to designing and building the Bali 4.3 MY. I must admit that our entire team was very happy and proud of the welcome given to her at the boat shows where she has been presented. Above all, we wanted to offer our customers a motor catamaran with a reasonable operating cost in terms of fuel consumption (we know this is an important point), but also in terms of general maintenance. On these points, we are keeping our commitment! Finally, there is the balance between pleasure under way, habitability and comfort in port or at anchor. The services and living spaces far superior to competitors of the same size make the difference and explain the success of this first Open Space Bali Motor Yacht. Boater friends, "Enjoy! " 
---
THE ESSENTIALS
- Successful silhouette
- Clear dynamic qualities
PLUSES
-       Economy in operation and range at delivery speed
-       Seakeeping and comfort in rough seas
-       Attractive interior and exterior features
MINUSES 
-       Fuel consumption at high speed
-       Price of the tilting/pivoting door option
THE COMPETITION
BUILDER

SINO EAGLE/

AQUILA

ROBERTSON

& CAINE

FOUNTAINE

PAJOT

 

MODEL

AQUILA 44

LEOPARD 43P

MY44

 

ENGINES

2 x 225 Volvo

2 x 260 Yanmar

2 x 379 Volvo

 

LIGHT DISPLACEMENT

15.9t/35,000 lbs

11.7t/25,800 lbs

16.3t/36,000 lbs

 

FUEL CAPACITY

1,100 l/290 US gal

1,000 l/265 US gal

2,000 l/530 US gal

 

EX-TAX PRICE in $ or € (basic/equipped)

$ 699k/950k

€ 455k/555k

€708k basic

 
What readers think
Post a comment