Athena 38
Best seller in the under 40-foot category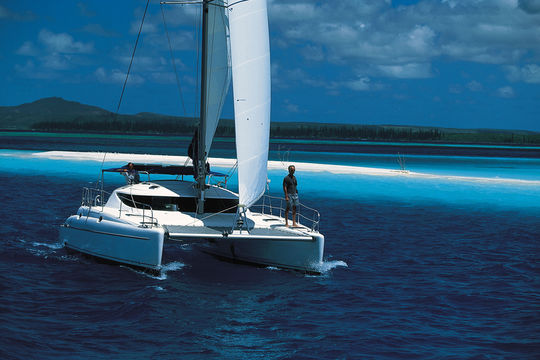 In 1994, the Athena 38 came in between the Tobago 35 and the Venezia 42, two boats whose design it echoed – rounded lines, pug-nosed bows and a coachroof extension. Although it remains relatively lightweight, it is slower than the builder's previous models. Its hulls are in fact appreciably beamier, and the freeboard is higher. It is thus perfectly suited to a long cruise in the West Indies or the Mediterranean, as a couple or a family. On the other hand, during long passages, it is a little lacking in length for a smooth passage through the sea. Nevertheless, its load-carrying capacity is appreciable for a catamaran of less than 40'. Pleasant under sail, easy to handle, this model quickly became a great commercial success – for both charter companies and private individuals – to such a point that it remained in its builder's catalogue for almost 10 years. In 1998, the Athena was improved: we enjoyed a better view forward, thanks to a new steering position, directly inspired by the one on the Bahia 46. A solid platform was also provided, aft of the mainsheet track. This model's strong points: great comfort, despite its modest size, easy movement both on deck and inside, and a particularly successful rounded saloon. The finishing on this model is clearly improved, compared to previous generations; just a few glued headlinings can be noticed here and there. 
The plusses: very liveable catamaran for its size, good performance, very pleasant bridgedeck 
The minuses: Not comfortable to windward in big seas, tiny hull portlights, small chart table 
To check:
Most of the boats are still in good overall condition. To be checked: sails, engines, electric circuit, standing and running rigging. For those who wish to set off, check the following points: forestay and gooseneck fixing points, and steering cables.
Comfort/Performance index:  7/10
Value for money: +++
Availability on the market: ++++
Technical specification
Builder:                                        Fountaine Pajot
Architect:                                     Joubert/Nivelt
Hull length:                                  11.60 m
Waterline length:                         11.30 m
Beam:                                          6.30 m
Draft:                                           1.00 m
Weight:                                        6 t
Windward sail area:                     88 m²
Mainsail:                                      50 m²
Genoa:                                        38 m²
Engines:                                      2 x 18 hp inboards
Material:                                      polyester sandwich
Production:                                  222 examples from 1994 to 2003
Second-hand price:                     100,000 to 130,000 euros exc. tax
Catana 381
It has everything a big one has!
 
In the Catana family, this model is particularly appealing. Firstly because it is the smallest - and ...
Subscribe
Subscribe to Multihulls World and get exclusive benefits.
Subscribe
What readers think
Post a comment