Buy a boat
Second-hand feature - How to set off faster (and cheaper)
Opting for a second-hand boat has many advantages: you can benefit from a fully equipped boat that's ready to sail, and for less money. No more two-year waiting period when ordering a new multihull, no teething trouble with new equipment... Another option could be to buy a multihull at a very low price... provided your DIY skills are up to it - see our "Multihull basics", a refit before you set off, page 84. This opportunity allows you to sail a bigger boat, and therefore more cabins, more volume. In short, you can sail further and longer. Enticing, isn't it? Not to mention that at the end of a one- to three-year cruising program, when you resell your boat, you will almost be back on your feet, since the main years of depreciation are the first ten. However, there is no question of jumping on the first multihull you come across, or you may reveal some disappointments. The purchase of a cat or a tri - unless it is a very small unit - deserves some precautions such as a professional examination or, better still, a proper survey. We've selected for you the 12 must-have models from 38 to 47 feet.
---
 Lagoon 380 - It's become the iconic catamaran!
Much-copied, never equaled or almost never-equaled, the model that saw more than 1,000 units built over a 20-year run clearly played a part in imposing the catamaran on blue water cruising. Having become an icon, the 380 is to be found in all the anchorages of the world…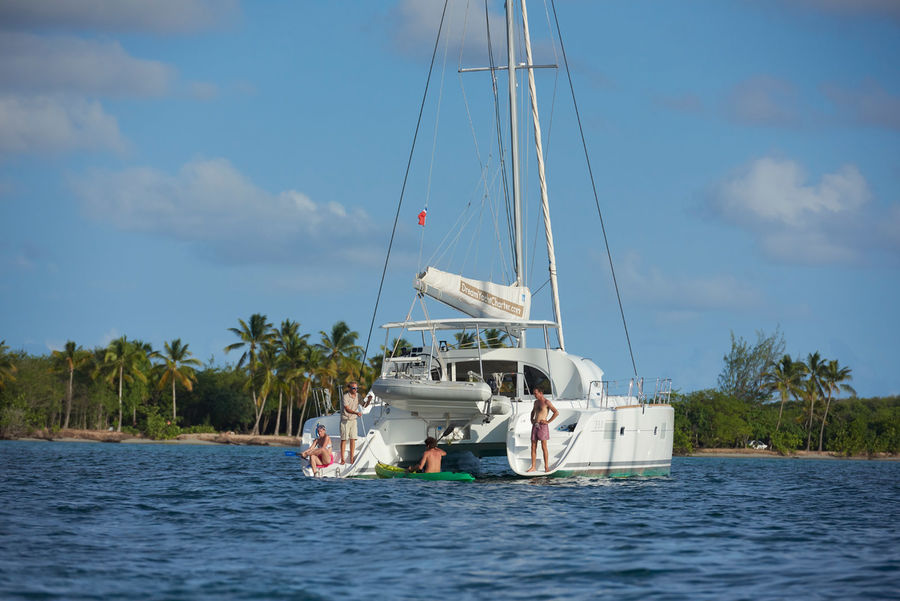 Launched in 1999, the Lagoon 380 picked up on the general lines of the 410, launched a year earlier. It should be noted that the latter marks the starting point of the new Lagoon philosophy - still relevant today: priority for volume and the adoption of a large nacelle surrounded by vertical (and therefore panoramic) windows. Success was immediate: The 380 was the only boat sub-40 feet on the market with 3 or 4 real double cabins. In the United States, the qualities of the 380 were quickly appreciated: owners didn't hesitate to install generators and air conditioning for even more comfort at anchor! The main quality of the Lagoon 380 is above all to be able to accommodate up to 8 people in comfort. Certainly, for blue water cruising, it will feel better with 4 people, if only to have enough storage space. The 380 underwent a bit of a facelift in 2005 under the name S2 - lighter woodwork and finished with a more modern touch. All of us here at the magazine have been on a Lagoon 380 at one time or another. And we are unanimous: on board this catamaran, everything is simple and well thought out. It is a unit that satisfies adventurous sailors eager to eat up the miles, as well as the firsttime sailors. Good points include wide side-decks, large trampolines forward, and generally the clear deck layout, with sail handling maneuvers converging towards the helm station. You'll also appreciate, as we do, the friendly cockpit and the perfect sugarscoops at anchor… Under sail, the 380 is a little lazy in light winds, ...
Subscribe
Subscribe to Multihulls World and get exclusive benefits.
Subscribe
What readers think
Post a comment