Atlantic ocean
Alizé's (semi) circumnavigation - First leg: France/Brazil
There are many amazing things to see across the world. A crackling wood fire, a starry night sky, waves crashing on a beach, snow-capped mountain peaks… However, there aren't many as beautiful as the one that I'm looking at right now.
A full, huge moon, such a bright white that its reflection lights up the black and mysterious ocean and its light shimmering all the way into my eyes.
Yep, I'm on night watch. I have just been woken up, and I'm looking at this amazing spectacle through sleepy eyes. We left land some days ago, and we are now alone in the world in the blue immensity of the Atlantic Ocean.
I always thought that I would go back to sea, but later on, when I'm old, I told myself. Being free and enjoying life to the full, going wherever I liked, I had spent two years travelling around Australia in my bus with friends, going to festivals and exploring the fabulous, gigantic island.  
I was planning on doing more of the same in South America, when my father suggested something to me.
I should have guessed his project was going to be some wild scheme. The last one that he got me involved in, some ten years earlier, led me to four years of sailing all sorts of boats around the world. My parents had sold up everything and left behind their life of work and the daily treadmill in order to buy a boat. They didn't know anything about sailing, but just wanted to sail around the world. At the time, when they suggested that I join in their madcap project, I was training horses with my Gipsy second family.   
It was a choice between ending up as a stuntman in an Indian show, wearing feathers and dodging arrows, or discovering the world from the, as yet unknown world of boats and sailing. I couldn't resist the chance to discover the world and all the adventures that it might bring. I sold the only two things that I owned: my car and my horse, and set off with my parents…
Sometimes, aren't the wackiest ideas the best ones?
That's the reason why I'm here, back on the ocean after ten years. I'm on Maïtai, our proud and valiant catamaran, a brand-new lagoon 450S, heading for Mayotte, a small island not far from Madagascar. My parents have lived there for some years, since their return from sailing half-way around the world. They couldn't handle going back to normal life on the mainland, and preferred to head back to this island, where life was easier for them. The project that was decided upon: sail a catamaran to Mayotte and to combine business and pleasure by using it there as a charter boat.
I meet up with my father in Les Sables d'Olonne on November 12th 2018, with César my boyfriend, who has given up his Parisian life and sold his eco-construction company to follow his little bundle of energy in this mad but wonderful adventure. He'd been wanting to discover this maritime world about which he knew absolutely nothing. Although, he had been the captain of his large Parisian barge for two years, which I suppose gave him some kind of experience on the water. He used to feed the swans while stirring his coffee! He left everything behind to learn to be a sailor.
We arrive the day before taking delivery of the catamaran, to be with my father when he sees Maïtai for the first time, the baby that he had waited so long for. But, also to have the honor of following her out of the shipyard and to the port. It's very emotional seeing my father approach the boat for the first time. He lays both hands on her and then his head, for just a few seconds, but long enough for him to realize that this is it! He has succeeded! Maïtai, which means "Good" in Polynesian, is here, and there is no doubt that they're going to spend a lot of time together! There's a little tear in his eye as he lifts up his head and the realization of everything hits him. A 45-foot cat being transported on the back roads is quite something. Luckily there's a motorcycle outrider in front and behind, and a van to organize it all. An unusual special convoy, that looks impressive, especially at the point where the platform on which the boat sat tips steeply when going around a traffic circle, or when avoiding a tree, giving the impression that the boat's going to get scratched or tip over. At these moments, the stress is clearly visible on the captain's face!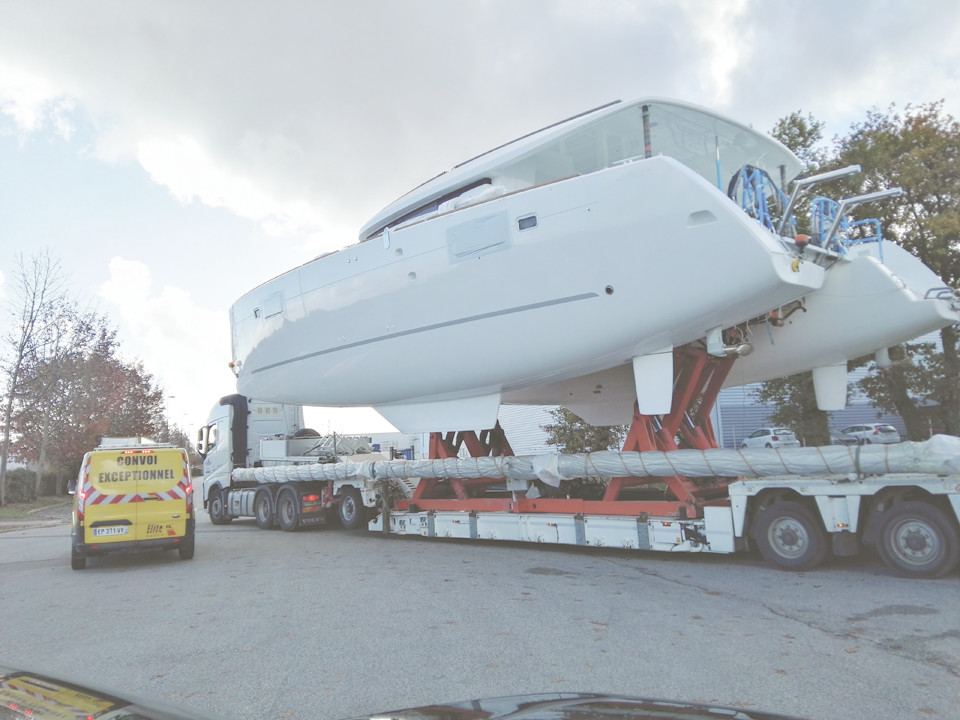 With the boat delivered, the plan is to fully equip her as fast as possible before we can leave, hoping that there won't be any issues that might hold us up. There's a lot of sailing ahead of us, and the longer we take to set off, the more capricious the oceans will be. César and I head off to get all the things that my father wants from places like Ikea, Decathlon, tackle shops, convenience stores… It ranges from a Lagostina pressure cooker to 86 sets of flippers, masks and snorkels, compressors for the diving bottles, an onboard professional medical kit at €3,000 (with a rigid stretcher which has to be carried to comply with regulations), as well as size 12 fishhooks and pillowcases. There's a bit of everything! But we aren't just kitting out a home, it has to be a workplace too.
Our departure is set for Christmas Day. What a great day to cast off! There's 6 of us in the crew. My parents, Pascal and Pascale, (known as Les Pascaux, which was the name of their first boat), Monique and Cécile, two of their good friends from Mayotte, César and me, Alizé, totally enchanted by it all. Maïtai is finally ready, with the latest navigational instruments that older sailors wouldn't know what to do with and galley utensils that Paul Bocuse would have happily used to cook the best ratatouille out on the ocean. There are also enough supplies for us to get lost for a month and still have plenty to eat. We do a quick test sail out on the water and we're off, hoping to make the most of the weather window and cross the Bay of Biscay without incident.
So, we leave the port at Les Sables d'Olonne on Christmas Day, saying an emotional goodbye to our family left on the dock. They're accompanying us along the jetty watching Maitai sail into the blue immensity of the ocean and shouting and waving their goodbyes. My nieces run to try and catch up with us, not really understanding what is happening or where their grandparents and auntie are heading on that little boat. We all shout, "See you on the other side of the world! Bon Voyaaaage! We love yooooouuuu!".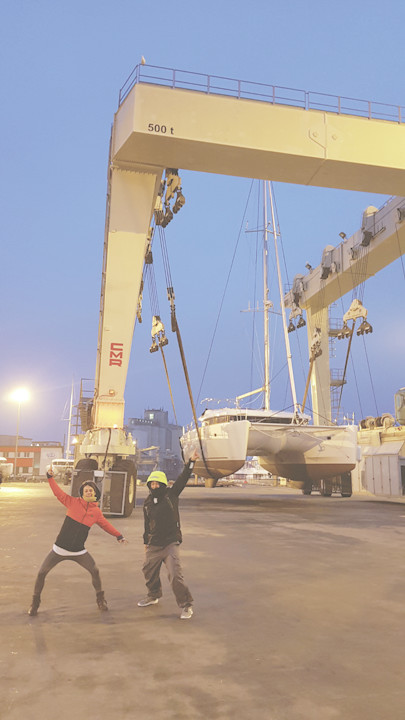 It's a strange but wonderful feeling to get back on the ocean again after 10 years. It's almost as though I has never left, as if everything in between has never happened and I've always been here, sailing. A quick glance between my parents and I says it all. Yes, after 10 years we are back on the ocean! César's happy too. It's his first time sailing ever, and he's making his debut in the Bay of Biscay in December, heading for a transatlantic crossing. He doesn't even know if he's going to get seasick! I was very worried about it before we set off. I know that seasickness is unpleasant, and I really didn't want him to experience it. If he did, then the next few months were going to be hell. We've got four months of navigating ahead of us! That's not to be taken lightly! And the first symptoms start to appear… I tell myself that he's done for. There'll be no card games, cooking, reading or just messing around. He goes to his bed, useless and no doubt telling himself he'll be no good throughout the whole journey. Yet, the next day I find him on his knees for two hours, head down, mopping up and repairing a leak in the bathroom. I look at him and smile. I realize that he just needed one night to adapt and that he is alright now. No more seasickness for him!
We stop off at Cascais, a lovely Portuguese village not far from Lisbon, to drop off Cécile and to eat the famous bacalau (salt cod). Then we head for the Canaries, where unfortunately we have to leave mum as she has to fly back to Mayotte for work. There were supposed to be four of us leaving the Canaries on the boat, but we discover that our other crew member, Monique, a 65 years old little bird of a woman with incredible energy has decided to head back to Mayotte as well. She's not used to sailing and has realized that, in addition to the sea sickness, the water isn't really where she wants to be and feels rather daunted at the thought of crossing two oceans with us.
So, the plan is: head down the Bay of Biscay, Lisbon, The Canaries, Cape Verde and then a transat as far as Salvador de Bahia in Brazil. Then sail back across the Atlantic as far as Cape Town in South Africa, rounding the Cape of Good Hope, and sail as far as Richards Bay, before heading east across the Indian Ocean towards Mayotte. When you think what we have to do because of those pirates?! If they didn't rule the roost in the Gulf of Aden then that would have undoubtedly been a more preferable and comfortable route to take.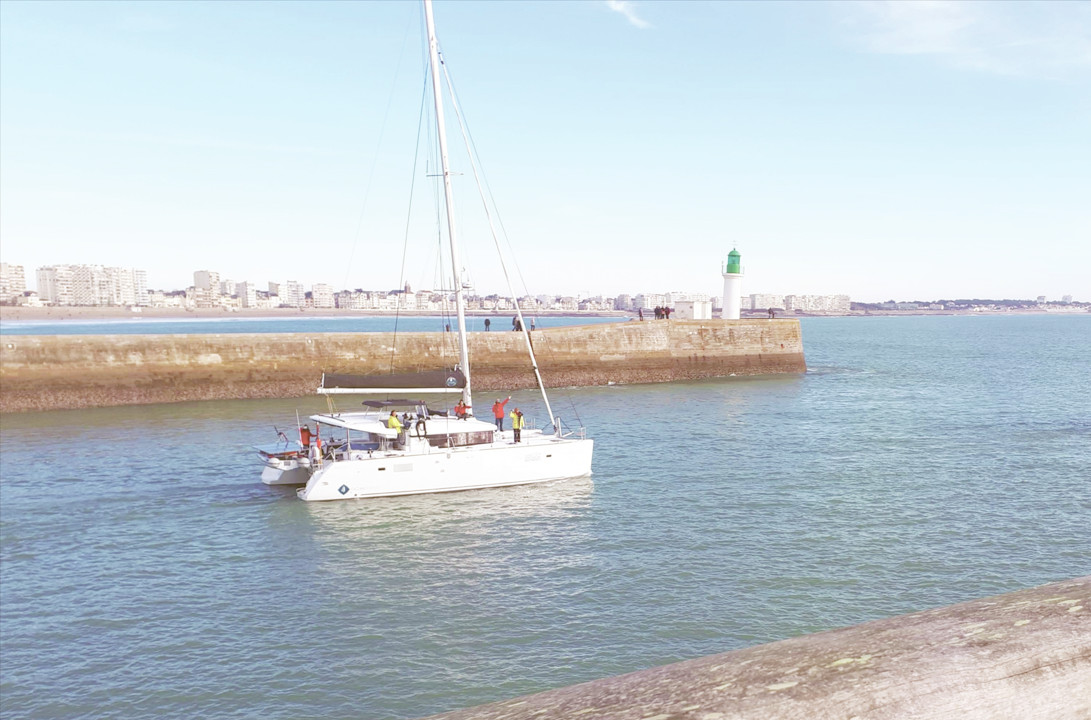 Anyways, there's now only three of us: my father, César and me. There's now a free cabin. I'm sad that there's only three of us on board with everything that lies ahead, and I'm especially sad to see a wonderful double cabin sitting empty. Having negotiated with my father, "El Capitan", I'm now allowed to call my friends. Yes!
As a proposition like this only comes around once in your life, and because most of my friends are wild and free like me, lots of them are interested by this adventure.
One week later, my two best friends from Australia (we had done the east and west coasts together), one of the most beautiful and wonderful couples that you could ever meet, are disembarking on the pontoon of Mindelo's marina in Cape Verde. The pair had just started a winter season in the mountains. They had planned to put as much money aside as possible with a view to a European roadtrip the next summer with us. Lisa is a cook and Max a waiter when he feels like it. From the moment that I mentioned to them that there was a free cabin and that they could join us, just getting up in the morning to go to work had become torture for them. The thought that they could be on a voyage of discovery on a boat instead of working for miserable bosses was killing them. So, they made their decision: they resigned from their jobs, said goodbye to their recently purchased ski-pass, threw a few shorts and t-shirts in their bag and met up with us in Cape Verde. Never mind the money that they were going to put to aside. They can do something about that later!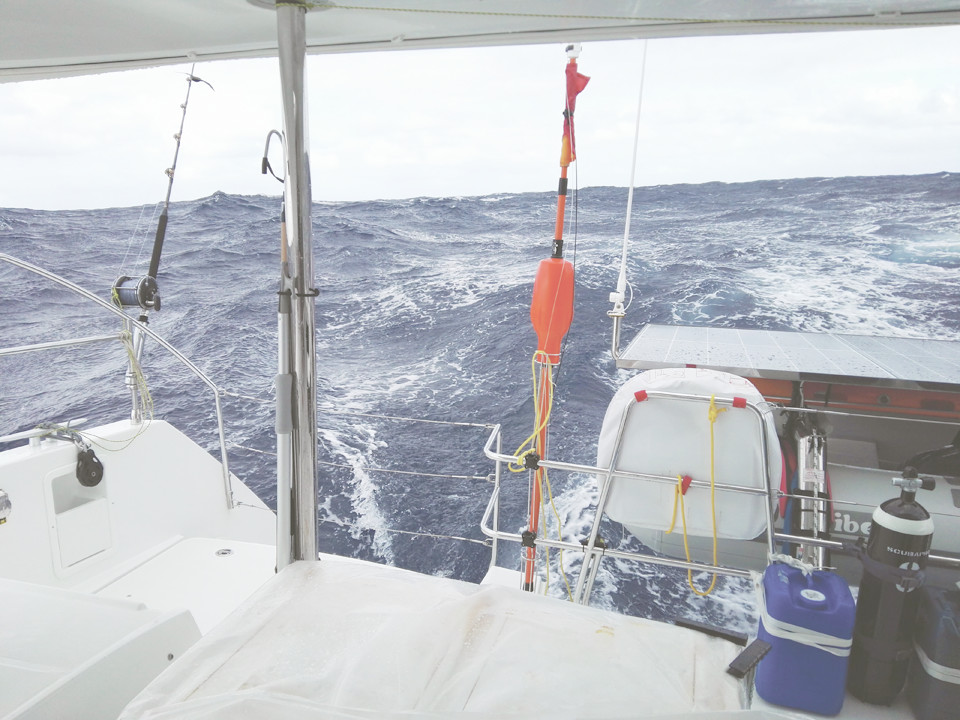 Meeting up on the pontoon is quite emotional. Without a telephone or any way to find anyone in the marina, I'm looking for them from a buddy boat where we've been invited to eat. It's friends of my father from Mayotte with their daughter who had waited for us in Mindelo because they wanted to thank my father and have an aperitif on their brand-new boat, the Pourquoi Pas. My father had quite a bit to do with them buying this boat and therefore being there that day. Amandine loves everything about boats and sailing, but Jean-Philippe, her partner, is rather less enamored. You do actually see more "skipperettes" than you would imagine. Because of this, they hadn't taken the big step of buying a boat and setting off. However, the many evenings having aperitifs with my parents in Mayotte changed their minds, and that's why we were being treated like kings, because they absolutely do not regret leaving everything behind, and thanked my father enthusiastically for encouraging them in their choice. Maybe it's a choice that will change their lives, and they are well aware of this. So, we're on their boat when I see the two scallywags arriving at the marina. A tall, blond, pretty woman with dreadlocks and a little ukelele, and her man next to her with his shock of blond hair, palm tree shorts and sunglasses. They both look as though they're straight out of the Johnny Depp film "Fear and Loathing In Las Vegas". This is Lisa and Max, and I can't help but scream out our own greeting: "YIIIIHHHHIIAAAAAAAOUUUUUUUUUUUUU" I yell, and it can be heard all across the marina. They recognize the signal and look over in our direction. César, also known as Fricotin, and I jump from the boat to go and meet them, all the while continuing our mad screaming. The four of us meet up on the pontoon, running like children towards each other like in some romantic film. With big smiles on our faces we embrace each other, getting all emotional to have met up again at last. We know that we're setting off on a long and challenging journey and that begins right now. Lisa and Max have just given up everything to join Maitai for a transatlantic crossing, and guess what? Neither of them has ever done any sailing before. My father looks at me and says, "Your friends have got some guts!"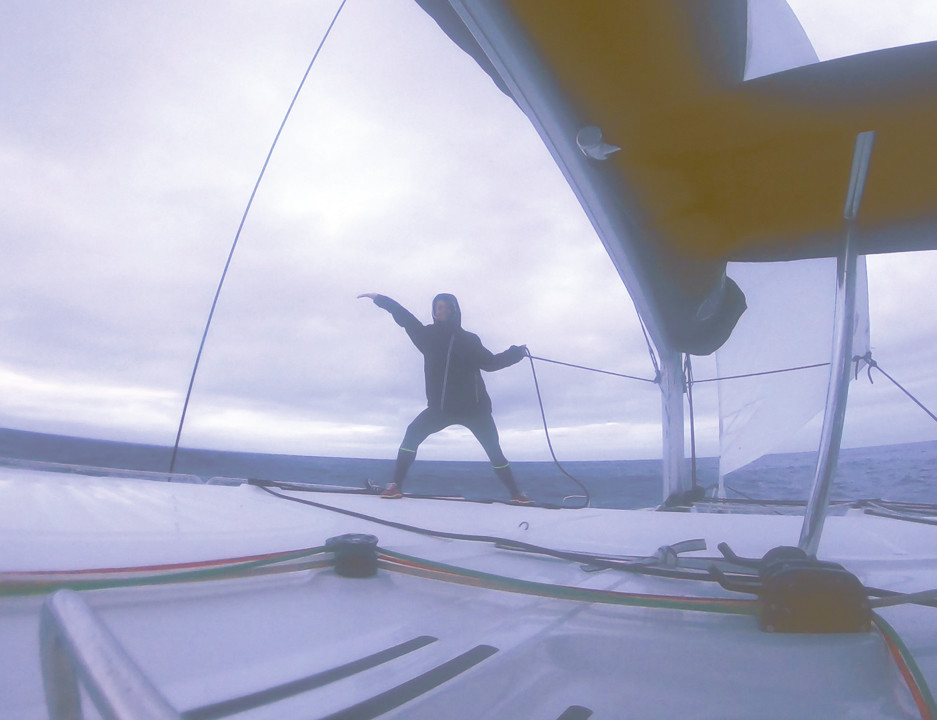 I probably don't need to tell you that the evening is as wild as our meeting had been. We've tried the Caïpirinha in Brazil, but those in Cape Verde aren't bad either! We go up on the roof on one of the largest hotels in Mindelo, from where we have a fabulous view of Maitai. Hers is one of the biggest masts in the port. Yahoo! Then we head back to the marina, still a little tipsy, to finish the party on the boat, inviting all boat buddies…
Anyway, the Atlantic is calling! We do the last bits of shopping, especially loading up on fresh stuff. Mindelo market is really good, and we come back with an amazing amount of fresh fruit and vegetables, that we wash in bleach to avoid having any unwanted critters on the boat. And then we're off!
It's great to get back on the ocean. For Max and Lisa, there are lots of first times. It's wonderful to see their smiles, just watching the boat and the sea that they're only just getting to know. Their lovely smiles and bright eyes never waiver, despite raising the sails for the first time, seeing their first sunset on the ocean, and losing their balance when a big wave hits for the first time. When I look at them, I know that they've made the right choice leaving their jobs and joining us. Obviously as they've never sailed before, we're wary of them having sea sickness. Max is sure that he won't get it, and he doesn't. Lisa isn't sure how she'll feel, having never really sailed. She says, "The sea isn't perhaps my element, but you are, so Yahoo!" It takes some guts to test it out on a transat. And César, he never gets seasick again. He learned how to sail incredibly quickly and surprises us with each maneuver. What a team of fighters!
Our Atlantic crossing from Cape Verde to Brazil on the Trade Winds is lovely and easy. It couldn't be quieter. We skim across the sea, and begin to settle into a nice rhythm…
What readers think
Post a comment