Buy a boat
A catamaran for €100,000: yes it's possible!
Flashback. I bought my first boat, an old Gib'Sea 80 plus monohull when I was young, and before I bought my first house. I was very proud. But later in my mid thirties when I needed to buy a house in the South to accomodate my wife and child, I had to sell my fourth boat, a Jeffcat 305, nicknamed Garfield on account of its girth. Despite bearing the prestigious signature of Erik Lerouge, getting enough decent living space in a 30 footer is still a major challenge. But let's not forget that a house is still "a badly built boat a long way from the sea". The next ten years were long. I secretly studied the small ads in Multihulls World, and checked the for sale signs on boats on the hard. There were long-winded searches on the internet which led nowhere. Length, price, year, location. I gave in a couple of times of course and ended up visiting a couple of boats which led to nothing, as I didn't really have a proper plan, which I'm sure all the owners and professionals that I hassled will forgive me for.
Starting with my friend Philippe. In 2014 when I wasn't really looking for anything, my eye was caught by a magnificent extended Punch 1200. The Punches are based on Harlé plans and were built at Multicap Caraïbes in Fort de France, Martinique. I like their simplicity. There are no headlinings: everything is lacquered. They are quite light, and their masts are relatively short to avoid any flipping in the swirling inter-island winds in the West Indies. A quick negociation and we're away! Promise of sale signed and in my pocket I head off for Australia. But during the stopover in Singapore, I call up Philippe with my tail between my legs. My personal life has hit the skids and I need to cancel everything. It took two years before I started looking again. That lovely craft will have been someone else's plaything for a long time now.
And of course, life's unpredictability, job changes and professional projects mean that one day you wake up and it's all very clear: I'm going to buy a boat. But that's not everything. I will leave my lovely rented home with a sea view and I will live on board ! I wanted to throw off some of life's baggage, was maybe afraid of putting down roots, wanting to move around a bit and just needing to change. In short it was all about finding some freedom again. The budget? Limited. Not just through neccessity, but also because I didn't want to get too much in debt. I could have borrowed more, but what's the point of owning a boat if you have to spend 360 days a year at the office to pay for it? I could have waited a year longer and waited for a house sale to go through which would have doubled my budget, but I didn't want to keep putting things off until tomorrow. So I set my budget at €100,000. It's perhaps a bit unwise to pay that for an old boat, but the monthly loan payback was the same as the monthly rental I paid on my house, and there just happened to be a few interesting boats on the market at around that price. Below that price, you really need to be a camping fan. The other criteria were to find a boat that was as long as possible, with the nacelle as high as possible, a solid build and inboard motors. Of course, outboards are more and more reliable, they are light and when lifted up help when under sail. But I've had too many experiences of problems getting them started. I want the reliability of diesel, just for my peace of mind, even though I know that older inboards can also have their problems. As for the rest, materials, builder, equipment… I had no preconceived ideas. I won't be difficult, I'll look at anything ! I even looked at trimarans at the start. You get more length for your money, and their elegance and seaworthiness were tempting. But I needed to live onboard, and the generation of boats which corresponded to my budget, didn't offer enough space even if I liked minimalist living! There was also the issue of the amount of space needed in the port. It's already an issue with a cat, so with a tri…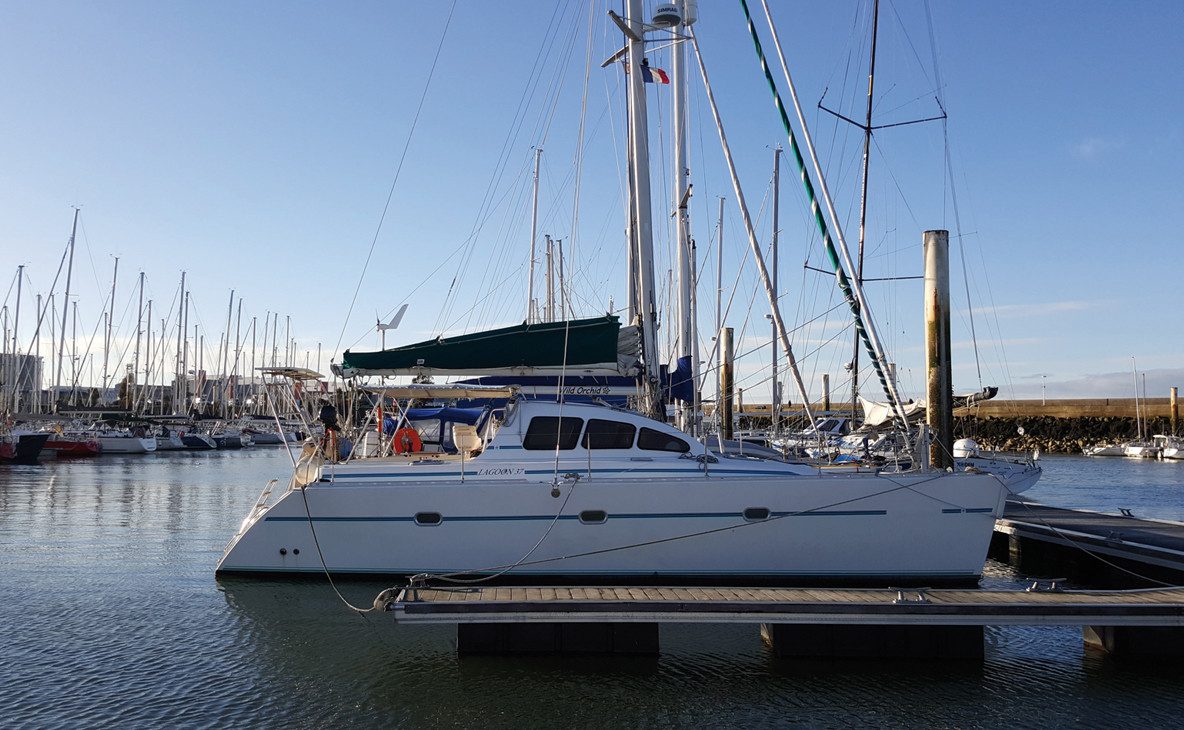 So I got searching online. Apart from the criteria mentioned above, the only filter that I added was the distance. I limited my research to Europe. There are good deals to be had in other far flung parts of the world or where the exchange rate is more favourable: West Indies; Australia; the US; Tahiti… However, my situation meant that there were too many reasons not to go down this route. The time and the money spent on the visits. Getting the boat shipped back. All of this was incompatible with my professional life and my project. But maybe next time I'd look into it! My own personal tastes meant that I didn't look at any seventies type boats such as HeavenlyTwins, Apache and Prout. For personal reasons I also gave up on the idea of "3 space" catamarans, despite loving my Edel Cat 35 Open. I didn't want to have to go outside to get from one hull to the other or to the salon, as I'd be living on board. I was also very wary of loading. In the past, some builders had pushed their masts too far forward for my liking,to increase the living area without pen boards, and regretfully sometimes, these were off my radar too. What about an amateur build or a prototype ? Why not ? If the job had been well done, these are often simple boats, easy to maintain and fix up and with varying levels of performance which didn't put me off. They aren't in huge demand and so the prices are lower. So, during my lunch break, and until way too late in the evening, I surfed on my computer. Websites for professionals, small ads for private clients, specialist brokers, in France and abroad. Online magazines with of course your (and our) favorite, that you're reading right now, at the top of the list. I learnt to read between the lines, to scan for multiple ads for the same thing at different prices, to spot old photos, ex-charter boats which need everything replacing, those that were floating houses, ocean going boats and "new" sails from 2010! Having done my first sweep, there is still no "Punch" in my shortlist. That had been a unique opportunity. The 12.50m with their colourful hulls were calling to me, but they were too expensive. Even with a bit of horse trading, the multihull market was on the up and demand was high, so it was no use fooling myself. There was no point looking at anything over €110,000 maximum.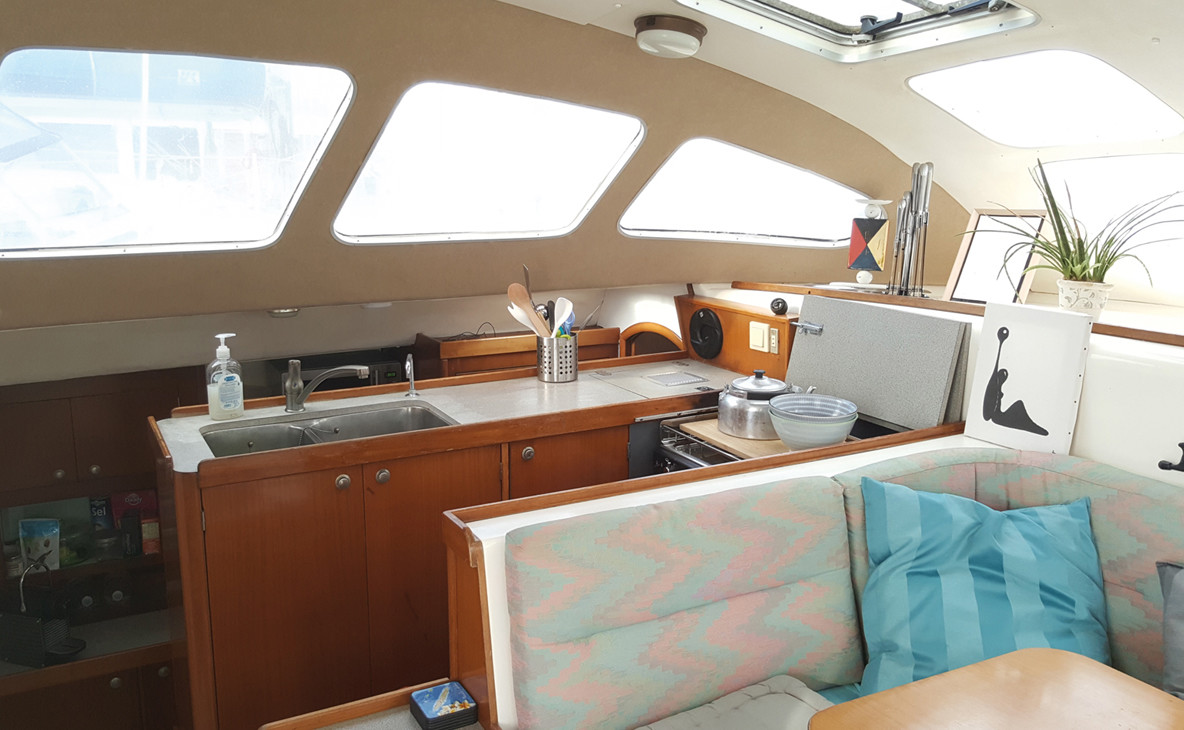 A Tough Choice
So after all this searching and discarding, not always in a rational manner, I have to admit, I had just a trio of boats to look at, and no more! The first visit is to see a Fidji, one of Fountaine Pajot's historic models. I like its flying saucer look, its narrow hulls and the contrast between its antracite grey and clear oak wood. I'm a little wary of the low and rather small bows. A 24h return ferry trip to the mythical Solent clarified the situation. Although I'd been partly warned by the agent, the interior did come as a shock. The headlinings were hanging down. About 80% had come away in the hulls and the saloon cushions were sodden because the coachroof hatches were obviously leaking. It's nothing that can't be fixed, but I'm just surprised that a boat could be put up for sale in such a state. More problematic though, was the coachroof above the two entrance doors, which was not water tight and had visibly suffered from the torsion which all multihulls experience out at sea. Finally the cockpit seemed to me to be neither convivial nor welcoming, with two long bench seats separated by quite a distance. It was a first visit and we weren't going to make a final decision one way or the other. With some negociation and a lot of work it could be a good fall back position.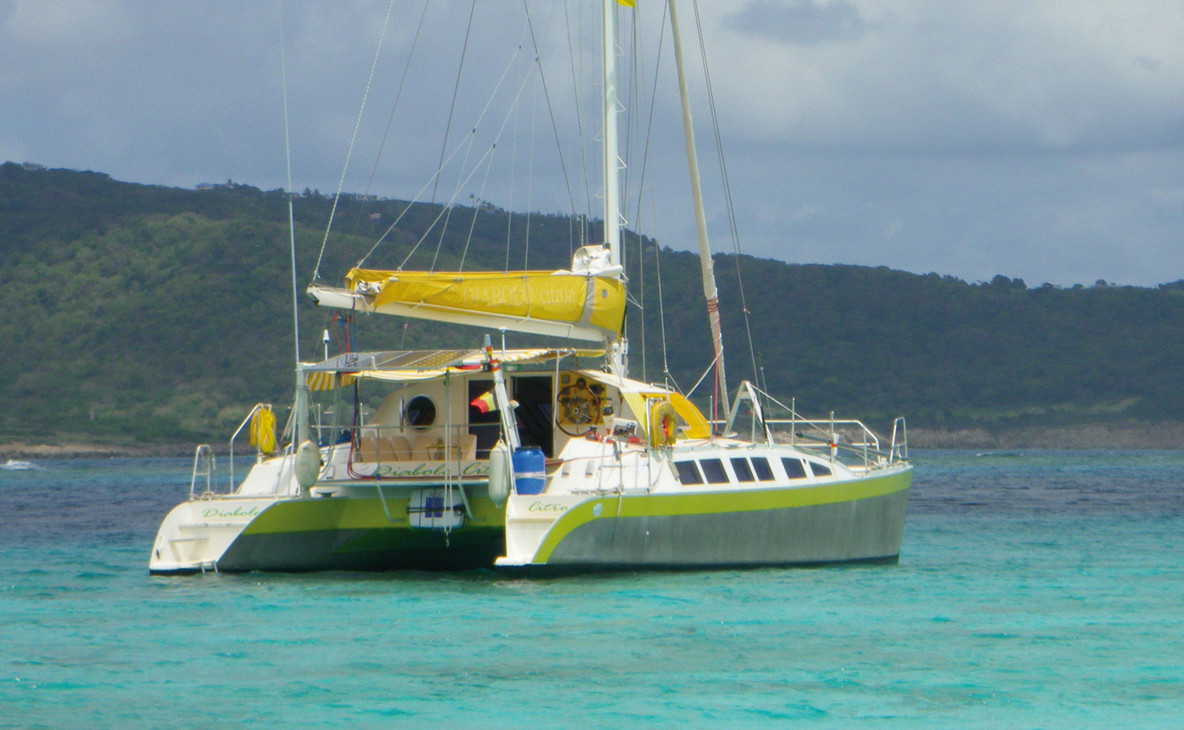 Next stop was the Nantes area, back in France, where there was a very nice catamaran on the hard. It was a very careful amateur build in plywood/epoxy. Quite recent ,and longer than the two others on my list, I overlooked my reticence as regards outboards, saying that I would always be able to install two small diesel engines in the hulls at a later date. The interior was extremely rustic but nothing that couldn't be worked on. The aft beam was "open" to allow for repairs, which alerted me to the sort of attention that this kind of material needs. I'm no expert with a brush, but even if there's something very small, it needs to be fixed immediately, otherwise there's the risk that water will infiltrate the wood and make the problem worse. No big deal on a professional boat with a perfect gelcoat finish, but perhaps a bit more problematic in this case. And especially for me, as I worry too much about this sort of thing and would be like having the sword of Damocles hanging over my head. Ok, so that one isn't for me, but then it's just a personal choice.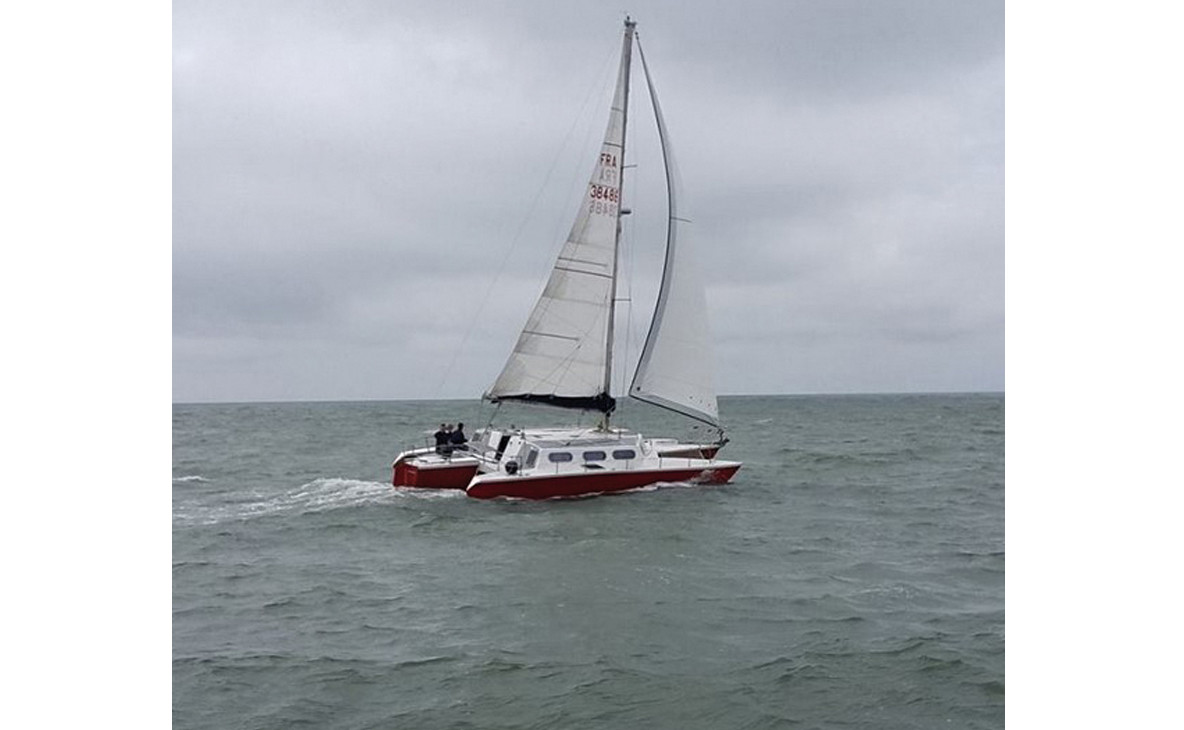 A day return to the south of Spain (thank you budget airlines !) to see the third boat on my list. The list price for this 1994 Lagoon 37 was €99,000, so just below my maximum budget and it seemed to be in good condition. The German agent has been singing its praises but I'll wait and see… My first impression is that the mast seems extremely short, to the point in fact where I don't even think it's on the dock indicated by the Harbour Master. But no, it's definitely there, with its slanting roof, characteristic of these first generation Lagoons. I fall for the look and layout of the boat. The sails which were supposedly in good condition, are shot, but the rigging is in good condition. The layout on this boat is fairly rare for this model, but it suits me with the galley up in the nacelle, while most of them were in the hulls. In the three cabins, there is a nice shower room to port, aft. There is still the original upholstery in the saloon (!) and that'll need changing, otherwise the boat is pretty well-equipped: a large fridge; two Webasto heaters (one per hull), a large recent color plotter, a brand new gas stove, a large fixed bimini… Alright, we're not getting too excited, but from what I've seen it looks like a pretty good find. I tried making an offer which would have covered the sails and delivery back home. With a small bank loan, and formalities which took longer than expected before I could get rid of the German flag, I was the owner!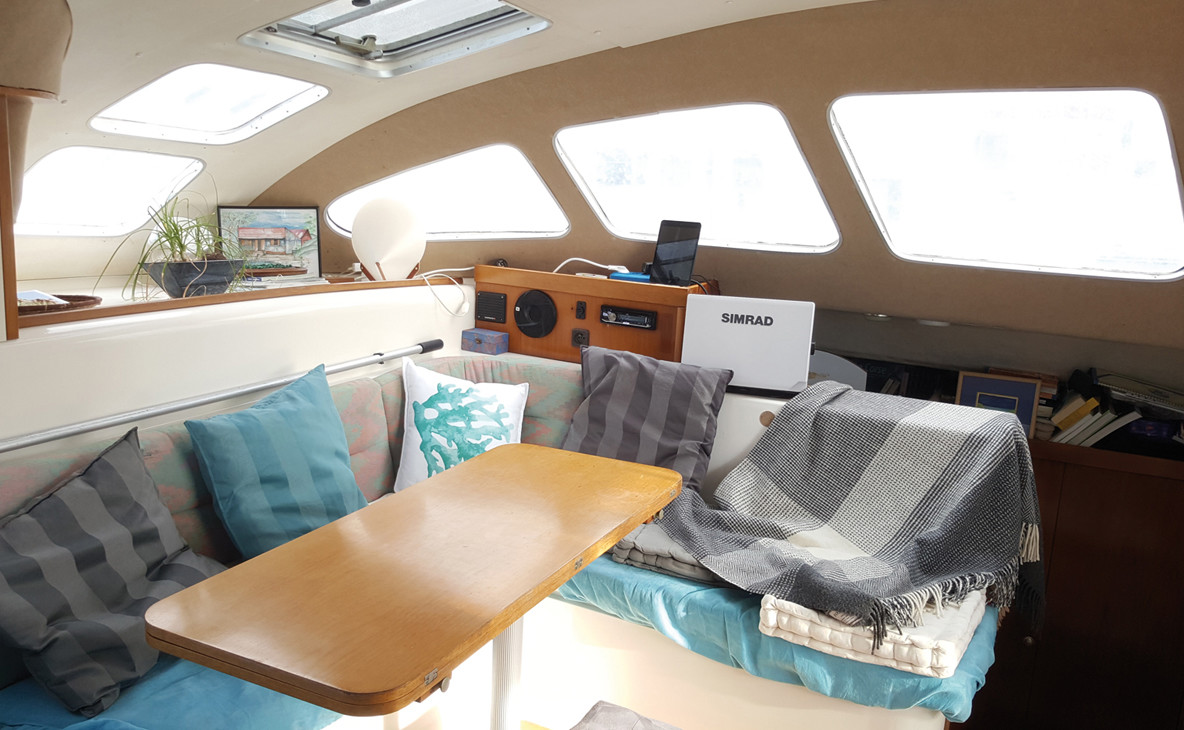 I Was Finally An Owner!
Six months later we were able to have a better idea of the situation. Work was needed to sort out the electrical and pumping systems. To improve the performance we will change the sails and… add three blade folding propellers! That will give me more confidence during maneuvers in port. To do that, the engines will need a full service as they'd caused a few problems for the friends who had brought the boat back up. Also on the shopping list, and it was as expected, was a new liferaft which is more reassuring for the crew, and required by the authorities, than just life jackets. The new radio with CD, Bluetooth and everything is installed so that we now have music. It's not always the biggest investments that give the most pleasure! For the moment I have given up on installing a taller mast. One day I'll lengthen the sugarscoops and the bows and will add two brand new engines. In the mean time, as long as the temperatures are positive, it's haulout time, hull polishing and clearing out the forward lockers.
In the end, in a few years, it will be a unique but coherent project I hope. Over-budget, but I will have done it as best as I could. Rather than it being "very good" tomorrow, I prefer "acceptable" straight away, and I 'll work on it. Maybe one day I can top up the kitty with a few long term low-cost charters. You'll be able to take a sabbatical year for the price of a Smart Car! But not straight away. Let me enjoy her first. I'm impatiently awaiting the return of the sun and the warm weather to head out sailing again. My love affair with Aya, my "Old Lady", is only just beginning. As happy boat owner Jean-François Deniau said : "I like the idea of being able to set off, even if I don't actually leave".
Not yet… 
---
10 crucial things to check before buying:  
1- The fixed skegs and the rudders.
2- The underwater hull: either getting the boat out of the water, or a dive underneath are essential.  
3- The shroud chainplates.
4- The standing rigging: more than 10 years old - change it!
5- The mastfoot.
6- The main bulkheads, namely the mastfoot transversal and those near the chain plates.
7- The bilges: Check for any traces of shocks or delaminated frames.
8- The joins between beams and hulls. A quick trip underneath in a dinghy to check out the rigidity of the platform.
9- The engines: cold, at tickover, ahead, astern, at cruising revs and at full throttle. You need to leave the harbor.  
10- The sails: age isn't everything, nor the miles that have been covered (or not as the case may be). It's the care and protection that have been taken with them that is crucial.
The 11th point is to get a surveyor's appraisal. It's vital!  
What readers think
Tell us your opinion