Multihulls Match
Crossing the Atlantic: independently or with a rally?
Published on 24 january 2018 at 0h00
Completely independently, of course!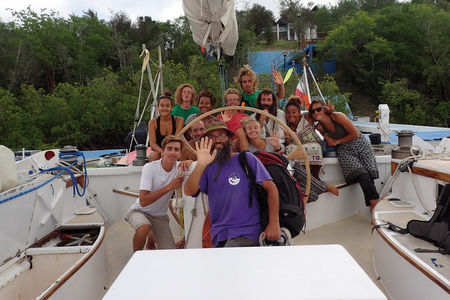 By Christophe Dasnière, from the project Grandeur Nature or "La Parole des Enfants".
Grandeur Nature is an association based in Sète (South of France), which over nearly 20 years and 40 transats has been carrying out extraordinary educational work with youngsters from 14 to 17 years old. It uses the catamaran and the Atlantic voyage as a support for innovative educational work, and obtains remarkable results (www.grandeurnature.org). 
On reading the theme of this Multihulls Match, I asked myself two questions:
Why ask this question of us, who organize 10-month expeditions with youngsters, off the beaten tracks? Do I have an opinion, as I really don't know what an organized rally involves? Of course, over the twenty years or so that we have been carrying out expeditions with the Grandeur Nature association, we have encountered these fleets, for example last year in the Cape Verde islands, in Mindelo marina. We weren't in the marina, but in the anchorage opposite, as we didn't have the means or the wish to spend two months' salary for a Cape Verdean, for one week on the pontoon!  You will have understood that we rarely stop in marinas during our voyages. We did it 6 times on the last expedition, generally for provisioning.If the aim of this text is to speak ill about rallies, the readers will be disappointed, because I prefer to talk about what I know and what interests me about a voyage in a sailing boat.For our voyages ...
Become a member
Become a Multihulls World Community Member for free and get exclusive benefits
Become a member
What readers think
Tell us your opinion