Multihulls Match
Prevention of collisions and impacts when cruising the oceans or off the beaten track.
Published on 18 may 2017 at 0h00
A cruising catamaran in the pack ice – an illusion?
By Philipp Cottier, catamaran Libellule (NW passage and Antarctic expedition)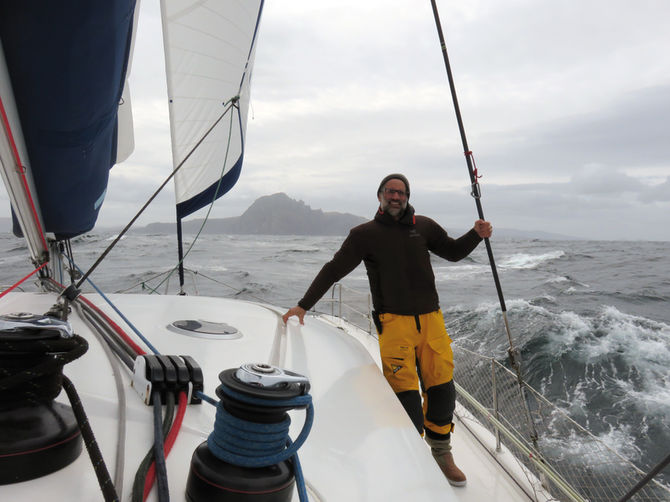 In 2013, we set off with our three daughters and our catamaran Libellule (a Salina 48 from Fountaine Pajot) for Greenland, to cross the famous North-West Passage. Before undertaking this adventure, there were many skeptics who maintained that heading for the ice in a catamaran was nothing short of madness. They were without a doubt right, because a cruising cat is intended for the Caribbean, not for polar navigation! Not only because it is in polyester, but also because its beam and the two hulls make progress in the ice more complex. The biggest risk comes from the pack ice, always unpredictable, but also from the growlers and bergy bits coming from the icebergs. We chose a catamaran quite simply because we had no other boat available! With the help of my Swiss obstinacy, I nevertheless wanted to do this trip, which I had been dreaming about since childhood! The voyage was meticulously planned.  Two very experienced French skipper friends, Yves German and Sylvain Martineau, came with us. We had had numerous discussions with several engineers in La Rochelle, notably to explore the four following scenarios: Impact crash (hitting a growler in a strong wind situation, which we hadn't seen because of the waves' foam): we therefore reinforced the crash boxes with seven layers of Kevlar. Cutting of the bows by sharp pack ice: the skins ...
Become a member
Become a Multihulls World Community Member for free and get exclusive benefits
Become a member
What readers think
Tell us your opinion