Multihulls Match
Protecting a multihull: vinyl wrap or paint?
Published on 20 july 2017 at 0h00
We went for vinyl wrap
By Michel Fischbach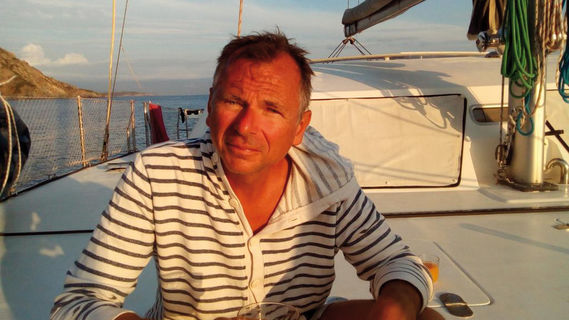 Michel was born in 1961. A cardiologist in Bordeaux, France, he has been sailing since his early childhood. A long-time multihull fan, he set out in 2013 on a 5-month journey around the Mediterranean with his family on their Lagoon 380. He bought Caretta (the former Fredocean, a well-prepared Eclipse 472) in November 2015, with the aim of completing a four-year circumnavigation, which is scheduled to start in early September 2017. (See his blog www.catamarancaretta.fr)
Stickers on a boat hull? The idea might have seemed absurd until very recently! Yet, for quite a few years now, "wrapping" has been practiced on both racing cars and racing boats. We remember well the fabulous look of Pierre 1er, Florence Arthaud's trimaran during the 1990 Route du Rhum! It remained to be seen if the durability of the product was compatible with every boat.  Wrapping or "covering" as it is known in France, has really only begun to be developed for boats in the last few years, but even the big yards are now using it. This is the solution we chose for our catamaran at the time of her refit, and we have not regretted it!  A little tip: there are three types of vinyl adhesive films of increasing quality: monomer, then the more-resistant polymer and finally, cast vinyl which is made up of several layers. The latter is most commonly used on boats because it allows for a greater flexibility for the installation in 3D using a heat source. It is ...
Become a member
Become a Multihulls World Community Member for free and get exclusive benefits
Become a member
What readers think
Tell us your opinion