Technical
On-board electronics
The sextant has for a long time now only made very occasional appearances on the decks of our boats – uniquely devoted now to short educational sessions – and the full-size charts are hardly ever unrolled, apart from our aperitif-nostalgia sessions. These ancestors no longer even serve as a back-up in case of an overall breakdown. In any case, they are no longer compulsory, and above all no longer considered, as the possibilities of rescue offered by often completely independent equipment have invaded our chart tables and cockpits. Just as for the weather forecasts, the SSB receiver glued your ear during the radio forecasts was replaced by high-tech headphones a long time ago. Let's leave smartphones and latest generation tablets for a future diagnostic, and look at the solutions for long-term cruising, integrating elements such as weather forecast reception, routing and radar. When it comes to ultra high-performance navigation software, you have two options: a fixed or portable computer and/or a completely integrated and 'marinized' chart plotter. So, what kit can we equip our boats with, and what can we do with this kit? It's above all a question of choice, but certain essentials are necessary to receive all the information we need when sailing.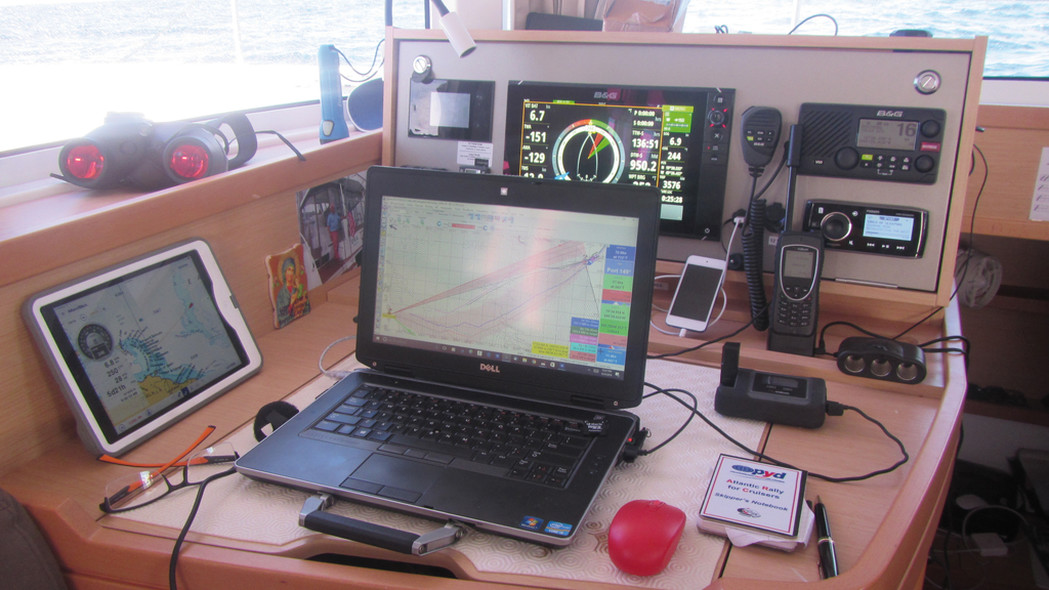 Inshore and offshore information and connections.
Whether you do your navigation on a computer or a plotter, it's essential to collect certain information: the boat's position, its heading of course, the depth and the wind, possibly the radar signal and/or AIS, and if you wish to plan your routing very precisely, the GRIB weather files which can be displayed on the screen, are a minimum. All the basic information is collected by the on-board instruments (log, speedo, wind instrument, depth sounder, AIS and radar) and can be consulted via the multi-function display which is part of the electronics pack offered by the builders as standard. In most cases, an optional model can also include a chart plotter. On the other hand, to receive the weather files, which are external to the boat, you must be connected. Ashore, or close inshore, this can be done with a 3G or 4G connection on a key and, up to 20 miles, a dedicated aerial or a top of the range smartphone. Offshore, you will have to resort to the satellite phone. The Iridium and the Inmarsat, through their worldwide coverage (apart from the poles from 70°N and 70°S for the Inmarsat) and their flexibility of use, appear to us to be the most appropriate choice for leisure sailing use. With these terminals, portable or fixed, the bandwidth is sufficient for telephoning, sending lightweight e-mails and receiving GRIB files (around 250Kb) at an affordable price, but not enough for surfing the internet. High-speed is possible with the big Inmarsat Fleet Broadband or Iridium Pilot aerials (approximately the equivalent of 3G), but your bank account will suffer accordingly. The little Iridium Go or Isathub for Inmarsat boxes include a wi-fi access point for data exchange, and can be used easily with mobile devices such as smartphones, tablets or laptops, and their contracts are cheap.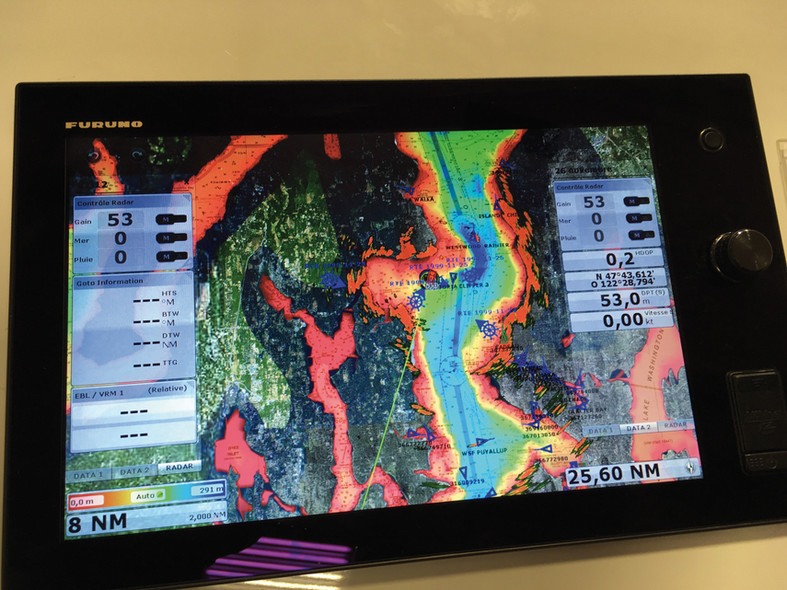 Plotter, computer or both.
Judging by the latest models on display at the Paris boat show, apart from new applications linked to steering the boat, managing the on-board systems and the generalization of touch screens, a wi-fi connection is now included in the new generation of plotters, allowing recovery of elements external to the boat via the smartphone's hot spot or directly via a server to which you have access rights, as soon as the signal is detected. Information about navigation, nautical charts, maritime traffic, the weather, etc. can be downloaded, but it is also possible to send the screen to the other on-board devices (which was previously done with an HDMI plug), as well as the personal mobile devices, whether iOS or Android. For our main preoccupation, the weather, and without this list being exhaustive, the Vulcain 7 and 9 from B&G work with the GoFree technology, the Furuno GP 1870 can receive weather information via C-Weather, the GPSMAP range from Garmin obtains weather information with BluChart mobile 2.0 and Raymarine's ES series among others acquires graphical forecasts via the Theyr Digital Precision Weather service. Without being able to mention them all, the multitude of functions they possess is impressive; you can adjust the autopilot and even turn up the sound system, view the images from the on-board cameras, follow your course when racing, and so on. But through their factory adjustments, the source of weather information is more often than not restricted to one operator. Of course, you can display the wind files superimposed on the charts, but apart from the Furuno TZ range, which incorporates the TimeZero navigation program, routing including the speed polar diagrams is only possible with navigation software such as Maxsea and Adrena, which can be used on Windows PCs. Of course this is not the only advantage… Who can do without their travelling office nowadays? On this point, the laptop seems to be a unanimous choice, through the possibility of using it in different places aboard and above all, of taking it ashore to download information if the on-board connection fails. The experience of the writer/world voyager Olivier Mesnier, who saw his laptop damaged by sub-tropical viruses (yes, they're not just for humans!), strongly suggests that you should have a second computer for day-to-day use which serves as a safeguard for the one you use for navigation. And this second computer should also have a back-up... From a robustness point of view, a fixed, built-in PC equipped with a waterproof keyboard can prove to be a reliable solution. The other solution consists of simply adding a flexible keyboard to your mobile.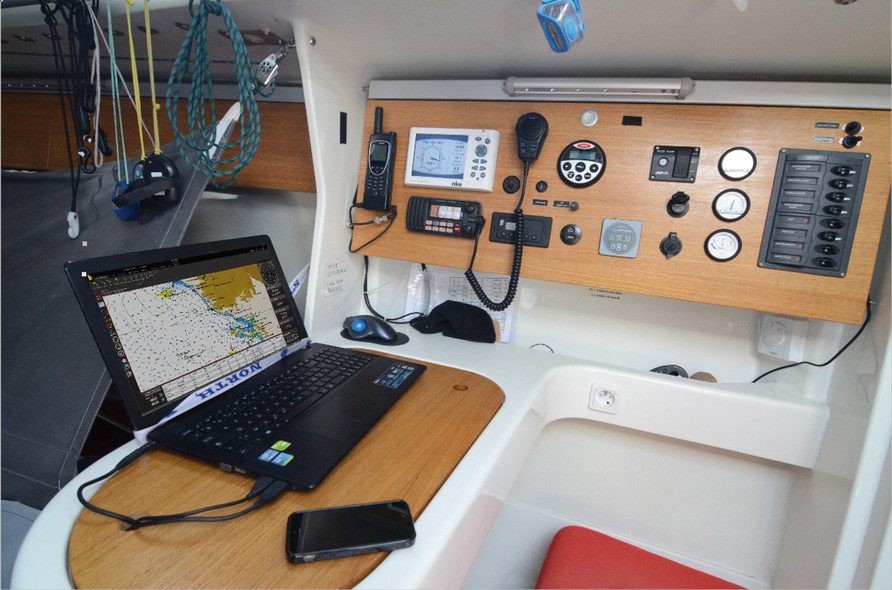 Networking via an integrator
Now that we have found all the instruments to receive the essential information, and have all the kit for using the data collected, all that remains is to ensure that everything works correctly together… And on this point, we cannot advise you strongly enough to call on a fitter, or should we say an 'integrator', according to the appropriate terminology. All the information from all the devices can be transmitted via an NMEA 2000 or 0183 bus, the screen control can be via an HDMI cable or by wi-fi, the transducers are more and more frequently wireless, the mixing possibilities are very extensive, but the energy supply required is to be taken seriously. So, you will have understood, it's best to draw up precise specifications for the equipment you want to use with a professional, who will give you the best advice, taking into account your cruising program (sometimes selecting tropicalized or over-sized equipment can prove to be a good idea), your habits and wishes (certain people like to have connections in their cabin, or a waterproof display in the cockpit), as well as your budget.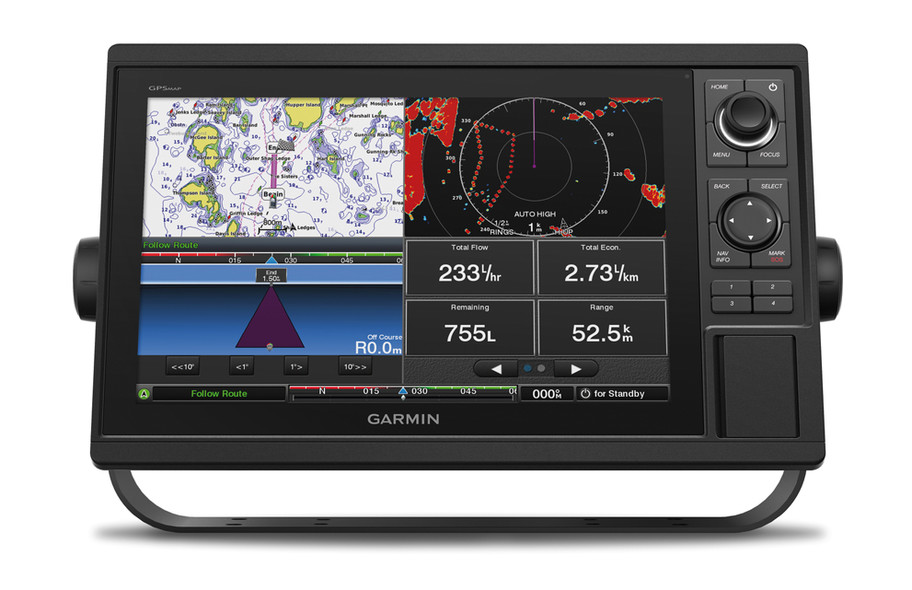 What readers think
Post a comment