Offshore racing
The 36th edition of the ARC - 31 Multihulls set out from Las Palmas, bound for Saint Lucia
The 31 multihulls in the rally were the first to set off after the starting gun was fired, and as with the 110 monohulls following them, they had to tack to cross the line and were on a beat to reach the southern tip of the island of Gran Canaria. Unusually, a south-easterly wind of 10 to 15 knots had set in, as opposed to the typical north-easterly trade winds. The competitors were forecast to experience very light weather, most of them having victualled sufficiently to "maintain" themselves for 18 to 20 days on passage. Among the fleet of multihulls, we found former winners of the event such as the NEEL 47 Minimole, the TS42 Banza , and also the TS5 Guyader Saveol. It was the latter that was the first multihull across the line, just ahead of the Italian monohull Nacira, a 69-foot Vismara, followed by... Banza  and Minimole! In class B, it was the Excess 11 Bombarda that outperformed all the others.
The starting line is oriented south-southeast, with the trade wind usually come out of the northeast... but for the 2021 edition, the multihulls were forced to tack to make their way around the island.
Our contributors Brieuc Maisonneuve and Maxence Valdelièvre, respectively aboard the TS5 Addictive Sailing and the Class 6 One Cat, look to have good speed potential - Brieuc appeared to be the only multihull skipper giving the northern route a go, attempting to catch the low pressure… and thus wind... At the skippers' briefing, meteorologist Chris Tibbs had advised the boats to head south along the African coast to the latitude of the Cape Verde islands before turning their bows west towards Saint Lucia. In the end, more than 200 yachts were to cross the Atlantic, as the 67 competitors in the ARC+ left Mindelo, Cape Verde, on the second leg of their crossing on Friday, November 19th, bound for Grenada. For the first time, in January, a further 60 yachts set off on a third transatlantic rally organized by the World Cruising Club. The route for this crossing is identical to the main edition - Gran Canaria to Saint Lucia.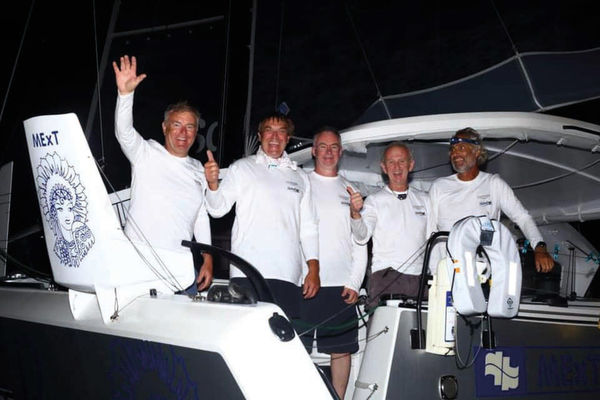 Friday, December 3 at 4:41 am local time: the Guyader Sailing Team, winner in the Multihull category, crossed the line in Rodney Bay on the northwest coast of Saint Lucia. Aboard the TS5: Gwen Chapalain navigating, Xavier Dhennin, Guillaume Fleury, Christian Guyader at the helm and in the galley and ...
Subscribe
Subscribe to Multihulls World and get exclusive benefits.
Subscribe
What readers think
Post a comment