w1
The Transat Jacques Vabre: off for a strong coffee in Itajai, Brazil
Dreamt up 22 years ago, the original Route du Café was a single-handed race from Le Havre in France to Cartagena in Colombia. Run biennially, on the odd years, it became a two-handed challenge from second edition of the "Transat Jacques Vabre". Le Havre remained as the start line, but the finish was a bit more fickle: in 2001 fleet enjoyed the Brazilian atmosphere at Salvador de Bahia. Eight years later, it was Puerto Limon in Costa Rica, only to be returning to Brazil, this time further south, to the coastal town of Itajai. The course is quite a bit longer: 5,400 miles as opposed to the 3,800 of the Route du Rhum, and includes the dreaded Doldrums. This narrow zone, straddling the Equator between the African and American continents, is not a favorite among sailors: waterspouts, storms and squalls, but above all, lengthy dead calms - it's definitely somewhere you don't want to get stuck…
And this is where the best sailors do well: the one who finds the shortest route through the Doldrums will arrive first. But it's not as easy as that: the start from Le Havre late October is not necessarily a pleasure. By Halloween, there are frequent depressions heading up the English Channel. In 2013 for example, the starting gun was delayed by four days, due to continuing gales. So it's a question of enduring the cold weather of Halloween in the Channel, the contrary winds and swell, then to build up your strength again in the trade winds, before doing the best you can for the famous Equator crossing. Then conditions as far Itajai can be very rolly, with a regular wind on the beam holding as far south as the Tropic of Capricorn.
For this twelfth edition of the race, monohulls represent the lion's share, with 21 Imocas and 14 Class 40s entered, but it will be the multihulls who will arrive first in Brazil! There are 4 participating in the Multi 50 class and the same number of Ultims. The record times over the course from KLe Havre to Itajai are: 14d 17h 40m 15s at an average of 15.30 knots for FenêtréA Cardinal (crewed by Erwan Le Roux and Yann Eliès) in the Multi 50s - which is two knots faster than the best monohull time, and 11d 05h 03m 54s at an average of 12.22 knots for Edmond de Rothschild (Sébastien Josse and Charles Caudrelier) in the Ultims.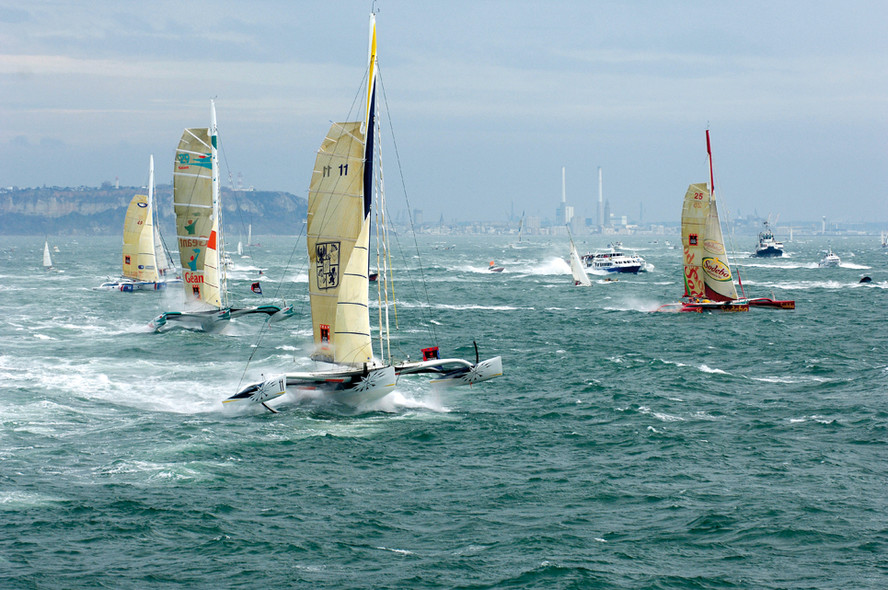 The Challengers
Arkema – Multi50 Lalou Roucayrol/César Dohy
Lalou has been a multihull fan for over 30 years. Since doing a Mini Transat, he has barely set foot on a monohull… He is excellent over long distance, and is particularly at home when conditions get difficult. His trimaran is the latest Multi 50 to be built and is undoubtedly one of the best - 1st in the Route des Princes in 2013, 2nd in the Route du Rhum in 2014. She was the victim of a capsize two years ago, but seemingly nothing can put her skipper off. Lalou is supported by César Dohy, sail designer and project Arkema coach. One of the favorites.
Arkema technical specs
Class: Multi50
Sail number: FRA 9
Length: 15.24 m
Beam: 15 m
Draft: 3,5 m
Home port: Port Médoc
Naval Architect: Romaric Neyhousser
Builder: Lalou Multi
Construction: glass/carbon sandwich
Launched: 2013
Type of rig: wing mast
Upwind sail area: 160 m²
Downwind sail area: 290 m²
Source of onboard energy: diesel motor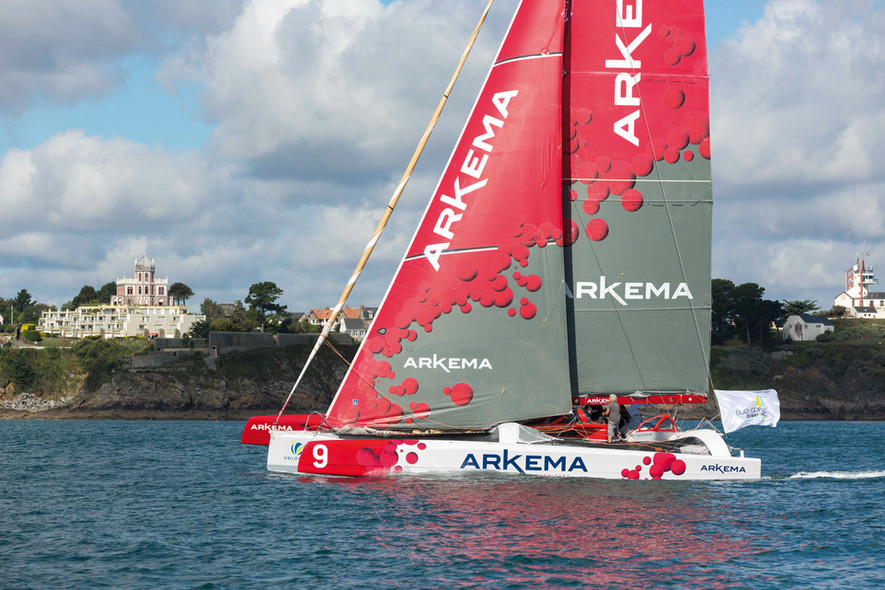 FenêtréA Prysmian Erwan Le Roux/Giancarlo Pedote
Erwan is the big favorite in the 50 footers: he established himself with incredible ease in the last Route du Rhum, building ever day on his lead over a helpless Lalou. However, his boat is now 6 years old. He has already won the Transat Jacques Vabre, in 2013. Will this exceptional sailor's 14th Atlantic crossing be lucky for him? In any case, he can count on the experience of the young Italian Giancarlo Pedote, one of the top sailors in the Mini 650 class, who is crewing for him.
FenêtréA Prysmian Technical Specs
Class: Multi50
Sail number: FRA 3
Length: 15.24 m
Beam: 15.20 m
Draft: 3.50 m
Home port: La Trinité sur Mer
Naval Architect: VPLP
Yard: CDK
Construction: glass/carbon/epoxy foam sandwich
Launched: 2009
Upwind sail area: 208 m²
Downwind sail area: 255 m²
Source of onboard energy: wind generator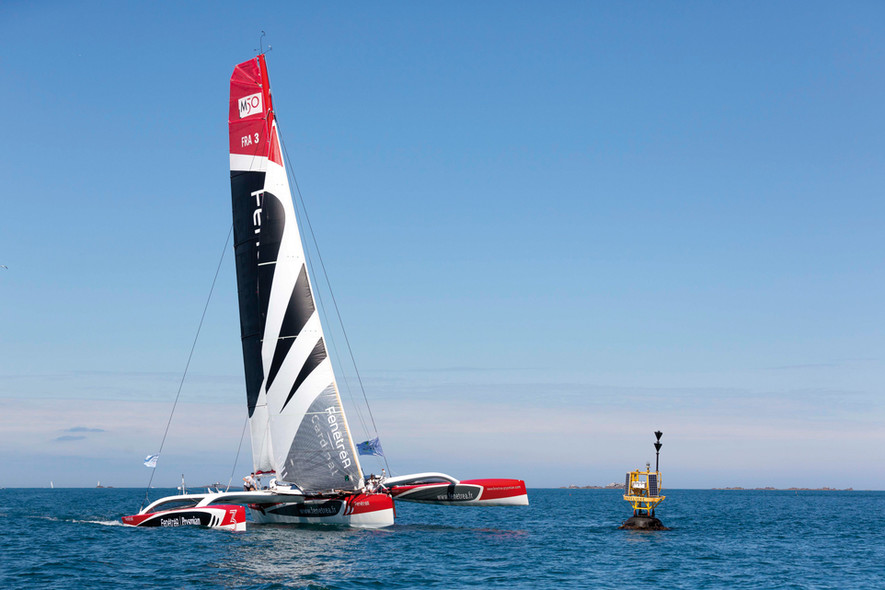 Ciela Village – Multi50 Thierry Bouchard/Olivier Krauss
Thierry has got 10 Tour de France à la Voile races under his belt, with four podium finishes. He knows this challenge well, as he's already enrolled twice before. An all-terrain adventurer, the 56 year-old skipper loves motorcycles, mountain biking and mountaineering. But this is his first big adventure on a multihull. Sure, this 50 footer built in 2005 probably hasn't got the same potential as the latest models, but his co-skipper is Olivier Krauss, one of his most loyal crewmembers, known for keeping his cool in the worst possible situations and being able to keep everything together.

Ciela Village Technical Specs
Class: Multi50
Sail number: FRA 83
Length: 15.24 m
Beam: 15.10 m
Draft: 3.2 m
Home port: La Seyne-sur-Mer
Naval Architect: VPLP
Yard: CDK Technologies
Launched: 2005
Upwind sail area: 172 m²
Downwind sail area: 267 m²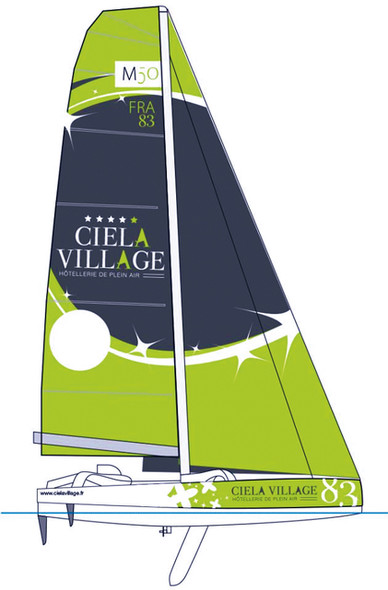 Rennes Métropole – Saint-Malo Agglomération Gilles Lamiré/Yvan Bourgnon
The skipper with steely blue eyes will be celebrating his 45th birthday right before the start. Not unknown on the circuit, he is a veteran of twelve Atlantic crossings, with some nice results: 3rd in the 2014 Route du Rhum, 3rd in the 2013 Transat Jacques Vabre, 2nd in the Quebec-Saint Malo race, to name but a few. Gilles has also shown that he can handle the big machines: in 2010 he finished 6th in the Ultims. At the time of going to press, his co-skipper was still to be announced.

Rennes Métropole - Saint-Malo Agglomération Technical Specs
Class: Multi 50
Length: 15.24 m
Beam: 14.75 m
Draft: 3.2 m
Home port: Saint-Malo
Naval Architect: Nigel Irens
Yard: Marsaudon Composites
Construction: polyester - carbon
Launched: 2009
Upwind sail area: 195 m²
Downwind sail area: 270 m²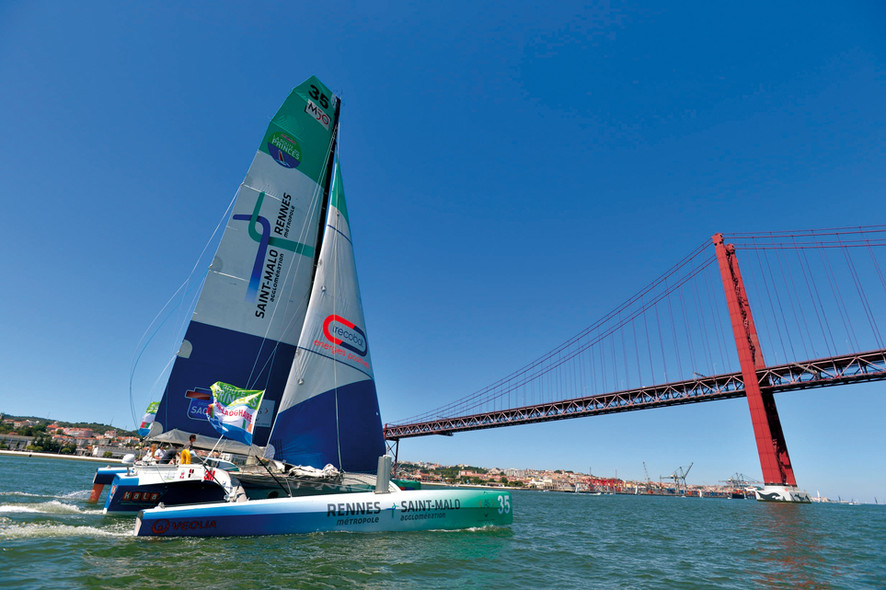 Macif François Gabart/Pascal Bidégorry
You take a young skipper who wins everything - Route du Rhum, Vendée Globe, and an old hand who smashes all the records: here you have a winning combination! Between them, these two have 28 Atlantic crossings including 8 participating in the Transat Jacques Vabre… Their boat was very recently launched, so is yet to be proven. But if nothing breaks…
Macif Technical Specs
Class: Ultim
Length: 30 m
Beam: 21 m
Draft: 4.5 m
Home port: Port-La-Forêt
Naval Architect: VPLP
Yard: CDK / MULTIPLAST
Launched: 2015
Upwind sail area: 430 m²
Downwind sail area: 650 m²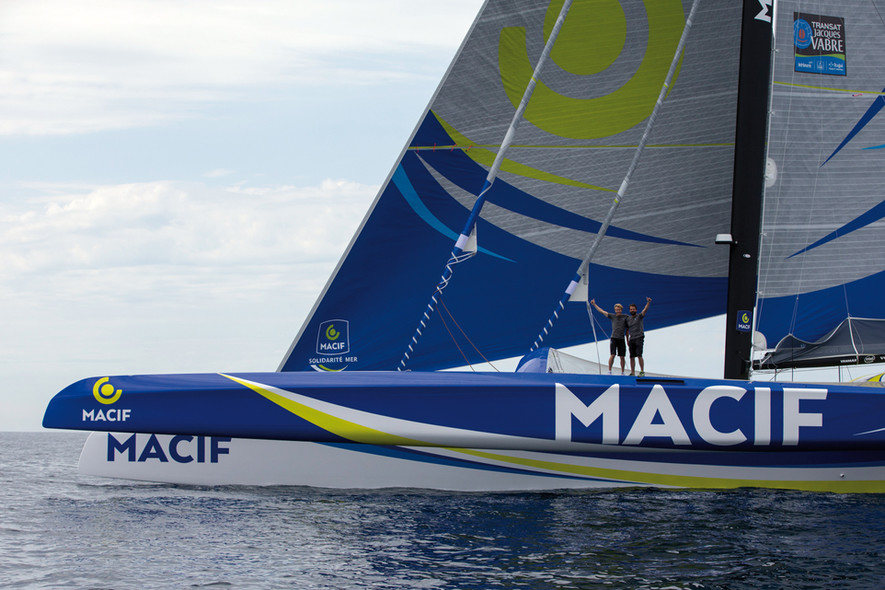 Sodebo Ultim' Thomas Coville/Jean-Luc Nélias
How many transats has Thomas done? At least 30, maybe more. His record? 7 circumnavigations, of which 5 on multihulls, 9 times round Cape Horn, 7 single-handed records, 4 Route du Rhums with three podium finishes, etc. In short, this 47 year-old, an engineer by training, is at the peak of his form and technical knowledge. Assisted by Jean-Luc Nélias, an expert in racing strategy and weather analysis, Thomas stands a good chance of winning and of beating the record… given that his 31 meter machine, launched last year, goes like a rocket!
Sodebo Ultim' Technical Specs
Class: Ultim
Sail number: FRA 73
Length: 31 m
Beam: 21.20 m
Draft: 2.2 m
Home: La Trinité-sur-Mer
Naval Architect: Cabinet VPLP
Yard: Multiplast
Launched: 2014
Upwind sail area: 442 m²
Downwind: 662 m²
Source of onboard energy: hydro-generator and motor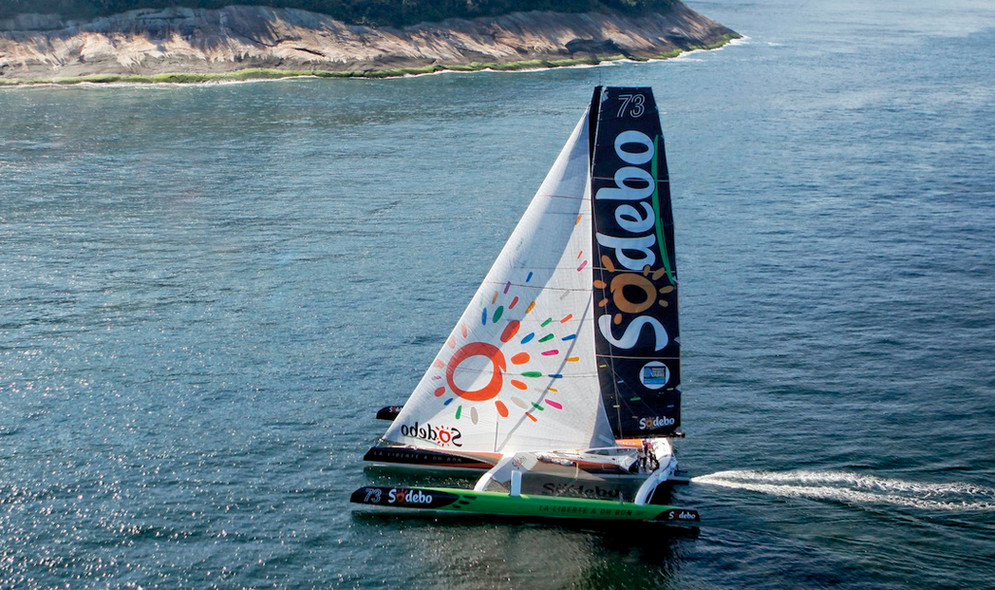 Prince de Bretagne Lionel Lemonchois/Roland Jourdain
With almost 50 Atlantic crossings between them, these real wandering adventurers are ready for sleepless nights at the helm, bad weather and non-stop sail handling. One thing's for sure, nothing short of capsize will discourage them! And their massive experience will pay off: they know how to manage this super-powerful 80 footer. As Prince de Bretagne is an extrapolation of a 60 foot platform. With two meters more on the waterline, she's even faster than the old ORMAs… sounds promising!
Prince de Bretagne Technical specs
Class: Ultim
Sail number: FRA 80
Length: 23.3 m
Beam: 18.24 m
Draft: 4.3 m
Home port: Lorient
Naval Architect: VPLP
Yard: Multiplast
Construction: carbon
Launched: 2012
Displacement: 7.2 t
Rig type: wing mast
Upwind sail area: 317 m²
Downwind sail area: 441 m²
Source of onboard energy: diesel motor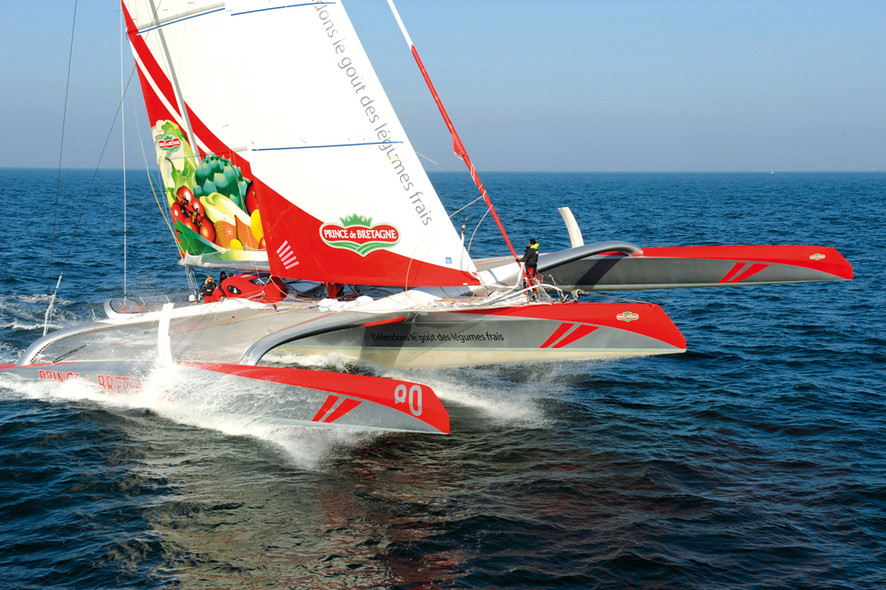 Actual Yves le Blévec/Baptiste Le Vaillant
Thomas Colville's former trimaran is back in service! Built in 2007, she's still up there in terms of performance, but it will be up to Yves to tame the beast. This modest and methodical sailor made a name for himself on the Multi 50 circuit, and he's looking to do the in the Ultims. In his own way… Notes that his partner has already done the race, in 2007, while he was winning the Transat 650. And the choice of Baptiste Le Vaillant as co-skipper gives him a good chance.

Actual Technical specs
Class: Ultim
Sail number: FRA 53
Length: 31 m
Beam: 16.55 m
Draft: 4 m
Home port: La Trinité-sur-Mer
Naval Architect: Nigel Irens
Yard: Boat Speed
Launched: 2007
Upwind sail area: 395 m²
Downwind sail area: 500 m²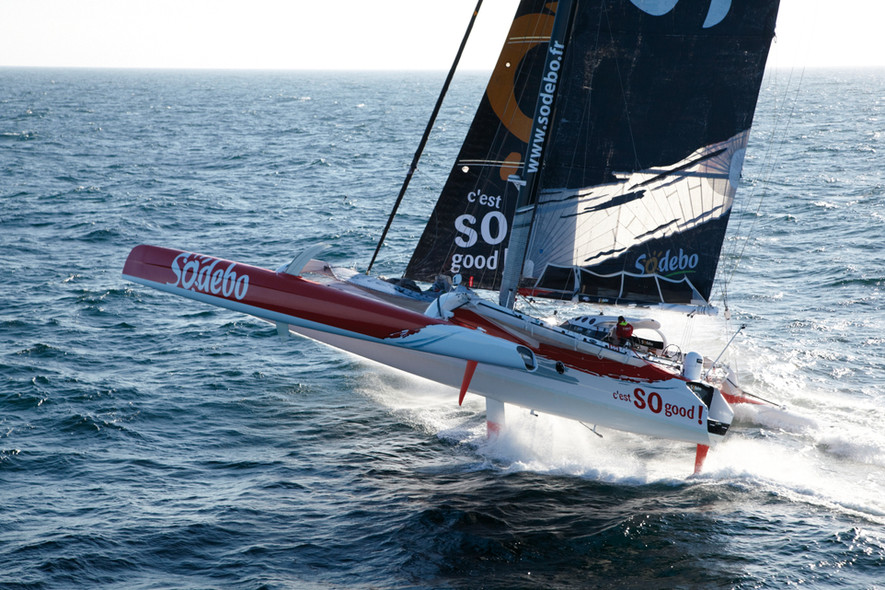 Jacques Vabre in figures
1993: First edition of the Route du Café
226: The number of crew who have participated in the race
60: The record number of participants - in 2007
10: The number of days the race village will be open at Le Havre. The villages will be open from 4pm on October 16th, then every day through October 25th from 10am to 8pm. Late opening until 10pm Saturday 17th, Friday 23rd and Saturday 24th. Evenings from 9pm through 4am at the festivities tent.
11: The number of days the Mod70 Edmond de Rothschild took in the 2013 edition, and the record to beat.
4: The number of two-time champions in multihulls - Paul Vatine in 1993 and 1995, Franck Proffit in 1999 and 2003, Steve Ravussin in 2001 and 2007, Erwan Le Roux (2009 and 201 in the Multi 50 class)
2: Three-time winners: Franck Cammas in 2001, 2003 and 2007 and Franck-Yves Escoffier in 2005, 2007 and 2009.

The Multi 50 Class
After the disaster of the 60 foot multihulls in 2007 - the Route du Rhum in 2002 with 15 abandons out of 18 starters had a lot to do with it as well - many of the skippers, single-handlers principally, were becoming interested in multihulls which were less extreme, safer, and above all, less costly: the Multi 50 Class was born. It brought together old multihulls from the 1980s and the latest prototypes like Lalou Roucayrol's Arkema, capable of flirting with speeds of 30 knots. The class rules, set out in 2007, allow for cats and tris, but the use of honeycomb construction, foils and rotating masts is prohibited. Today there are nine boats in the class, built between 1983 and 2013.

Technical characteristics
Maximum length: 15.24 m (50 feet)
Maximum beam: 15.24 m
Maximum draft: 3.50 m
Air draft: 23.77 m
Minimum light displacement trimaran: 3,000 kg
Minimum light displacement catamaran: 2,500 kg
Upwind and downwind sail area: unrestricted
Maximum four appendages (daggerboards, rudder blades, etc), construction technology is regulated, maximum seven sails carried, of which one has to be a storm jib and one a trysail…

The Ultim Class
These giant sailboats have a long history which started out with Alain Colas' incredible Club Méditerranée - all 72 meters of it. Following the 1976 OSTAR race, the size of the boats was limited to 17 meters overall. The Route du Rhum changed everything, opening entries to all sizes, multihulls included. So that's how Eugène Riguidel came to cross the Atlantic on his 27.10 meter maxi-trimaran, William Saurin. From 1982 through 1990 the length of these hotrods was limited to 22.80m, then to 18.28m. Then the Jules Verne Trophy in 1993 turned everything on its head again, with the return of the giant multihulls. In 2010 the Route du Rhum returned to its original philosophy: no more size limits! The Ultim Class was born!

Technical characteristics
Length: between 21.33 m (70 feet) and 32.00 m (105 feet)
Maximum beam: 23 m
Draft: unrestricted
Air draft: 120% of hull length
Clearance above the water: 1.70 m
Upwind and downwind sail area: unrestricted
No limitations on technology employed, no maximum draft and no limit on appendages.

What readers think
Post a comment