Cruising
White Cay - The Little Pig Mooring!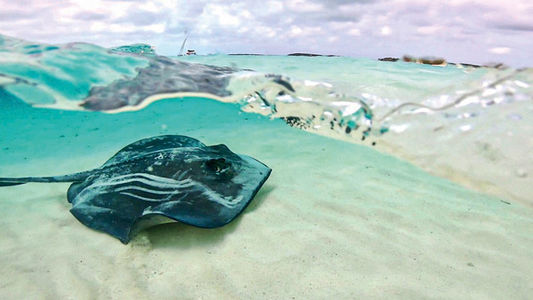 In the shallow and transparent waters of the Exumas, you'll likely have stingrays flitting around at your feet! 
But why is the palette of blues so exceptional in the Bahamas? Science tells us that the blue color comes from the fact that the blue light present in the sun's rays is reflected by the water, while the other colors are absorbed, and this at different speeds depending on the depth of the bottom - it will filter the colors. When there is little water, the spectrum of red and yellow colors remains present and adds a wide range of tones, intensified by the quality (transparency) of the water.
The passage is narrow. We carefully enter the channel. We have 18 miles to go to White Cay. The position was given to us by some friends. Far from the tourist crowd, cohabiting with hermit crabs, stingrays and seabirds, lives a very unusual community: a family of pigs! Yes, real pigs, with four legs, a stocky body, a snout and a corkscrew tail. And not just any pigs. These are swimming pigs! Residents of these heavenly waters, the happy piglets seem to be enjoying peaceful days, relaxing on the sand.
They have become an undeniable tourist attraction in the Bahamas in recent years. No one really knows how they got there. Some say they were abandoned by a group of sailors who were planning to come back and cook them. Others think they swam from a ship wrecked nearby. But the most plausible theory is that an inhabitant came to raise his swine on a deserted island! There are now more than twenty sites, and the pigs have become a must-see attraction!
The pigs are not at all shy; they are also perfectly at ease in the water. 
Anchorage
The advantage of White Cay (23º41.159'N 75º58.645'W) was that we were alone there most of the day. Most visitors stayed further away, at Big Major Cay...
The approach is tricky, as everywhere in the Bahamas. You must be aware of the shoal depths. In order not to take any risks, the best advice is to sail there with the right light to be able to spot the sandbanks that are constantly moving. Moreover, it is better not to rely too much on the soundings on the charts and to keep an eye on your depth sounder. The recommended routes are often good, but not always safe. Once there, you will have no worries, as the anchorage on a sandy bottom is perfect. And you can fully enjoy the translucent water. We were protected from the North to the Southeast.
The beaches are well protected!
Subscribe
Subscribe to Multihulls World and get exclusive benefits.
Subscribe
What readers think
Post a comment