Multihull
WINDELO CATAMARANS - A new innovative player in the catamaran market
While the multihull segment is more buoyant than ever, creating a new brand from scratch remains a major challenge. It's no wonder then that Olivier Kauffmann, the director, is a born developer. He was Chairman of the Executive Board of Decathlon, founder of Orange Marine (online sales of marine equipment and clothing) and director of Cabesto (distribution of products for fishing, hiking and boating). Coming from the windsurfing generation, Olivier has also cultivated a taste for adventure: he took a year's sabbatical to go on a big trip hitchhiking by boat! The nascent Windelo saga is also a family story: his son Gauthier, a young engineer with a passion for innovation, runs the business. To date, the range offers four models: a 47 and a 57 whose plans will be available in 2021, a 50 that is currently being finished and has already been sold, and a 54 that should be launched in the spring of 2021. Windelo called on the Christophe Barreau/Fréderic Neumann tandem, authors of a large part of the «classic» Catana range, the Outremer 45, 4X and 51, and the TS42 and TS5, among others. Their signature on a boat gives credibility, and the duo remains permanently at the forefront of creativity when it comes to designing high-performance catamarans. Jean-Pierre Prade - founder of Catana with Thierry Goyard - has joined the team as industrial director and consultant; Didier Perrin (Syltec Consulting) brings his skills in composites and Jean Paul Siaudeau (JPS Concept, Imoca preparation and Ultimate) is in charge of all electrical systems and propulsion. The École des Mines d'Alès, engineering school in the south of France is sharing its expertise in material resistance and assembly prototyping.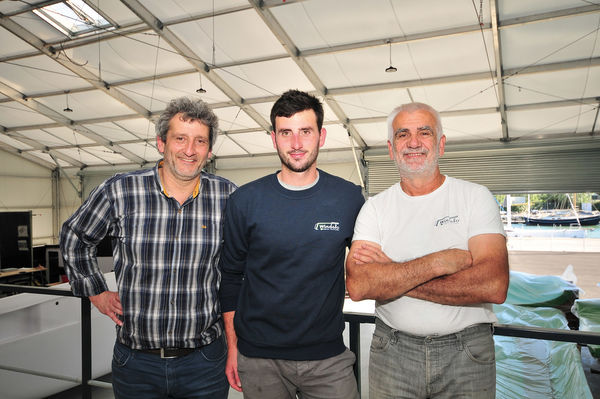 From left to right: Olivier Kauffman, Gauthier Kauffman and Jean-Pierre Prade
The Windelo concept
Our two site visits convinced us of the quality of the manufacturing. The open frame of the Windelo 50 (before the deck was installed) confirmed that it had an extremely resistant structure, with beautifully molded composites and robust samplings. The basalt fiber - spun in Russia and woven in Belgium - provides an amazing mechanical resistance and a black finish that evokes carbon. Associated with a high-quality polyester resin, this mixed sandwich (PET for low stress areas and PVC for bulkheads and all stress areas) should offer great durability and high mechanical homogeneity while significantly reducing the carbon impact of the manufacturing process. The silhouette of the Windelo 50 is typical of the Barreau/Neuman firm's designs: the fine-entry bows and the increasing volumes integrate harmoniously. The generous forms seen aft are no doubt there in anticipation of the load of a long-range program, and the power-to-weight ratio should allow for very good performance However, it is perhaps above all the small ergonomic revolution - see inset - that will surprise multihull enthusiasts. The electric motors are connected to the folding propellers by ...
Become a member
Become a Multihulls World Community Member for free and get exclusive benefits
Become a member
What readers think
Tell us your opinion