Atlantic ocean
Young talents Captains at 17...
Tom, the 17-year-old skipper
For several years now I have been thinking about going sailing again with Hydrofolie, which I have known since I was small. It was aboard this trimaran that I discovered the open sea, spent my first nights at sea, and raced my first regattas in a multihull; always with Dad, who taught me! A year ago, when he decided to do the Transquadra, I said to him "I'll take Hydrofolie with Mathieu, and we'll follow you as far as Madeira." It was said at first as a joke, and a dream (I was only 16!) while knowing that it was possible, and that I felt capable of it. Then it started to come true, we thought about how to do it, and established some rules. Dad began by saying '20 – 25 knots on the grib files, you don't set off'. Thomas Coville went further: 'if it's to windward, I forbid you to go there!" What's more, everything had to be organized without compromising my studies!
It was the first time I had had to completely manage a boat (and what's more, a multihull) on the high seas and it was only during the passage that I realized the confidence people had in me, and became aware of the responsibility. I had to make the right decisions to take the trimaran to Madeira; it wasn't always easy, but it was at those moments that I learnt. It was a very enriching experience in all areas and we had some great moments of pure pleasure, sailing fast and free, which is what we are looking for when we sail multihulls! One of my best memories during one of the last nights: perfect conditions, between 15 and 20 knots of wind, flat sea, 1 reef and the jib on a broad reach. We overtook a cruising cat doing around 5 knots, at between 15 and 20 knots. The boat was sailing fast, without straining; a great pleasure. I even spent my two-hour watch steering in the moonlight; the boat was surfing and raced down the swells at top speed – magic!!!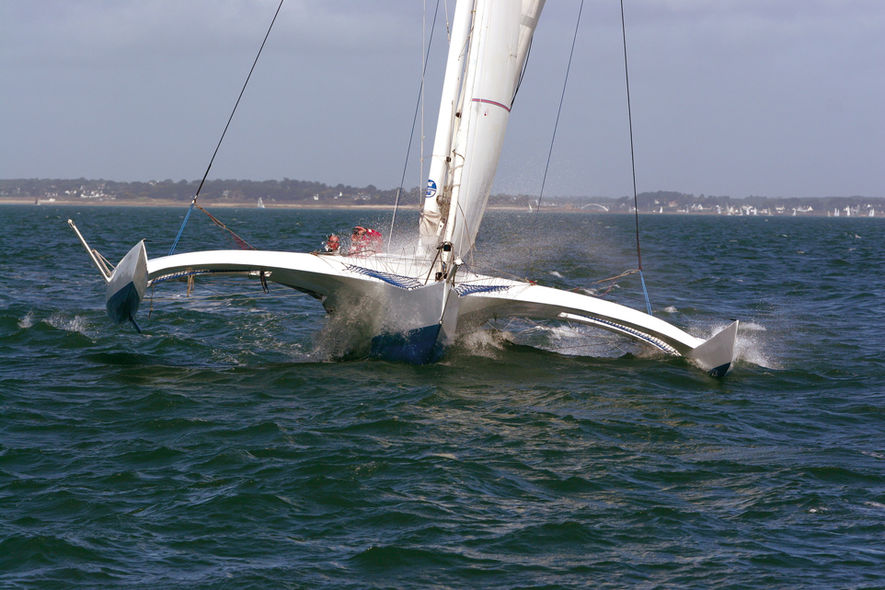 Mathieu, the 15-year-old crew
Everything began in July 2013, when Dad announced his participation in the Transquadra, in a Sun Fast 3600. Tom immediately said to me "what if we took Hydrofolie to follow them as far as Madeira?" What a great opportunity to sail again aboard this superb trimaran! We discussed it a bit, and then everything happened very quickly. We quickly started work on preparing the boat and getting it back into shape. Hydrofolie was relaunched at the beginning of July, then we continued the preparation of the fittings and the electronics (AIS, autopilot, VHF, Iridium, essential elements for safety at sea and communication with the land). We started sailing with just 15 days ahead of us to check, test and finish preparing the boat. During those two weeks, the three of us trained hard in Quiberon Bay, and carried out the maneuvers necessary to sail the trimaran well: reefing, ...
Subscribe
Subscribe to Multihulls World and get exclusive benefits.
Subscribe
What readers think
Post a comment