Atlantic ocean
Young talents Captains at 17...
Tom, the 17-year-old skipper
For several years now I have been thinking about going sailing again with Hydrofolie, which I have known since I was small. It was aboard this trimaran that I discovered the open sea, spent my first nights at sea, and raced my first regattas in a multihull; always with Dad, who taught me! A year ago, when he decided to do the Transquadra, I said to him "I'll take Hydrofolie with Mathieu, and we'll follow you as far as Madeira." It was said at first as a joke, and a dream (I was only 16!) while knowing that it was possible, and that I felt capable of it. Then it started to come true, we thought about how to do it, and established some rules. Dad began by saying '20 – 25 knots on the grib files, you don't set off'. Thomas Coville went further: 'if it's to windward, I forbid you to go there!" What's more, everything had to be organized without compromising my studies!
It was the first time I had had to completely manage a boat (and what's more, a multihull) on the high seas and it was only during the passage that I realized the confidence people had in me, and became aware of the responsibility. I had to make the right decisions to take the trimaran to Madeira; it wasn't always easy, but it was at those moments that I learnt. It was a very enriching experience in all areas and we had some great moments of pure pleasure, sailing fast and free, which is what we are looking for when we sail multihulls! One of my best memories during one of the last nights: perfect conditions, between 15 and 20 knots of wind, flat sea, 1 reef and the jib on a broad reach. We overtook a cruising cat doing around 5 knots, at between 15 and 20 knots. The boat was sailing fast, without straining; a great pleasure. I even spent my two-hour watch steering in the moonlight; the boat was surfing and raced down the swells at top speed – magic!!!
Mathieu, the 15-year-old crew
Everything began in July 2013, when Dad announced his participation in the Transquadra, in a Sun Fast 3600. Tom immediately said to me "what if we took Hydrofolie to follow them as far as Madeira?" What a great opportunity to sail again aboard this superb trimaran! We discussed it a bit, and then everything happened very quickly. We quickly started work on preparing the boat and getting it back into shape. Hydrofolie was relaunched at the beginning of July, then we continued the preparation of the fittings and the electronics (AIS, autopilot, VHF, Iridium, essential elements for safety at sea and communication with the land). We started sailing with just 15 days ahead of us to check, test and finish preparing the boat. During those two weeks, the three of us trained hard in Quiberon Bay, and carried out the maneuvers necessary to sail the trimaran well: reefing, hoisting the various foresails, canting the mast, foils... As we left La Trinité sur Mer on the morning of Sunday July 27th, there was a mixture of emotion and excitement or anxiety – I'm not sure which! Even though we had all sailed a lot, we were going to have to manage the boat and the crew without getting into difficulty. We had had some good instructions and advice before the start, notably from Thomas Coville, who was keeping a friendly eye on us. We shared the same dock, and he never failed to stop to say hello and remind us of our aim: "it's an adventure with no competitive aim; you are setting off to learn, make the right decisions and enjoy yourselves." He also talked to us about the human factor between us, which could be a problem. During the passage, we learnt to manage the boat, our independence, and to anticipate. A few hours after our departure, at Belle Ile, we had already got our bearings, organized the watches, eaten, and slept a bit, so we could stay in good shape. When the wind got up, we always anticipated and reduced sail before it became difficult, and didn't take any risks with the boat. We also benefitted from the good advice and weather analysis from Dominique Conin (Pol's dad), who routed us. This allowed us to sail in windy, but not too rough conditions. He notably had us go west, to pass over 200 miles off Cape Finisterre, so as not to suffer too much from strong winds and rough seas. We had a maximum of 30 – 35 knots of wind, but never less than 10. On this theoretical 1100-mile passage, we actually sailed 1450 miles; it was fast – we took six and a half days at an average speed of over 9 knots, and a top speed of 23.
Having arrived in Madeira, the stopover only lasted 24 hours! Just enough time to get a shower, find dad, who had just finished the first leg of the two-up Transquadra, and to disembark Pol, who wanted to visit Madeira... We had to hurry, to take advantage of the southerly winds and return downwind – what luck! No rest for either us or Hydrofolie, which celebrated its 35th birthday on this occasion! I was very happy to have shared this superb human and sporting adventure with my brother Tom, and Pol. We learnt a lot and enjoyed ourselves enormously. I have lots of beautiful memories of this trip.
Logbook and anecdotes
The preparation seemed to have got off to a bad start; it had been fine for several weeks, but the day we took the boat out of the water, the weather files announced 30 knots with rain! Help from a few friends allowed us to get through this first gale with no problems. The sun shone whilst we were on the hard, then once again, a storm for the re-launch! Our training outings took place under dad's watchful eye; the first sail for the three of us was to Lorient, to pick up the liferaft lent to us by Plastimo. As none of us had a driver's license, the only solution was to sail there! That day gave us the opportunity to leave La Trinité early in the morning, and for the three of us to spend the day at sea, to get coordinated. The 'qualification sail' was important, and had to go well, so we could leave confidently for Madeira, and reassure our families. When we arrived in Lorient, Bruno Dubois welcomed us in his Zodiac, to facilitate the harbor maneuver. We had reduced sail by taking the 3rd reef before contacting him, forgetting to warn the harbormaster's office! As we left Lorient, the spinnaker halyard detached itself, and Tom had to go up the mast to get hold of it. We were under sail; first ascent at sea! When we arrived in La Trinité, we didn't forget to contact the port!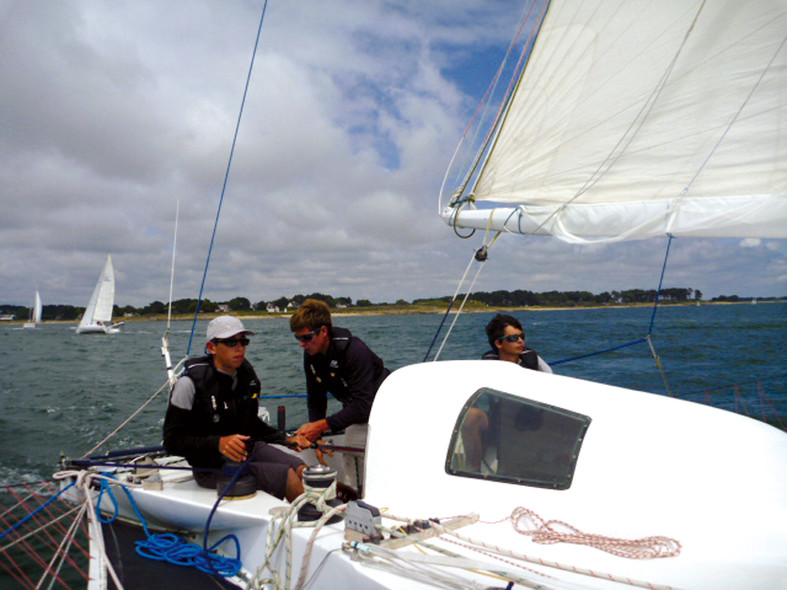 E-mail from the first evening at sea
13h: We have eaten well (mum's very nice salad, and a delicious cake - thanks Nanou) and have all succeeded in having a siesta this afternoon. We are going to stop the generator soon; it's been running for an hour. We have steered a lot, and are tackling the first night with the batteries fully charged. I hope things are going well for Dad and Jean François (De Prémorel). Dad, we've canted the mast, taken one reef, jib freed, you must have a good idea of the situation...in short, pure pleasure! Mum, don't hesitate to send an sms, it's easy for us. 19h: Everything's fine, we've eaten, and the dolphins arrived for the dessert. Position at 20h30 UT: 46°30 N - 5°02 W. The sun has set; all the nav lights are working! Good night, Tom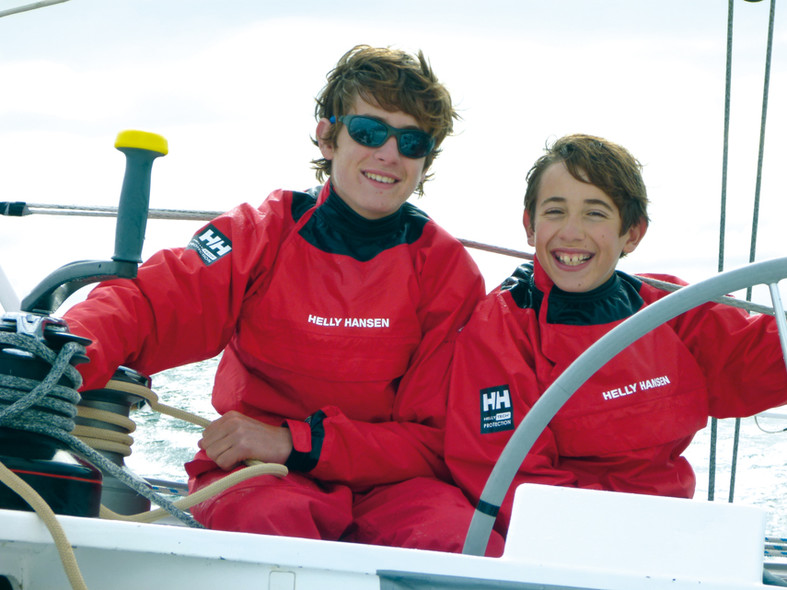 Position: 43°48N - 13°02 W
We have just gybed, the wind has dropped, full main and jib, low VMG. We are sailing at 7 – 8 knots, 130 – 140°, and trying to avoid the boat slamming, as we have the waves on the beam. I hope it won't last too long. We will gybe again when the wind freshens. The sky covered over during the afternoon, we sailed well all day until the wind dropped. I haven't surfed in a trimaran like that for a long time. As for the food, we have finished the fresh stuff, and are using dehydrated food this evening; the curry is very spicy. Pol is asking for an ETA, to see if the grib files have altered.
Position: 42°02N – 14°57 W
Hello, gybed at 10 o'clock this morning at the longitude of the waypoint, since then we have been sailing under 1 reef and jib at 9 – 10 knots on the direct route to Madeira, 185°; it's good for the morale after the leg at 90° to the route last night! The sea is quite rough and is providing some nice surfs; we are enjoying this whilst waiting for the rotation. The sky has been completely covered since this morning. What's happening about the rotation to the NW Dom? Because since this morning, we've had 18 – 20 knots of ENE... Everything's fine aboard; I helmed from 0800 to 1330, whilst Tom and Math rested after their night, which was shorter than mine! Now I am tired. I'm leaving the helm to Mathieu, and I'm going to bed. Pol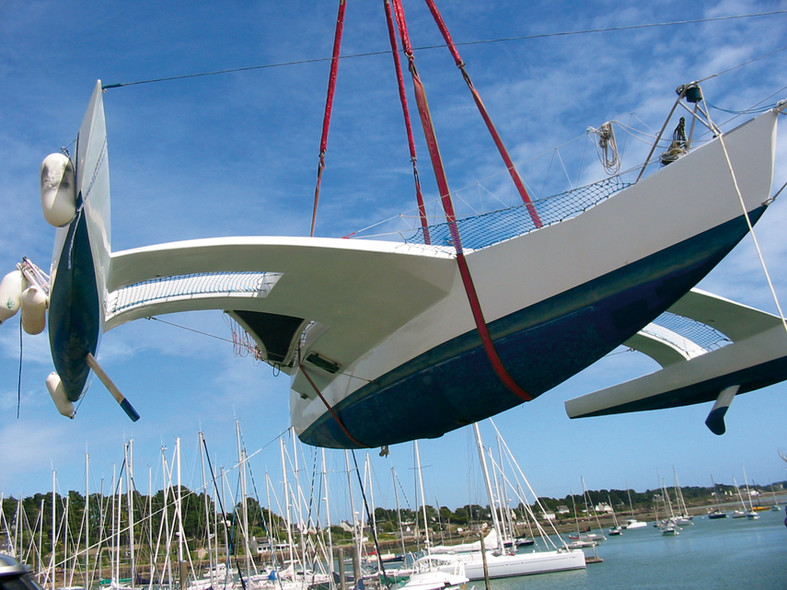 Later:
Our fatigue level is around 3 – 4. We are managing life aboard well. I often wear the dry suit with the 'babygro' underneath – cool! Because finally it is not too warm, and we are helming a lot. The atmosphere is great; we are all getting on well. It's a fantastic adventure! Mathieu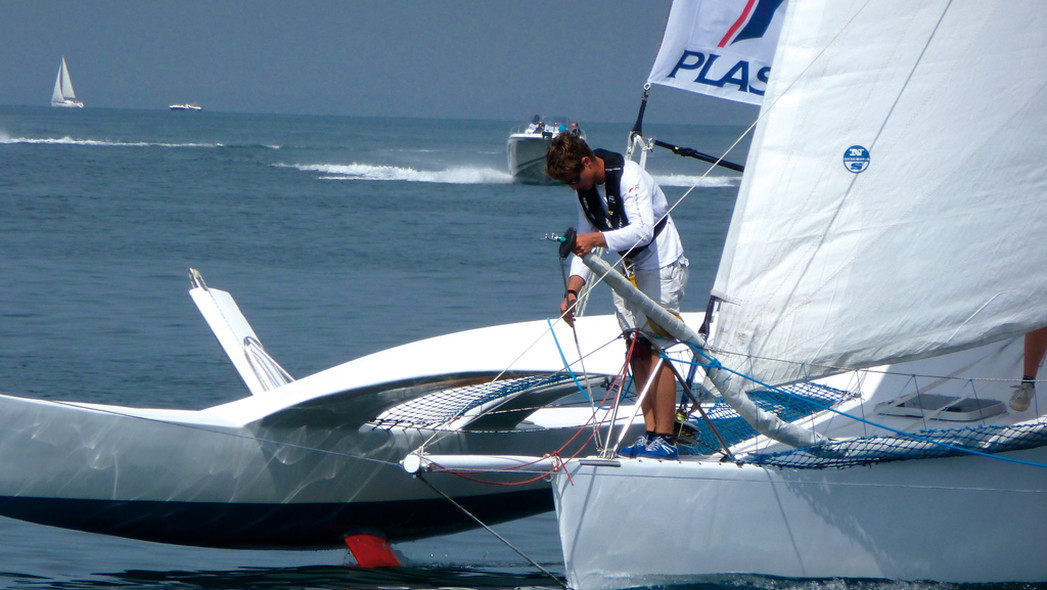 The next morning :
one reef – jib and finally one reef – staysail; the boat was easy to handle and sailed superbly, the foil giving lots of support underneath. We overtook a cruising cat, but have not seen any other boats from the Transquadra, just a light at one moment. This morning, I set more sail, main – gennaker, we're sailing at 10 knots, course 200°, right on the direct route since yesterday evening. The wind is fluctuating quite a lot, both in direction and strength. Hi from the little white trimaran, shooting star, flying fish, it's just like in the books. We're still surfing at between 8 and 13 knots this morning, course 160°. Tom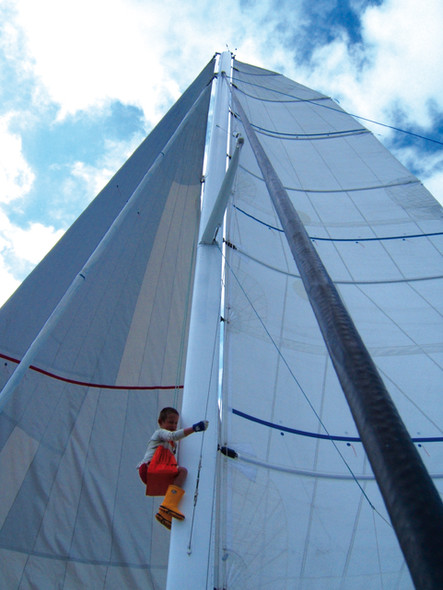 Position: 38°31N – 13°34W
Good evening. A pleasant day aboard Hydrofolie; after resting, we spent most of the afternoon together, and we are feeling fit. As for the weather, it was light at the beginning of the day, then we had three hours under gennaker at 11 – 12 knots, course 160° - the best! All that's missing is the sun!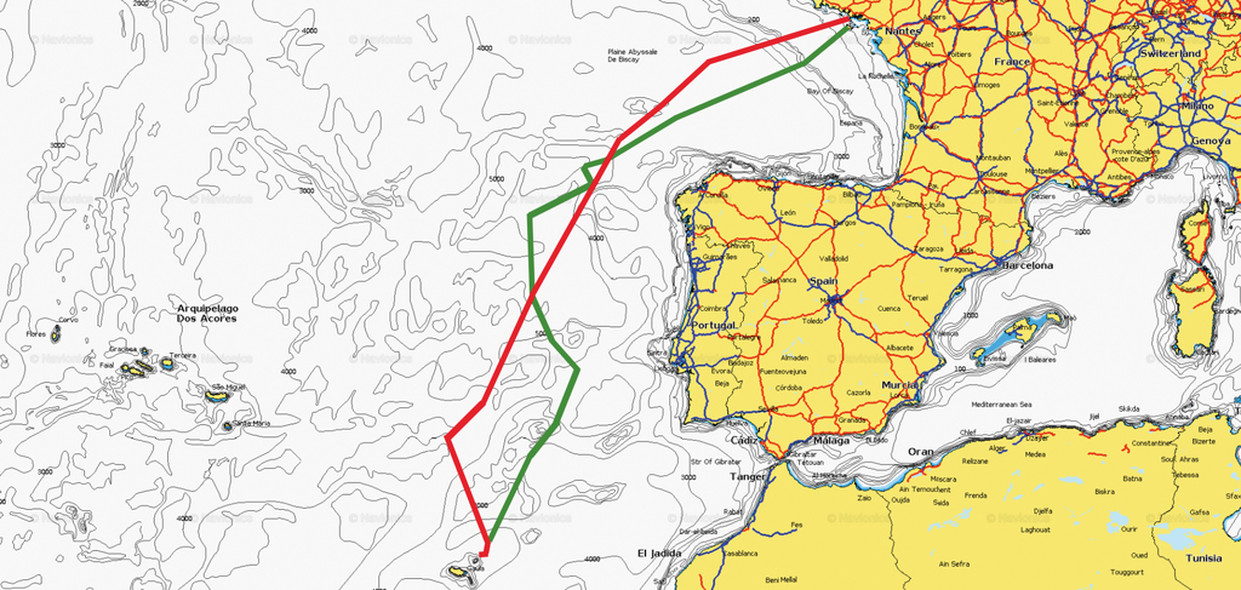 Position: 36°31N 14°08W
A last good evening from Hydrofolie, great day, calm patch at the beginning of the afternoon with bright sunshine, we took advantage of it to have a shower, clean the boat, just after having overtaken a JPK 10,10. Mathieu got out his tablet and we have music! T-shirt and shorts outside, it's the best. There are spinnakers all around us; we are trying to catch them up. Under gennaker this afternoon, with a flat sea, we hit top speeds of 18 knots, until the wind freshened in a squall and we had to roll it up. We are now making between 8 and 11 knots, course 210°, position: 35°40N 14°50W. Mum, we're thinking about you a lot; you'll soon be able to sleep more soundly at night... Tom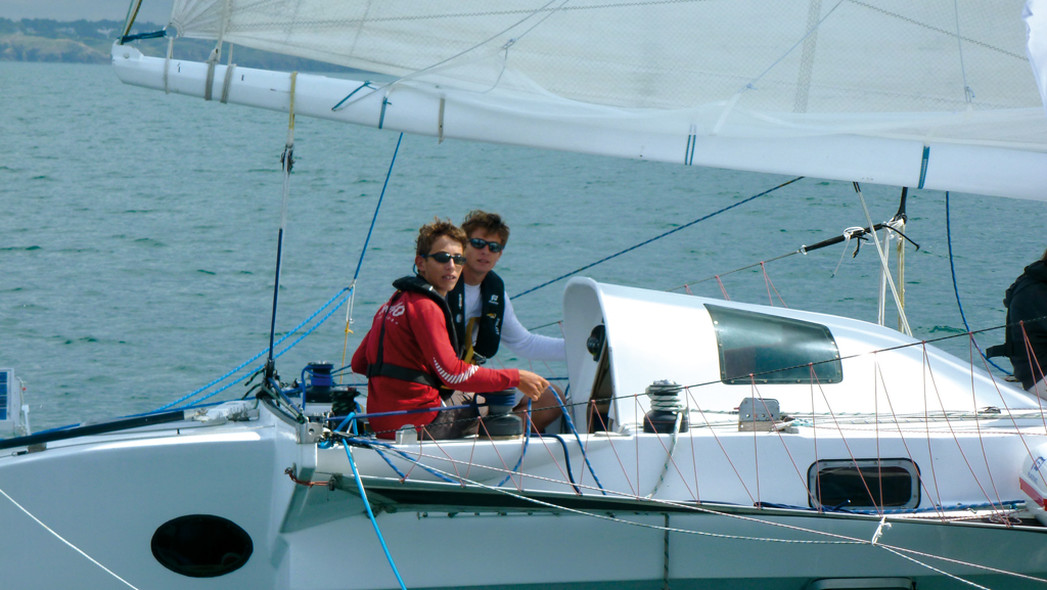 Motivated parents
Sabine, Tom and Mathieu's mother, and sailor's wife
I must admit that I was not too comfortable with this adventure, torn between letting them grow up and the feeling of losing them a little. But deep down, I knew they were completely capable. I remained distant at the start of the project, because subconsciously I didn't want to make the decision to set off on this passage easier; I had spoken with Pol's mum, who shared exactly the same feelings. When things started to take shape, I forced myself to accept the project, knowing that raising children means above all teaching them to live without us. It was only at the beginning of July that I embarked with them for a sail in the bay. During this sail, I watched them maneuvering and respecting the safety rules we had established together – nothing to find fault with! I was active during the final preparations; deep inside I was starting to feel emotional. Faced with the most stupid questions, asking me if I was afraid, I had a lump in my throat and wasn't able to answer. How could you not be worried? During the passage, the children sent their news, once or twice a day, as agreed, describing the sea and wind conditions, as well as their chosen sail combination. As for me, I made sure of certain points, and reminded them of the check lists (fatigue, hydration, as well as the boat's energy, because without that, we couldn't communicate with them!). The passage that Philippe was sharing with Jean François at the same time didn't worry me (this time he was sailing in a monohull, and what's more, two-up) even though they had chosen a windy route, much tougher than that of the children.

Philippe, father of the junior multihull sailors
Dad, Mathieu and I can take Hydrofolie and follow you as far as Madeira (Tom).
When I announced that I was going to do the Transquadra, this was the reaction of my son Tom, 16 years old. He said it with such confidence, such simplicity and at the same time with great determination; for me there was no doubt, no hesitation. I have confidence in my two children; they have always (or almost always) sailed, with and without us. Tom and Mathieu crossed the Atlantic with me in a Multi50, on the return trip after the 2010 Route du Rhum; they were 12 and 13 years old. They stood their watches and gained valuable experience. When Tom was 11, he left with me, two-up aboard Hydrofolie from La Trinité to Port Médoc. He stood his first night watches: first fright and first experience of watchkeeping at daybreak...
During our Atlantic crossing with the 50-foot trimaran Gamin, Mathieu woke me one night during his watch: "Dad, I think we should take in a reef, the wind is freshening." I got up, Tom woke, in 2 seconds he was on deck; we carried out the maneuver, Mathieu organized it, passed information and shone the torch, everything went well: Tom and I went back to sleep and Mathieu finished his watch. So, OK for the Hydrofolie challenge. Pol is 17, we know him well, he has been sailing with Tom for a few years; they are serious, reasonable and French Champions in the Open 570! They have passed their exams, won regattas, prepared Hydrofolie for their trip and reassured those who believed they were too young or not capable! They showed that they deserved the confidence we have in them, reassured their mothers, Sabine and Pascale, and followed the weather advice from Dominique (Pol's dad) throughout the whole trip: we are very proud of them.
Hydrofolie: technical specifications
Architect: Xavier Joubert
Builder: Pichavant/CMN 1980
Length: originally 12m / now 13m
Beam: 9.30m
Draft: 0.60/1.80m
Mast: aluminum, rotating and canting
Mainsail: 35m² originally / now 41m²
Jib: Original genoa 41m² / jib now 38m²
Code 0 now: 90m²
Spinnaker: originally 140m² / now 120m²
Engine: 15hp outboard
Construction material: Molded ply/epoxy/glass
History: '79 Two-up Transat, '80 Ostar, '82 Route du Rhum
Thanks
Thanks to all those who helped and supported us, before and during this project, particularly Ursuit and Mariana for the loan of the dry suits; Plastimo and Cathy Milien for their help and technical safety advice, Raymarine for the great autopilot which we called Nestor; Philippe Bobet, for the loan of his Iridium, Charlie Capelle for his kindness, the watchful eye he kept on us, his help and his advice, Olivier Servetaz, for the preparation of the new standing rigging, Carmen Bouchard for the manufacture of the new Lazy Bag, Thomas Coville for the definition of the aims of this passage during our discussions before the departure, and Bruno Dubois for the organization of dad's race. Finally, this project was only possible thanks to the daily weather analysis by Dominique Conin, and above all, thanks to Mum and Dad's confidence.
What readers think
Post a comment