With her flybridge, four cabins and 10 berths, the Catspace offers in 40 feet what many of her competitors struggle - or are reluctant - to present aboard a catamaran of 42 or even 45 feet... Has Bali gone too far? Or has the Catspace understood everything? We look for some answers on our test in the Mediterranean.
Test location: Canet-en-Rousillon
Wind: southeast to southwest 5 to 30 knots
Sea state: smooth to moderate
---
The tale of a new brand
Since the 4.5 was first presented at the 2014 Barcelona boat show, the Bali silhouette has become a familiar feature on the water, especially among charter fleets where they are very popular. Initial doubts over the fully-decked nacelle have subsided and the range continues to grow, spurred on by strong sales. The 4.1 is ending her career, soon to be replaced by a 4.2, while the 4.6 will take over from the 4.5. As for the very recent Bali 4.8 (see the full test in MW171), she will be presented to the public at this seasons boat shows. The largest model and the first powercat in the range - the 5.4 and the Power 43 - have seen slightly more modest distribution, but they have found their audience. But getting back to the Catspace - she was presented at the 2020 boot Düsseldorf but was unable to make it to the International Multihull Show at La Grande Motte in the South of France because of the international health crisis. So, we had to wait until June 2020 to finally discover this original 40-foot boat, mainly aimed at charter.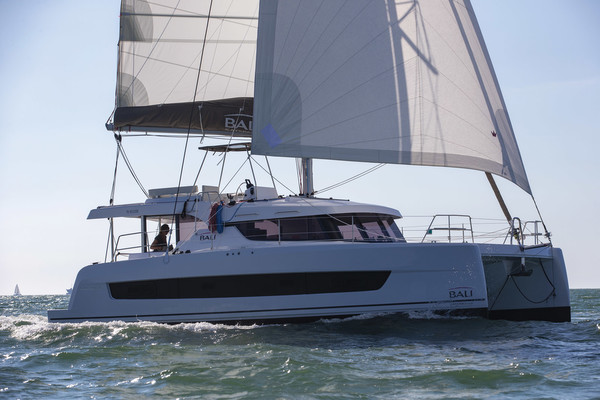 The gennaker offers ...
To read in full,
Buy the boat test
Boat Test price$5.00Inc. tax
Purchase
What readers think
Post a comment
---