In just a little over 10 years, Peter Johnstone has succeeded in positioning Gunboat as a name synonymous with performance and exclusivity in the catamaran world. A striking design, identifiable at first glance, out of the ordinary performance and effective marketing have made the name an icon. Here is our test of the builder's latest boat, the Gunboat 55...
Fans of 'the orange flame' therefore look forward to any new boat from this now officially American builder. So when this latest addition ignored tens of years of development in cruising catamarans to re-invent space, despite the cold autumn rain there was a queue on the dock at Annapolis, to have the privilege of visiting THE new boat. For you, Multihulls World has gone one better: sailing aboard for a few hours. Immediate embarkation for the future...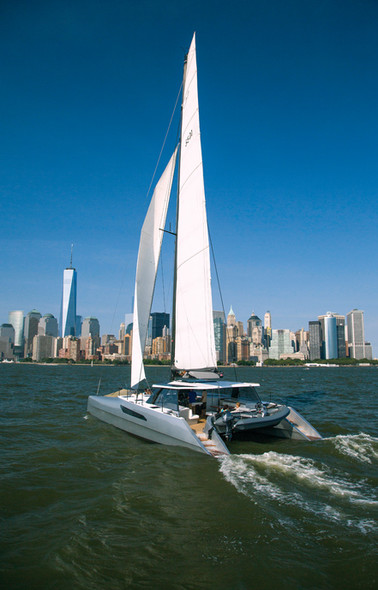 A Gunboat's program can be summed up in one phrase: sailing fast, everywhere and in style. Being a Gunboat owner is out of the ordinary, a lifestyle. For those who create the American legend, a mixture of initiative, dynamism and success. This comes at the right moment; Rhode Island where the company has been based since its creation, and more widely the north-east coast of the United States, is full of people who are successful entrepreneurs during the week but turn into hardened racers at the weekend. Covering over 300 miles per day with no stress, carrying off elapsed time victories, spending summer in Maine and winter in the Cari...
To read in full,
Buy the boat test
Boat Test price$5.00Inc. tax
Purchase
What readers think
Post a comment
---