Privilège Marine is pursues its objective: to offer owners multihulls designed for blue water cruising. This year, the builder is presenting a new generation of catamarans with the 510 and the 580. The smaller of the two was launched back in March at Les Sables d'Olonne, on France's Atlantic coast. We got the chance to test her for you with 48 hours of good breeze...
Test location: Les Sables d'Olonne/île d'Yeu
France Wind: SW 20 to 25 knots
Sea state: Moderate
The shipyard created by Philippe Jeantot and René Bernard in 1985 began by building catamarans for charter - a business then in its infancy aboard multihulls. The early models were designed by Guy Ribadeau Dumas). The builder, which had always been based in Les Sables d'Olonne, became Alliaura, then Privilège Marine. It has managed to leave a strong imprint on a whole generation of luxurious multihulls (the interior woodwork is exceptional) designed by Marc Lombard. Taken over in 2012 by Gilles Wagner, Privilège Marine is now part of the German group Hanse and benefits from the purchasing and industrial sharing synergies of a powerful group.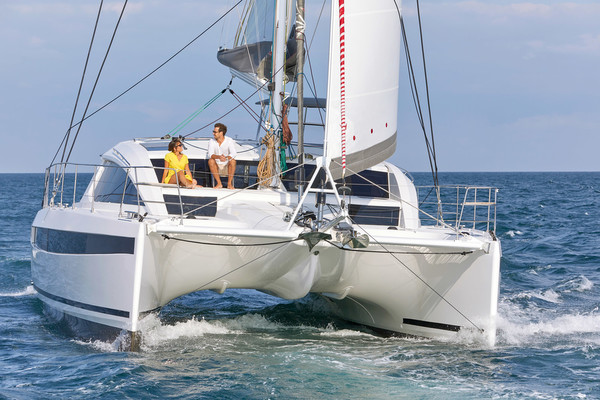 Privilège has remained faithful to the coachroof arches, which cleverly conceal the forward windows. Compared to the Série 5, the glazed area has increased by 30%.
Continuing legacy
Presented at the 2009 La Rochelle Boat Show, the 515 confirmed the brand's profound evolution. The Série 5 (23 examples built) later revisited this promising base - sign ificantly lengthened waterline, increased sail area, optimized deck plan. The current evolution,...
To read in full,
Buy the boat test
Boat Test price$5.00Inc. tax
Purchase
What readers think
Post a comment
---