This new model is the first catamaran designed from scratch since Privilège Marine joined Hanse Yachts. The 510 Signature, launched a year ago, takes many elements from the former Series 5. This is a strong indicator of what the powerful German group wants: to respect the DNA of the Privilege brand founded by Philippe Jeantot back in 1985, while offering a contemporary vision of luxury sailing. We went along to Les Sables d'Olonne, the birthplace of the brand, to verify that the 580 Signature is indeed... a Privilège!
Test location: Les Sables-d'Olonne, France
Conditions: Wind, ENE 8-12 knots; sea state, slight
---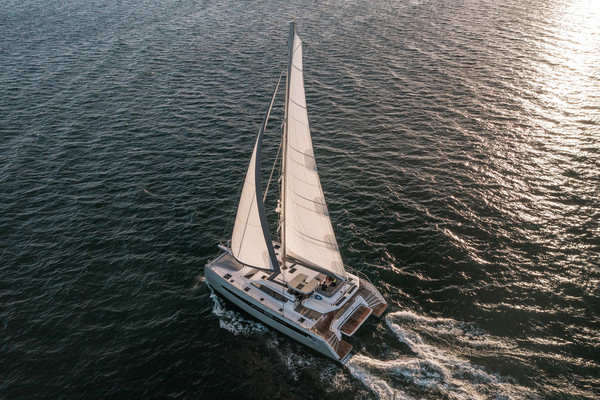 Just off the wind in a good breeze, the 580 is sporting a square-topped main and overlapping genoa.
Gilles Wagner, CEO of the shipyard, came to welcome me in person; it was immediately clear that this launch was important and that strong choices had been very consciously made. Indeed, after 35 years during which the highlight of going aboard a new Privilège was always seeing the famous owner's cabin housed in the central rostrum, the 580 Signature dares to free itself from this feature. Better than a revolution, it's a totally different approach that was adopted from the start of the project. As with superyachts, the exterior design was a major factor in the initial choices. Already in charge of the interior design of the Privilège for several years, the Darnet Design agency was naturally entrusted with the exterior style of this new model. Although there are now various different participants, the naval architecture remains the domain of Marc Lombard's firm - you don't change a winning team! Customers clearly appreciate this new idea: seven units have been ordered even before the...
To read in full,
Buy the boat test
Boat Test price$5.00Inc. tax
Purchase
What readers think
Post a comment
---