This pocket multihull is no simple beach toy... Designed by VPLP, it is modern, light and transportable. Moreover, it can sail in trimaran or proa mode! We'd been looking forward to testing this little rocket ship as soon as we could. And we weren't disappointed - judge for yourself.
Our editor is sometimes criticized for favoring too many "big" multihulls. That's not the case, I can assure you. We're just telling the story of the evolution of an offer that for years has been in "always more" mode: longer, taller, more comfortable… more expensive too. Believe it or not, our enthusiasm peaked when Astus announced the release of its new 14.5, a small multihull available in proa or trimaran versions - we've been asking the yard's team for months to finally carry out this test!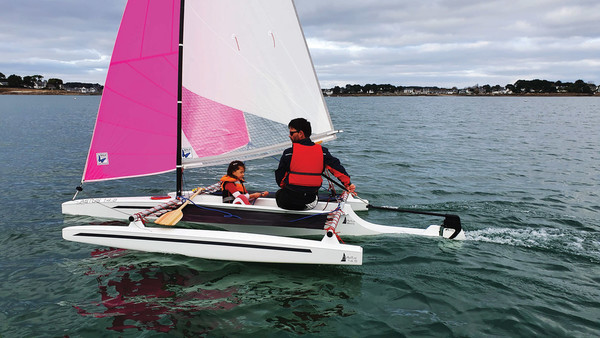 The Astus 14.5 is available as a trimaran or as a proa - and lends itself to multiple uses!
350 multihulls built
Sixteen years ago now, Jean-Hubert Pommois transformed the large sheds of the family farm into a shipyard. Quite a challenge. Today, Astus Boats has become a team of seven people capable of producing 25 multihulls per year - 350 have been built in total. So, we were given an appointment in South Brittany, a few kilometers from the shipyard to try out their latest example. Thinking I was doing the right thing, I bought croissants for four, but Jean-Hubert came alone for this test. Indeed, no need for a full basketball team to put together a multihull whose central hull weig...
To read in full,
Buy the boat test
Boat Test price$5.00Inc. tax
Purchase
What readers think
Post a comment
---