Published on 01 october 2011 at 0h00
The Astus 18.2, whose prototype was presented at Le Nautic, the Paris Boat Show, at the end of 2010, has taken over from the Astus 16.1, the dayboat of the range. A real innovation, or a simple marketing revamp? We went to discover it on the occasion of a test raid around the island of Porquerolles, in the Mediterranean.
Whether for day outings as a family, or more athletic coastal raids, small transportable trimarans have been very popular for the last few years. This has not escaped Jean-Hubert Pommois, who created Astusboats in 2004. Surfing on the public's infatuation with accessible leisure trimarans, the company has rapidly imposed its presence on this niche market, by bringing out a new model each year. Now that its range has been set up, from the 14-foot beach machine to the 22-foot coastal cruiser, over the last two years, Astusboats has started to renew its oldest models. With the added suffix .2, this second generation of trimarans is more performance oriented, according to the builder. From the first glance, the suspense was over. The design of the Astus 18.2, by the architect Philippe Roulin, a former associate of the famous VPLP office, is almost nothing like that of its predecessor. Exit the flared hull of the Astus 16 and welcome to the chine at mid-height of the freeboard. This has allowed the step in the central hull to be judiciously lowered, so as to widen the cockpit floor without spoiling the slimness of the hull in the water.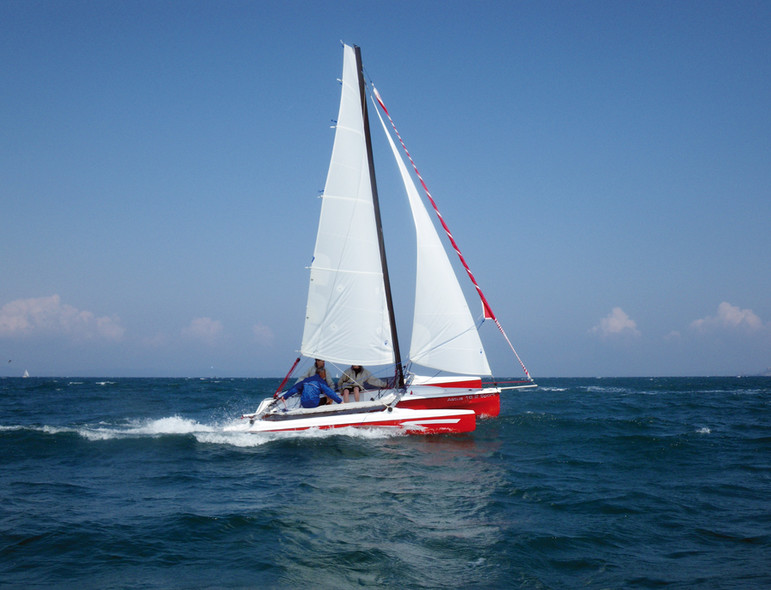 To read in full,
buy the test report
What readers think
Tell us your opinion