‹ Back
test
DRAGONFLY 32 EVOLUTION: All the advantages of a multihull, but just 12'8" beam in harbor!
The first-generation Dragonfly 32 (which we tested in Multihulls World #126) is a well-bred trimaran: 54 units have been sold and have undoubtedly made a mark on the history of the yard. The Evolution is replacing the Supreme version with 20% larger floats and a more powerful rig.
Traditional construction
All Dragonflys are made of foam/glass/polyester sandwich. The materials and processes used are medium-tech for this type of multihull. Checkered foam is not the lightest structural core - it absorbs excess resin in the grooves between the small gaps in the Airex pattern - but it allows some flexibility for shaping. The various large sections, such as decks and hulls are glued together on wide covering lips after the structural bulkheads and some of the internal fittings have been installed. The arms, subjected to high stresses - torsion and compression -, are made of vinylester resin with superior mechanical characteristics. All parts are manufactured manually in female molds by contact lamination, without infusion. This production organization is made possible by the architecture of independent workshops at the Skaerbek plant, which sequence a careful and rigorous manufacturing process despite the choice of a rather conservative technical process.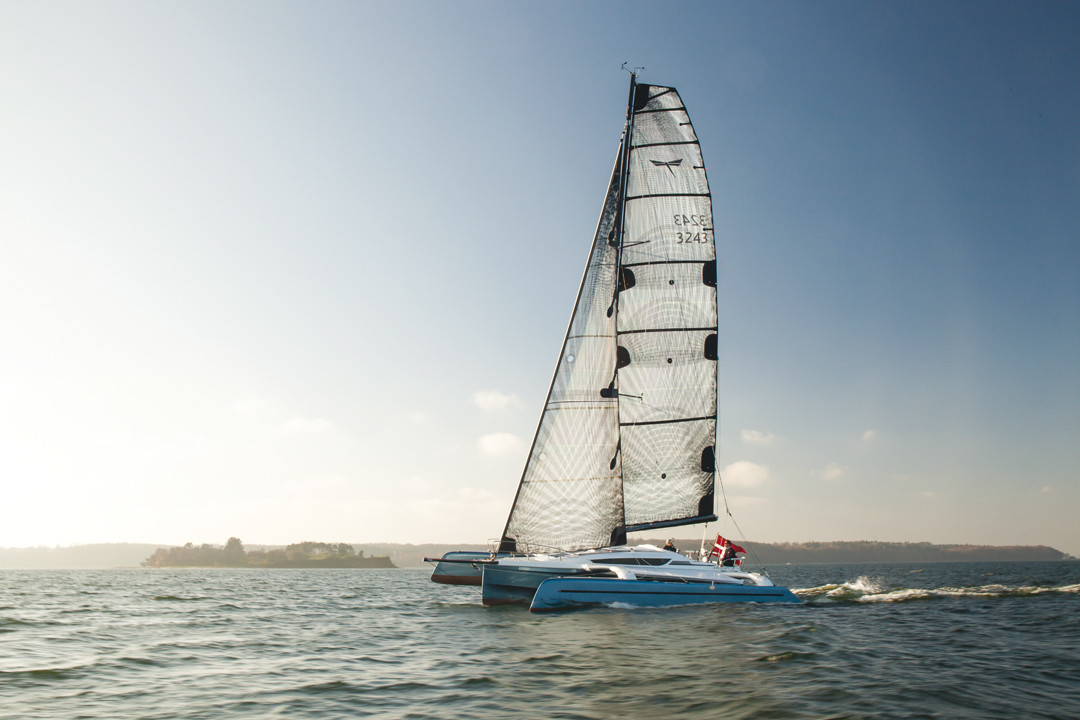 The horizontal folding swing wing
The folding mode of the Dragonfly 32, like all the other models in the range, is entrusted to horizontal kinematics, unlike the Corsairs, which have adopted Ian Farrier'...
To read in full,
Buy the boat test
Boat Test price$5.00Inc. tax
Purchase
What readers think
Post a comment
---