The idea of a folding, habitable trimaran is an attractive one: speed, fun to daysail, enjoyable semi-offshore cruising with minimum draft, shippable by container, and all these qualities in a compact format suitable for modern marinas. Until now, Dragonfly and Corsair have been the dominant players in this market, but the sector swarms with creative initiative (sadly not always winning commercial success!) Tricat, who have built 140 boats in 22', 23.5' and 25' versions, are unveiled their Tricat 30. We took one for a test sail on a nice windy day in late fall.
A more diverse production than you might think
Beyond the two most well-known brands, several builders have taken up the challenge: there was the formidable Seaon 96cr with break-taking performance, but whose production halted after just a dozen superbly-built examples; the Trimax, which never got beyond prototype stage; the Bandit 870, which is struggling to get over confidentiality and logistical problems linked to relocated production in Asia; the very sharp T29 by Pauger; or the Challenge 30 by Naval Force 3. All these likeable multihulls have qualities which are becoming rare: ease of use and great fun to use. But they have several difficult obstacles: price (small and technical production runs are costly to build); the absence of much brand awareness, or mistrust beyond a select few connoisseurs; and the premium placed on interior space, much more favorable on a monohull especially secondhand), all of which limits their distribution.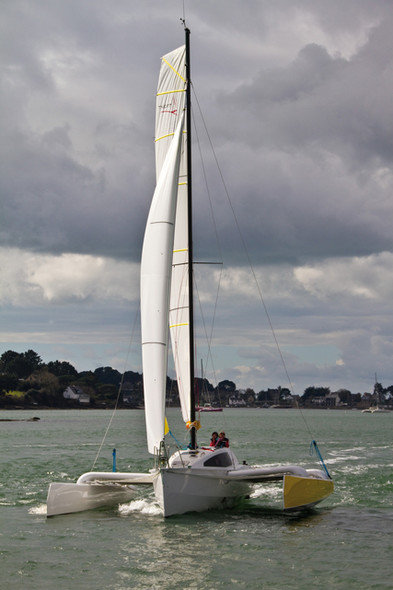 Tricat, a committed craftsman and quality composite fabrication
Antoine Houdet he's a very experienced sailor, racer, offshore competitor, big lover of multihulls and test pilot for...
To read in full,
Buy the boat test
Boat Test price$5.00Inc. tax
Purchase
What readers think
Post a comment
---