Specialists in folding trimarans since 2003, Tricat have just launched a new model which fits between the Tricat 20 and the 25. In order not to (re)tread on the toes of any former models from the shipyard in this category (the 22 and the 23.5), they decided to integrate the metric system: so now you have the Tricat 6.90! We had the opportunity to test this model in particularly heavy conditions...
Test location: Arradon, Brittany, France
Conditions: Wind, SW 20 to 25 knots, gusting to 30; Sea state, slight
---
The weather of the day: 20 to 25 knots, gusting to 30... enough to put off more than one boater, but not Antoine Houdet, owner and founder of the Tricat shipyard. As a good Breton sailor, he is in no way fazed by the powerful gusts sweeping across our stretch of water today, the famous Gulf of Morbihan. At first glance, this 6.90 looks like a big Tricat 20, from which it borrows the folding linkage arms that fold aft. The central hull is relatively traditional with its almost plumb bow and its very high chines. The floats are more modern, with a flush gunwale and a broken and inverted bow in the upper section.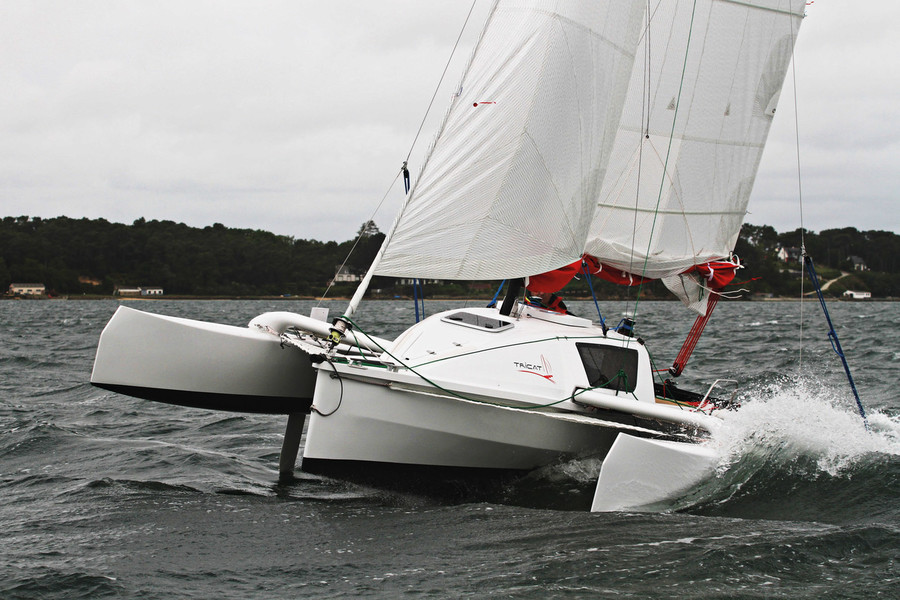 Simple and uncluttered deck plan
The main innovation of this new model is the new design of the cockpit. The removal of the traditional aft beam frees up circulation around the cockpit, especially for the helmsman. An optional full-carbon tiller can be fitted at the very after end of the 6'6" (1.80 m) long cockpit. It is this configuration, equipped with an 8-purchase mainsheet as opposed to the standard 6, that we were able enjoy aboard Tricat 6.90 #1. As...
To read in full,
Buy the boat test
Boat Test price$5.00Inc. tax
Purchase
What readers think
Post a comment
---