Multihulls Match
THE MULTIHULL HEAD TO HEAD When purchasing your catamaran, is it better to go for co-ownership or Charter?
For Charter By Frédéric Moreau, Commercial Director of Dream Yacht Charter
There are many people who dream of owning their own multihull. However, it isn't always plain sailing!
Before they buy a boat, most amateurs have an unrealizable idea of how it will all pan out: sailing whenever they like, hugging the coastline, anchoring wherever, and all this together with family and friends. For many people there soon comes disappointment, as the reality is often very different! Working lives, the kids' schooling and all sorts of family responsibilities combine to burst the bubble, and the actual time on the water starts to look disproportionate against all the fixed costs which are non-negotiable (a slip in a marina, insurance, upkeep, repairs, taxes...). Just about everyone agrees that most boats spend more time sitting at the dock and lining the pockets of the company that runs it, than actually sailing! It's not unusual therefore to come across disappointed owners who only use their boat for three weeks a year! When the kids become teenagers they don't want to sail with mum and dad anymore, maybe the spouse is sick of the same harbors and anchorages... These are probably some of the reasons that some owners sell their boats and start looking into charter. Amateur sailors (former owners and charterers) are looking more and more at investing in a charter, not because they want to own a boat, but because they want to sail without all the hassle of conventional ownership. You can sail in the Tropics in winter and spend the summer in the Med for example. A managed charter package is all about buying into a state of mind where you are free to sail and discover as you choose. You have the freedom to go where you wish depending on how you feel and the time you have available. There's no pressure. Charter contracts allow investors to sail for the lowest cost, as all the fixed costs (port, comprehensive insurance, maintenance costs) are all paid for by the charter company. In most cases, the investor receives a guaranteed net income, paid monthly, and not usually taxable, as it is linked to a lease-purchase with a purchase option, meaning that the investor doesn't show a profit. Another advantage of this type of deal is that the investor has the chance to sail for between 8 and 12 weeks a year on his boat, or on something similar in any of the company's bases (at Dream Yacht Charter there are 34 bases) such as Cuba, the Seychelles, the Caribbean, Thailand, Tahiti, Greece, Turkey, Croatia... Many people turn to charter after considering a co-purchase, but then get cold feet after worrying about the potential pitfalls of managing a joint ownership venture with a partner. Even when they're shared, all the issues linked to conventional ownership still apply: the fixed costs still need paying, and the maintenance needs to be followed up and organized! Sailing dates need to be shared out between the owners (not always easy dealing with each other's' sensibilities). These projects can also sometimes end in disagreement (usually linked to all the costs) and the owners will end up sailing to the same places, close to the home port, with only retired people able to take full advantage. Charter contracts are therefore the most logical way for a sailor who is still working and who has school age children or students, to invest in and to self-finance his boat without any hassle!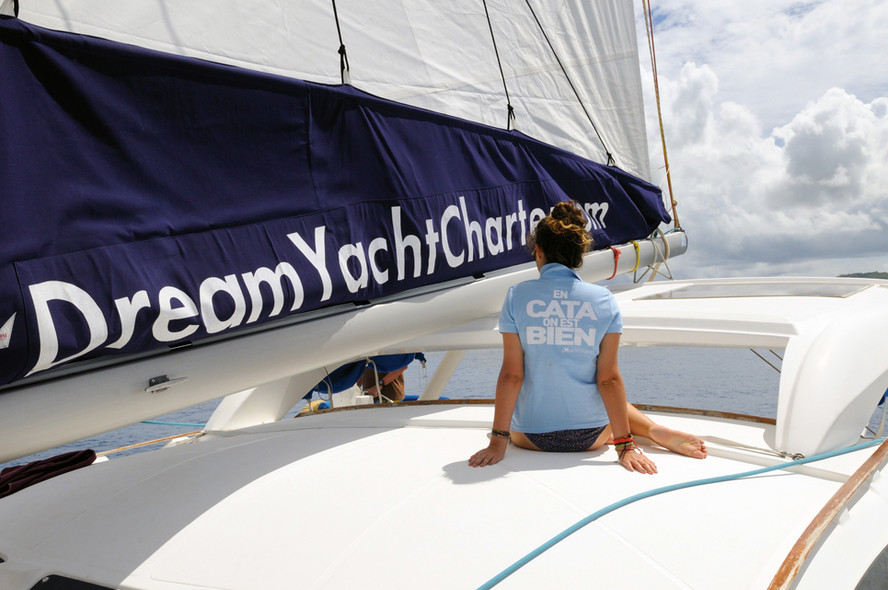 For Co-ownership
Is it possible to share a life project which is as personal as a year's sabbatical on a multihull? Here are the views of Matthieu Breton and André Motte, 2 brothers in law who set out with their families. They lived their dream after buying a second hand Athena 38 together in the Pacific!

Co-Ownership Can Work!
The choice of the boat depends especially upon the project. The way it will be financed is also very closely linked. For us it all seemed so obvious. My brother in law and I had the same dream: to go to French Polynesia for a year. We had similar families, (2 adults and 3 children) and the same idea with the possibility of realizing our dream one after the other. We therefore decided to share the boat purchase, to put all the running costs for the two years into a kitty, and to share the money 50/50 when the boat was sold. My brother in law had cherished the idea for a long time but would have struggled to finance it alone; I managed to make a decision quickly and jump onboard the project. We decided on the type of boat: it would be a catamaran! Even without any previous multihull experience, it was the only type which seemed to fulfill all our needs: space for the children (schooling had to continue), the ability to welcome friends' visits, and most importantly to be easy to sell on. It's almost impossible to buy a house in Polynesia. A number of outsiders (or "Popas"), especially teachers who have been transferred there, buy boats to live in. We felt that a catamaran fitted these criteria, and we bought a 7 year old Athena 38 from a rental company and kitted it out for our adventures (we changed the motors, the solar panel gantry and added a nice dinghy with a 15HP motor...) Both families had fantastic voyages, despite a mast collapse between the Gambiers and the Tuamotus which meant that each family had to navigate without a mast for three months (at the end of our trip and the start of my brother in law's!). Co-ownership was the best solution for us. We sold the boat after the two years (to some non-sailing Popas!). Overall it was a good financial operation, with just €30k to cover. That's €15k each for a year's catamaraning in Polynesia! I'd do it again as soon as I could, and would again do a co-ownership with my brother in law!
Mathieu Breton

Co-Ownership? Forget It!
He always books the best weekends. He doesn't know how to look after it. There's always something broken when it's my turn, and he drinks all my booze... Obviously, on my own and with an ambitious plan (to spend a year in Polynesia with 3 kids!), I could only afford an old boat. That's where this story all began: combine our two sabbatical years (myself and my brother in law) to enter into the co-ownership of a boat on the other side of the world! That should spice up family Christmases for the next 20 years. We exchanged hundreds of emails before selecting our boat: I didn't want to spend too much so as to avoid too big a loss when it came to reselling, but Mathieu wanted something more recent and therefore more expensive. Once in situ we visited our respective number one choices. Result: Mathieu 1, Me 0. What transpired proved him right: choose a recent, ex-rental multihull, get it surveyed, take out good insurance, prepare it and then sell it on at a good price. Our budgeting was as simple as could be: a lump sum to start with, and then an Excel spreadsheet for all the subsequent expenses, with one eye on the potential resale value! The mast collapsed on Mathieu and family after 9 months. Some people said "You must have it in for your brother in law?" It's true that this occurred just two months before we set off on the trip of a lifetime! It could well have happened 3 months later and we would have had to manage the situation. We also had our fair share of issues (diesel leak, broken windlass, cooling pump). We even struck a coral head in the Tuamotus, leaving behind a piece of rudder. There was no point moaning; all sailors know that when cruising things get broken and they have to be repaired! In conclusion, I'd say that co-ownership was the best solution, and we were able to take advantage of a much better boat than we could have done alone, and had two wonderful family experiences by joining forces and limiting the overall cost with a quick resale. I recommend this solution wholeheartedly, although don't suggest a co-ownership on a weekend boat, even with my brother in law. I'm not sure that I'd accept!
André Motte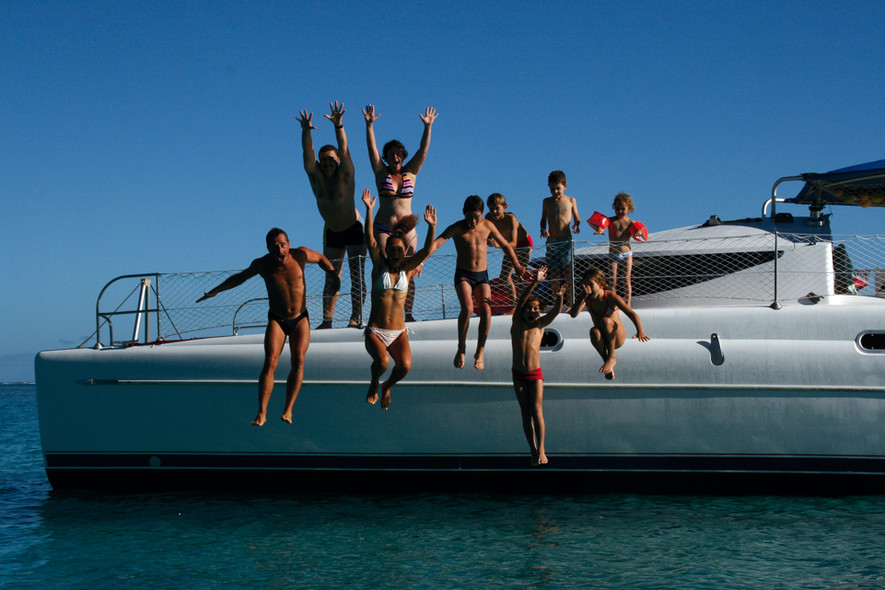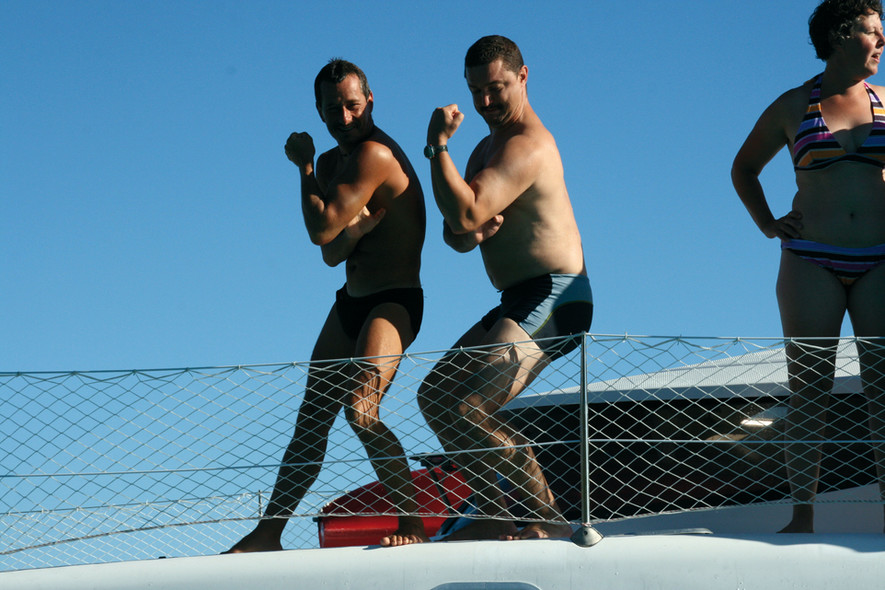 What readers think
Post a comment