Offshore racing
Route du Rhum Race test: A Capella, a trimaran for a Gentleman Skipper
Anyone who takes the slightest interest in ocean racing in multihulls will inevitably have come across this image one day or another. A little yellow dragonfly, 12 meters long, which seems to be flying over the water, overtakes Michel Malinovski's big black 21-metre monohull on the line, and wins the first Route du Rhum by 98 seconds. That was in 1978, and nothing would ever be the same again. A new era had opened up, the development of the multihull was launched, and the race time would be divided by three in the following thirty years. Not to mention the lives of thousands of leisure sailors, who, as a consequence, would abandon their oilskins and life at an angle for the hedonism of the cruising multihull. Far from the large teams and costly budgets, Charlie Capelle keeps the flame burning. Just like that of Mike Birch, his Acapella is an A Capella. I hope you are following... The boat's name is also almost the name of the model, which is somewhat reminiscent of that of the skipper!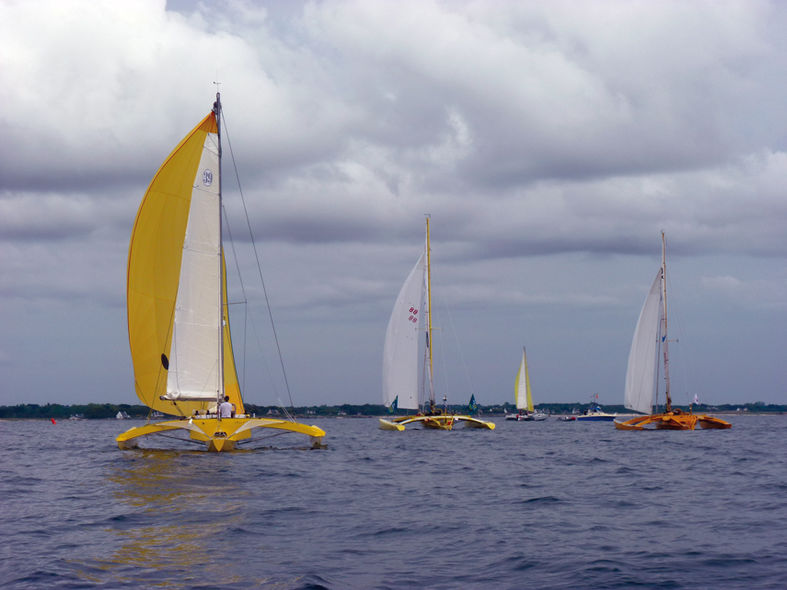 Was it really chance then which reunited Charlie and this superb boat? He who was a dental prosthetist from the Vosges and became boss of Technologie Marine in Brittany! And what a visiting card his Acapella is. It's no longer a boat, but an extension of its skipper-owner. Originally recovered as a wreck, it took him seven years to give this attractive Walter Green designed boat a new lease of life. Three Routes du Rhum, two capsizes and as many refits later, it has taken a lot of time, passion and self-denial, as well as courage and encouragement, to achieve this gem. Everything about it is perfect. In the slightest detail. Every fillet joint radius, the smallest cleat support, the ergonomics of every control line... We liked the clear, precise labeling of all the lines and equipment, the multifunctional bucket seat inside, the folding seat which can be inserted in place of the washboards, a strategic watchkeeping position, the small folding saloon table in carbon, the immaculately varnished engine hatch, the teak cockpit floor and benches. The latter are the only concession to weight, but what class and what comfort! Three major developments have been integrated into the original model. The floats, which were destroyed following an accident at sea, have been rebuilt from existing, more voluminous molds. Designed by Nigel Irens, they give noticeable additional power and stability. Visually, they make Acapella appear bigger than its counterparts. The rotating carbon wing mast is not original either. It acts as a turbo on the very light platform (3 tonnes), superbly built in molded ply. Finally, as it is a showcase for the boatyard, the fittings are the best of the current production at the beginning of this third millennium.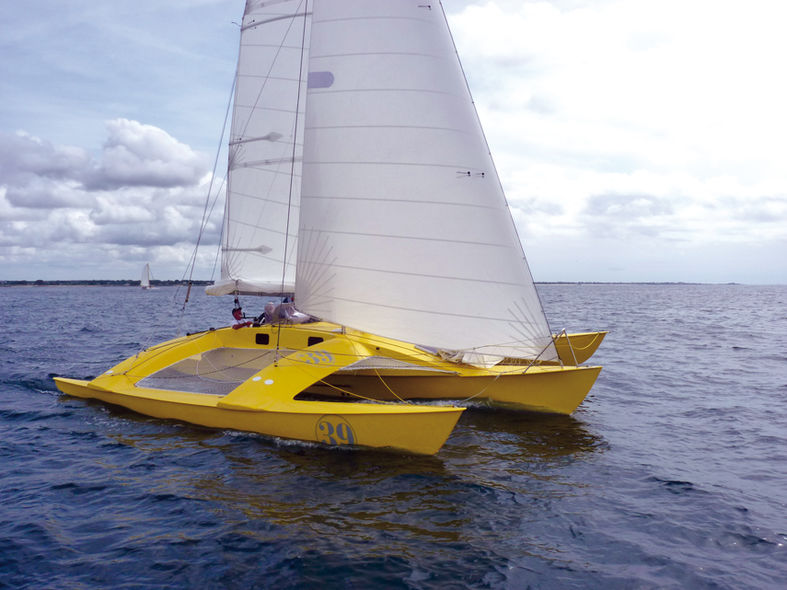 Subscribe
Subscribe to Multihulls World and get exclusive benefits.
Subscribe
What readers think
Post a comment