boat show
50 to 60 feet - SAILING BUYER'S GUIDE 2021
BREAKING NEWS - MG5 - A NEW CATAMARAN FOR OFFSHORE RACING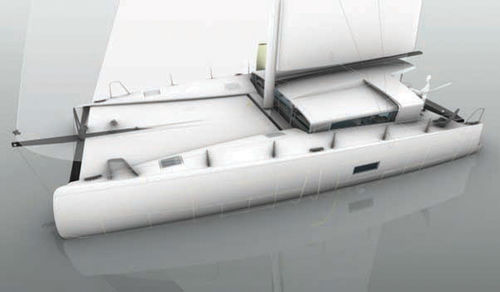 This catamaran ordered by Marc Guillemot is intended for racing – taking part in the Route du Rhum - but also for corporate charter, VIP reception at race starts or even for following races. The Barreau/Neuman team of naval architects has designed a very fast catamaran with fine entry bows and a short nacelle, but which won't be an aggressive war machine. The hulls (infused with glass epoxy) of this 52-footer will be delivered in December by Multiplast. The catamaran will then be assembled by the French skipper at Saint-Philibert, in Brittany. Launch is scheduled for June 2021.
---
BREAKING NEWS - NEW 51 FOUNTAINE PAJOT - RETIREMENT LOOMS FOR THE SABA 50…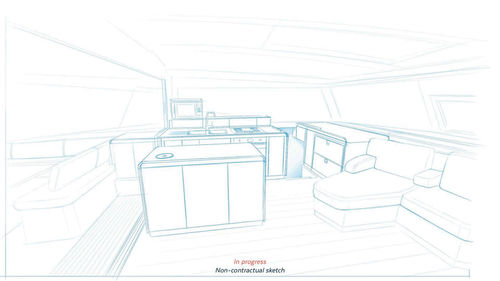 During their (online) press conference after their summer break, Fountaine Pajot announced the building of a New 51 scheduled for late 2021. This new catamaran will logically replace one of the shipyard's flagship models, the Saba 50, launched back in 2014. The first images will be unveiled at the end of this year and the launch of this 51-footer will take place in the early months of 2022. Fountaine Pajot also made mention of new powercats
---
ANDAMAN 50 - BACK TO BASICS
NEW - MOTY 2021 Nominee - TEST in MW174
The Catathai shipyard in Thailand has made a specialty of building seaworthy boats, that are simple, easy to operate and to maintain. This is the case of this Andaman 50 designed by Fortabat Yacht Design. Aboard this beautiful catamaran, the weight centering has been optimized, and the sleek sail plan will offer good performance. The objective is to sail, even in light airs, while maintaining a load capacity suited to cruising. Reliability is increased with a propeller shaft transmission. The shipyard also offers a hybrid powertrain.
Builder: Catathai 
Length: 50' (15.25 m)
Beam: 26'7" (8.10 m)
Draft: 4'9" (1.45 m)
Light displacement: 20,950 lbs (9.5 t)
Mainsail: 945 sq ft (88 m2)
Solent: 665 sq ft (62 m2)
Code 0: 1,130 sq ft (105 m2)
Engines: 2 x 42 HP
Fuel: 2 x 105 US gal (2 x 400 l)
Water: 4 x 66 US gal (4 x 250 l)
Price: € 521,000 ex-tax
---
ST FRANCIS 50 MK2 - BAD WEATHER DOESN'T SCARE HER!
Building on their experience with the St Francis 44 and 48, the South African manufacturers have launched an even more comfortable and recently improved 50-footer under the name MK2. Though the design might seem quite traditional and the nacelle rather low compared to what is being built in Europe, the St Francis 50 proves to be a very seaworthy catamaran, robust and able to face the worst of the gales. For the interior, the shipyard can meet all the wishes of its customers and ensures an excellent level of finish.
Builder: Saint Francis Marine
Length: 50' (15.25 m)
Beam: 26'3" (8 m)
Draft: 4'1" (1.25 m)
Displacement: 27,600 lbs (12.5 t)
Mainsail: 943 sq ft (87.6 m²)
Genoa: 570 sq ft (53 m²)
Fuel: 232 US gal (880 l)
Water: 355 US ...
Subscribe
Subscribe to Multihulls World and get exclusive benefits.
Subscribe
What readers think
Post a comment