Offshore racing
ARC 2014: the friendly transat…
Monday 24th November 2014. A day late, because of strong winds – a steady northerly of 30 knots in Las Palmas marina, in the Canary Islands, convinced the organizers that the armada's maneuvers would result in damage – we witnessed the incredible spectacle of the three successive starts, a few cables from the big commercial port. Almost 200 boats were preparing their spinnaker or gennaker, to tackle a long, 2,700-mile run, pushed along by the trade winds. 176 boats to be exact, with 1,020 crew members – including 26 under 16s – from 24 different countries. The list this year was shorter than last year: under the pressure of a longer waiting list every year, the organizers of the ARC have launched the ARC+, a second 'transat', leaving earlier from Mindelo, in the Cape Verde islands. However the 50 boats entered – including 11 multihulls - finished in the same place, St. Lucia.
To return to Las Palmas: the 26 multihulls – one more than last year - were entitled to their own starting cannon. Why weren't there more? Because our two or three-hulled boats take up twice as much space in the harbor as the monohulls! The multihulls are mostly grouped together in an ad hoc basin; it would be hard to welcome them in the main harbor, where the organizers were already pushed to accommodate all the monohulls... But things should be changing soon, as the port authorities have announced 1000 additional berths, which will be available in less than two years' time. Good news for us multihull enthusiasts...as well as for the ARC. Because this transatlantic rally continues to run like a well-oiled machine. Faultless organization, firstly, combined with rigorous safety checks – which ensure top level equipment – and the guarantee on the water of help arriving as quickly as possible in case of a real problem: given the density of the fleet, there will always be a boat less than 20 miles away.
Among the multihulls in this 2014 edition, we found crews from all countries, and boats from the main builders. Lagoons were present in force, with 10 boats - six 450s, two 400s, a 560 and a 52. The Fountaine Pajots were also well represented, with three Hélia 44s, a Victoria 67 and a Lavezzi 40. But there were also two Leopards (44 and 46), two Outremer 49s, two Privilèges, a Broadblue, etc...

For the record, at the finish, the Lagoon 450 Blue Waves won on corrected time, whilst the fastest overall was the Philocat 137 in just under 8 days.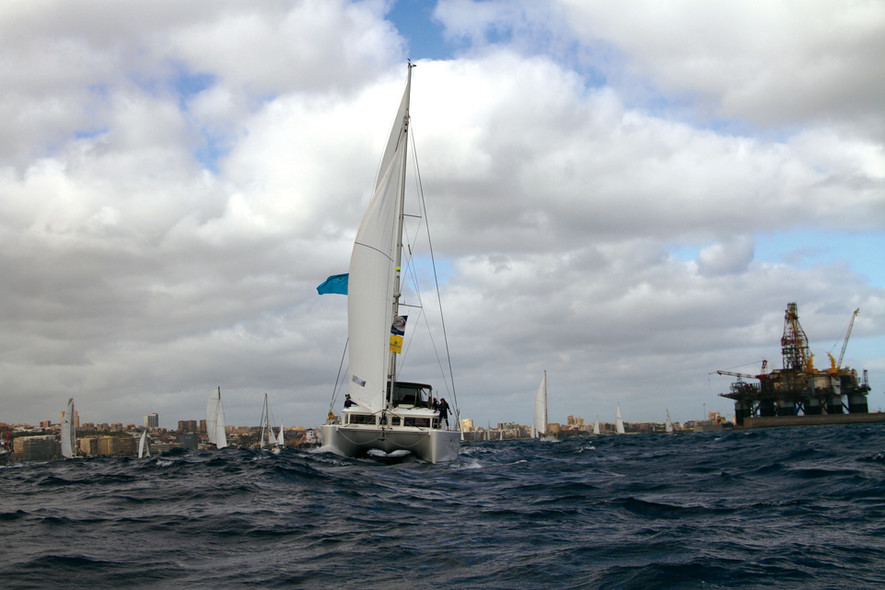 What readers think
Post a comment