Catamaran
Crazy about my Gunboat - Metallic lacquer for my most beautiful toys
As two Triumphs approach, tension rises a notch in the port: a vintage Bonneville T120 and a monstrously powerful Rocket 3 R roar onto the quay after a nice ride on the roads of the Var region. On the trampoline of his Gunboat 68 #4 moored in front of the Port Captain's office, JeanPierre's face betrays a small, almost childish grin of emotion. It is of course him, our man of the day. The two motorcycles are parked just in front of the bows that as thin as knife blades. This meeting, an unprecedented crossroads of passions, was jointly organized by a pool of participants in this project: Gunboat, Sicomin and its subsidiary Map Yachting, the Triumph dealership in Saint-Maximin Picardie Aix en Provence and Naca, the helmet manufacturer. The whole event was filmed by Mistral Drone. A common denominator, painting, emerges from this diverse association of Jean-Pierre's hobbies. The famous Silver Blue Metal shade justifies the two Triumphs strutting their stuff in front of the Gunboat. It's hard not to appreciate the shapes and curves of these machines, subtly highlighted by this metallic lacquer. The Silver Blue Metal is reflected on the hulls, the tanks and even the helmet on one of the seats. In short, this is one very singular colorimetric orchestration!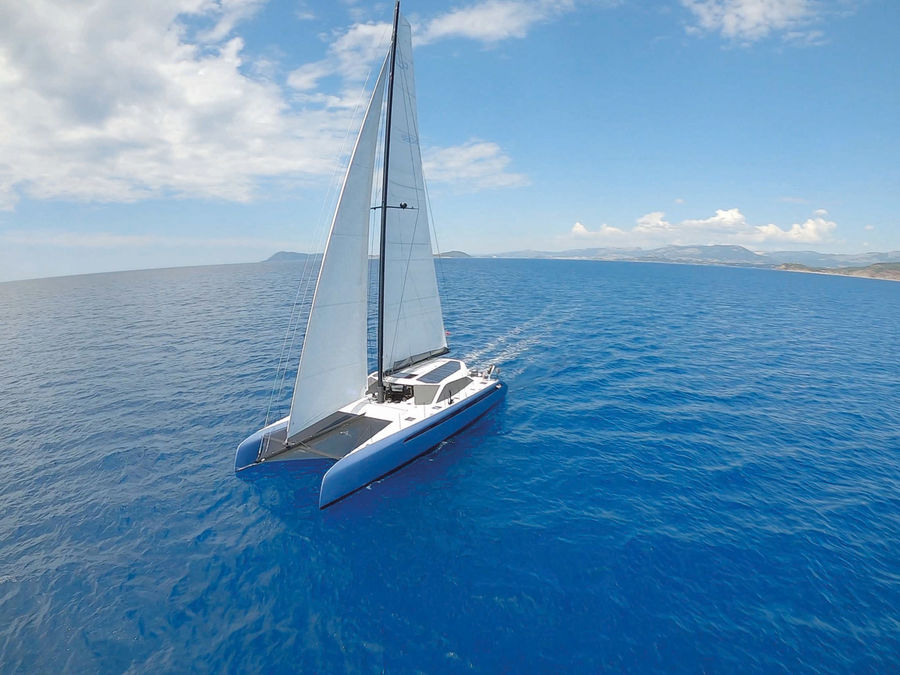 Youthful excitement
Jean-Pierre got his first Triumph Bonneville (yes, the same as Steve McQueen's!) when he was 18. Then life went by... a few decades later, the ex-biker had more free time: he fell in love again with this model still being sold by Triumph - the design is identical to the mythical Bonneville of 1959 but the current T120 is much lighter and more powerful. "It's quite simple, when I rode it almost sixty years later, I hadn't aged, I felt like I was 19!" Then, Jean-Pierre was tempted by the new Rocket 3 R, a real must-have that completes his collection, but not without having it repainted, just like the Bonneville, in the same color as his latest nautical acquisition.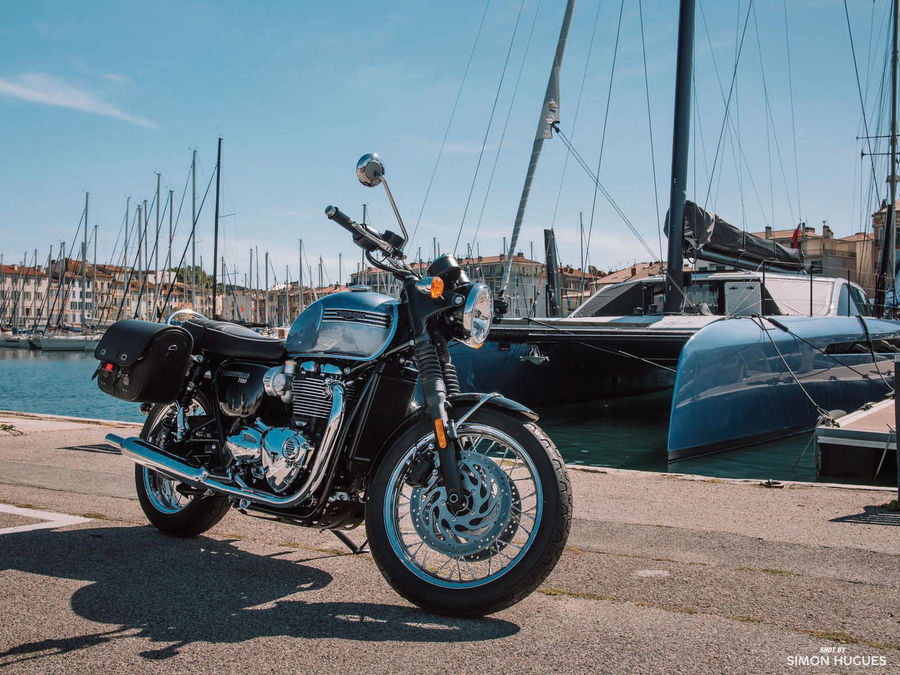 The Triumph Bonneville and the Gunboat 68 striking a pose. The Silver Blue Metal paint that the owner has chosen enhances the lines of both these beautiful machines.
First new boat and... first multihull!
Once we get aboard his brand-new Gunboat 68, Jean-Pierre tells us about his other passion - sailing, as you may have guessed. Our host's career as an owner commands respect: he has had no less than twenty boats, and they haven't been small ones. The adventure starts with Wauquiez, continues with Swan – a 50, an 80 and finally a 100-footer, then makes a detour via pure performance with an Open 60, and finally reaches the very large yacht with Alicia, a superyacht of more than 130 feet (40 meters) in length. It's safe to say that the acquisition of this Gunboat was an informed choice. "This is my first new boat," Jean-Pierre confesses, "I wanted to offer myself an almost custom-made sailing boat that would suit me perfectly". The choice of a catamaran was guided by his wife, who did not want to suffer ...
Subscribe
Subscribe to Multihulls World and get exclusive benefits.
Subscribe
What readers think
Post a comment