Offshore racing
Rum and champagne for Peyron…
…And then Armel Le Cléac'h, skipper of the Maxi Solo trimaran Banque Populaire VII, suffered an injury to his hand. Quickly a replacement had to be found to sail this potential winning boat to victory. There were few skippers capable. Loïck Peyron's name was on the "short" list, as he had been the skipper of Banque Populaire V (which became Spindrift 2), the largest sailing trimaran in the world, with which Peyron and his crew had beaten the round-the-world record. So Loïck already knew by heart the workings of the team, and his ability single-handed and victories speak for themselves.
But here's the thing: in 2002, following a disastrous Route du Rhum for the ORMA trimarans (only 3 made it to the finish line), Loïck Peyron decided to retire from top level single-handed racing. So after 12 years having not sailed solo, taking on one of these extreme machines in just two months was going to be a big hill to climb!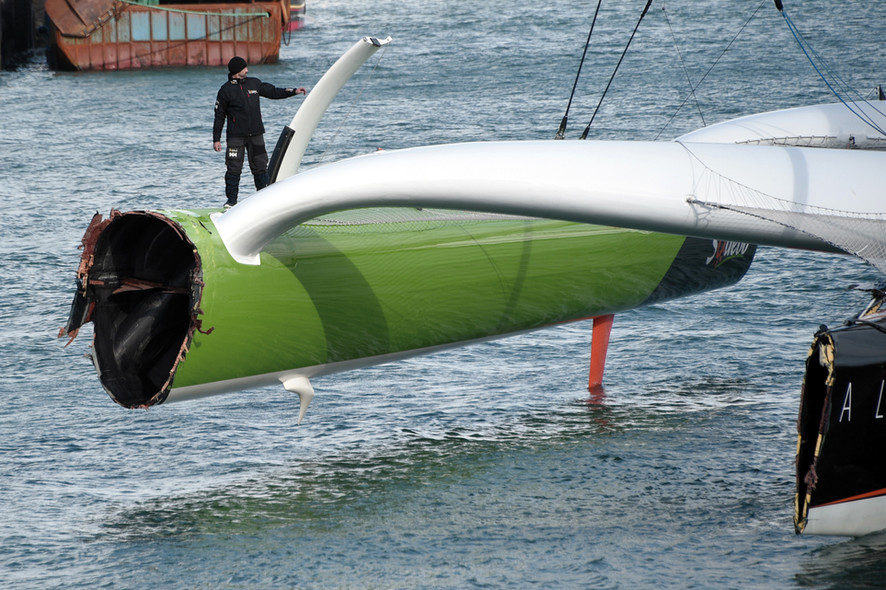 A pure race
Nothing is easy on board the Ultimes. This was proved by the accident which happened to Thomas Coville on Sodebo, who was in collision with a ship. Fortunately there were no injuries. At thirty knots your closing speed is very fast, and it only needed one minute thirty seconds for the collision to arrive. The boat was damaged and Thomas had to abandon the race.
Meanwhile Loïck Peyron was leading, and managed by a stroke of genius to get himself into a little wind corridor on the edge of the Azores High. It seemed like an impossible feat, but with excellent weather routing from Marcel van Triest and Armel Le Cléac'h, Loïck's gamble paid off. The gate closed just after he went through, blocking the other competitors chances of victory. Quickly, the blue trimaran had a lead of 100 miles on Spindrift 2. Yann Guichard's chances were lost, but second place on the podium would still be good. To sail a 40 meter trimaran, solo, across the Atlantic in very challenging conditions (more than twenty abandonments in the first few days) is a real feat.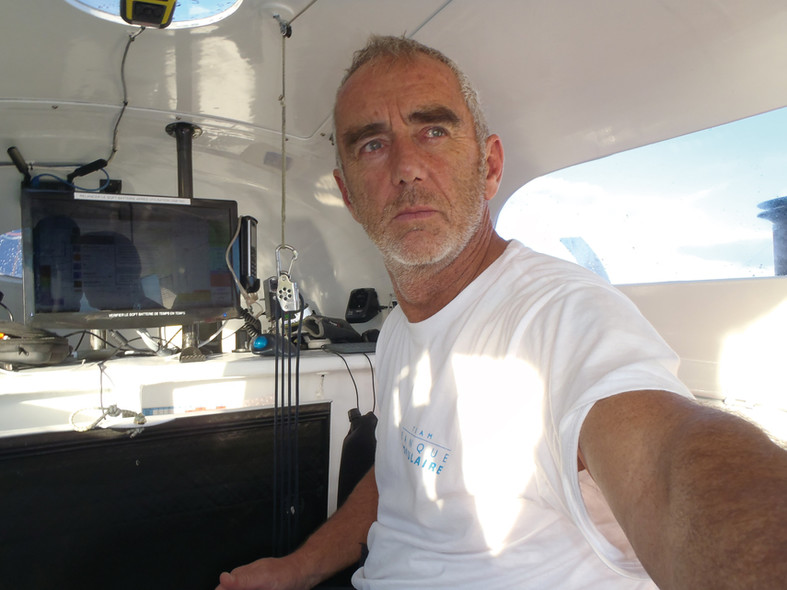 A victory and a record
Crossing the line on Monday November 10th at 5.08am, Loïck Peyron won the Route du Rhum for the first time in his career. His seventh attempt turned out to be the one. Not only an exceptional victory to be added to a long list of others, but also a new course record, with a time of 7 days, 15 hours, 8 minutes and 32 seconds, he beat Lionel Lemonchois' record set in 2006 by 2 hours 10 minutes. As for the figures, Banque Populaire VII covered the 3,542 theoretical miles of the route at an average of 19.34 knots. In reality he covered 4,199 miles at an average close to 23 knots to carry away this victory.
In 1994 and 1998, Laurent Bourgnon twice won the Route du Rhum on the same boat (RMO, later Primagaz) which had been significantly redesigned. This time, the same boat has done it again, as Banque Populaire VII is none other than the former Groupam 3, which Franck Cammas sailed to victory in the 2010 edition of the Route du Rhum.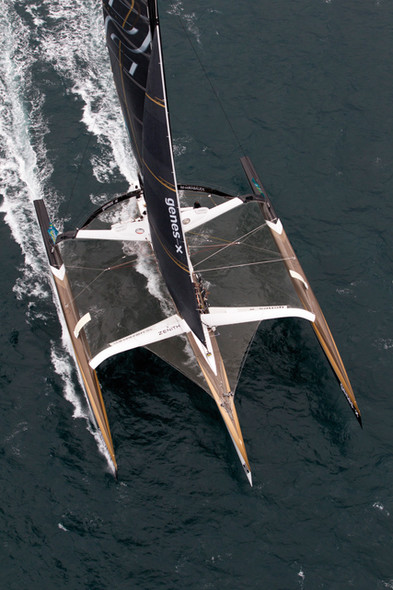 What Loïck Peyron had to say:
"The last day was difficult, and since this morning off La Désirade (5 miles east of Guadeloupe), I've had to do a lot of sail handling. I'm going to sleep well tonight. This is the seventh time I've done this race! It's great! It is an exceptional situation to be helming this magnificent boat in Armel's place. Everything's been done with a fantastic team, and with Armel's help. This victory, it's down to the team at Banque Populaire. I never imagined I'd be sailing a boat like this again and winning the Route du Rhum. A race like this is never easy, and that's what makes it fun. It's very stressful as well. Keeping up these high speeds in breaking seas is complicated… I was forever frightening myself. That's the name of the game with these multihulls! You have to be constantly managing the boat. One night I fell asleep at the helm and everything went badly wrong. This victory has been great, perhaps the best. The record is incidental. That's the icing on the cake."
Check out Loïck Peyron's arrival on video at multihulls-world.com
For the full results, go to:
www.routedurhum.com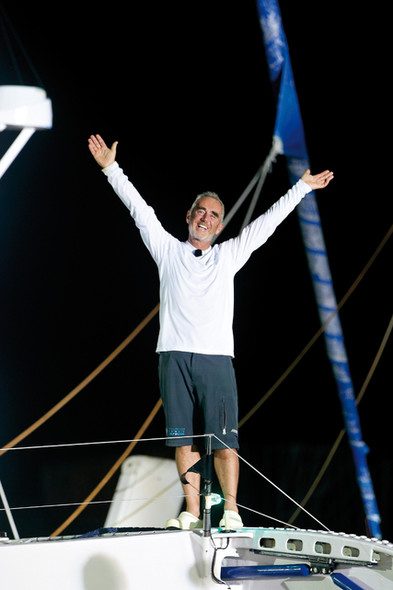 What readers think
Post a comment