Power catamaran
Virtual multipower show - 40 to 50 feet
BREAKING NEWS - F43 POWER OPEN - A day-boat of dreams...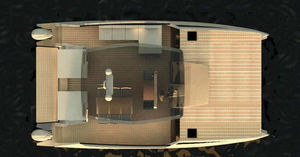 PROJECT - Not much is yet known about this project by the Italian manufacturer Delta Catamarans - their website is still showing an enigmatic «Coming Soon»... But the first images have started to circulate: the F43 Power displays a flush deck layout and a modest bimini to protect the central area - and thus the helm station. The forward area, which is significantly raised up, looks likely to be fitted out. A radical, uncluttered look that perfectly matches the engine choice of outboard motors.
Builder: Delta Catamarans
Length: 42'8" (13 m)
Beam: 23'5" (7.13 m)
Engines: 75 to 250 HP
Fuel: 158 US gal (600 l)
---
BREAKING NEWS - SOEL SENSES 48 OPEN - For happy weekends on the water...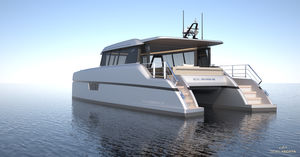 Since 2011, Soel Yachts have been designing and building electric catamarans for professional use. They've made a change of course with their new Soel Senses 48, intended for a clientele of private owners. This boat's highperformance electric propulsion offers flattering cruising and maximum speeds - 10 and 18 knots respectively - while ensuring a (maximum) range of 56 miles. The nacelle incorporates the helm station, and it opens completely to the cockpit. Two lateral doors facilitate circulation to the forward sunbathing area, and the electric passerelle integrated into the deck. Each hull is equipped with a double cabin and a bathroom.
Builder: Soel Yachts
Length: 47'7" (14.5 m)
Beam: 16'9" (5.1 m)
Draft: 28" (0.7 m)
Motors: 2 x 40 or 100 kW
Solar panels: 2.7 kWp
Batteries: 71 or 142 kWh
Water: 105 US gal (400 l)
---
GEMINI FREESTYLE 399 POWER - Perfect for day sailing! !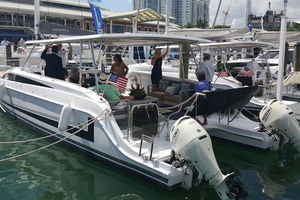 True to the philosophy of all their models, Gemini have kept the beam of their powercat low - less dockspace required and the possibility of using most inland waterways. The 399 Power is a clever evolution of the Freestyle 37: with its center console, this new Freestyle frees up an astonishing deck space. The hulls have evolved to facilitate planing, and the keels are reduced to limit draft. Two modest Suzuki DF90A outboards allow a cruising speed of 15 knots and 22.5 knots at full throttle.
Builder: Gemini Catamarans
Length: 41'2" (12.55 m)
Beam: 14' (4.27 m)
Draft: 18" (0.46 m)
Displacement: 10,000 lbs (4.54 t)
Motorization: 2 x 90 HP outboards
Fuel: 20 or 30 US gal (76 or 114 l)
Price: tba
www.geminicatamarans.com
---
NEW ! BALI CATSPACE MY - Integral deck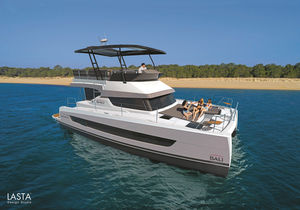 This new model is pretty close in size to her bigger sister, the 4.3 MY. But look a little deeper and you'll see this powercat has less volume – 758 sq ft (70.4 m²) of usable space as opposed to 894 sq ft (83.1 m²) for the 4.3 – and is noticeably cheaper. The platform is based on the sailing version with an imposing - but nevertheless harmonious - flybridge, accessible from both sides. The philosophy of this Catspace MY is to further optimize the Bali concept - open volumes, ease of use, comfort - by exploiting 100% of the ...
Subscribe
Subscribe to Multihulls World and get exclusive benefits.
Subscribe
What readers think
Post a comment