Power catamaran
Virtual multipower show - 50 to 60 feet
EUPHORIE 5 - Ready for the big off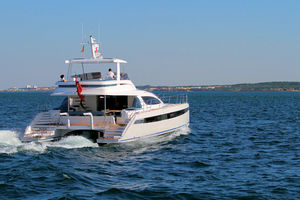 The challenge for architect Marc Lombard was to propose a power version of the very successful Série 5: a gamble that paid off, as the elegant Euphorie 5 has irreproachable seakeeping qualities and a luxury level of comfort. With the exception of a few details, particularly in the cockpit, it naturally follows the same layout plan - the gigantic owner's cabin still occupies the full width of the central rostrum. As usual in the Privilège world, customization is possible and high-end quality is present in every detail. A real invitation to head off further afield!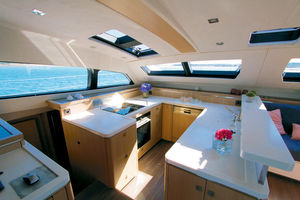 Builder: Privilège Marine
Length: 50' (15.24 m)
Beam: 26'2" (7.98 m)
Light displacement: 44,100 lbs (20 t) 
Draft: 3'7" (1.10 m)
No. of cabins: 3 / 4
Range: 883 nm
Cruising speed: 9 knots
Top speed: 20 knots
Diesel: 288 US gal (1,090 l)
Engines: 2 x 220 / 320 HP
Price: € 1,090,000 ex-tax
---
ILIAD 50 - Mission : blue water cruising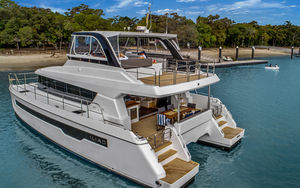 The Iliad range is built in China and distributed in Australia. This 50-foot boat, designed for ocean crossing, is complemented by three other models: the Indigo 53, the Iliad 60 and the Iliad 70. The Iliad's program is much more adventurous than that of most of its competitors: the possibility of covering 2,500 nautical miles without refueling and being able to take the ground, on a beach or slipway proves it from the outset... However, comfort has not been neglected, quite the contrary: the Iliad 50 offers three levels of living space and a particularly neat finish.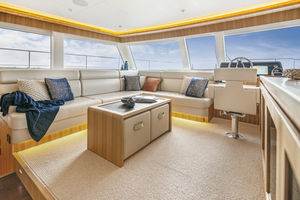 Builder: Xinlong Yachts 
Architect: Riccardo Bulgarelli
Length: 50'11" (15.51 m) 
Beam: 24'1" (7.35 m) 
Draft: 4'1" (1.25 m)
Displacement (light): 52,900 lbs (24,000 kg) 
Standard engines: 2 x 370 HP
Fuel capacity: 713 US gal (2,700 liters)
Water: 185 US gal (700 liters)
Maximum range: 2,500 miles
Price: AU$ 2,500,000
www.xinlongyachts.com
---
PC52 - Semi-custom offshore boating

Horizon have been producing yachts in Taiwan since 1987 - so much so that their experience is plain to see everywhere on board the PC52. This model is the first of the range as it also includes the 60, the 65 and the 74. However, like her big sisters, the 52 is treated like a superyacht. Quality materials, robustness and rigidity are the key words for the construction. Each model is built in a small production run to reduce costs while preserving a great deal of freedom in terms of layout and equipment.
Builder: Horizon Power Catamarans
Length: 51'6" (15.71 m)
Beam: 22'2" (6.75 m)
Draft: 4'3" (1.29 m)
Displacement: 60,400 lbs (27.4 t)
Engines: 2 x 542 HP
Fuel: 800 US gal (3,028 l)
Water: 270 US gal (1,022 l)
Price: tba
www.horizonpowercatamarans.com
---
LEOPARD 53 PC - A winning design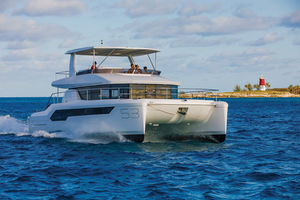 First presented at the 2020 Miami Boat Show, the 53 PC replaces the Leopard 51 PC launched back in 2013. This boat features real motoryacht lines, with a solid foredeck, pronounced topsides and an impressively-sized ...
Subscribe
Subscribe to Multihulls World and get exclusive benefits.
Subscribe
What readers think
Post a comment