Readers Spots
Readers' spot
Cruiser's photo albums
While leafing through my photo albums, I found 2 pictures which may interest Multihulls World readers in the famous 'Reader's Spots' column, which I find very interesting and sometimes even educational.

1 – You don't have to go to the other side of the world to admire a beautiful sunset, for example, this explosion of sunlight while entering Port Leucate this summer. (boat: Privilège 465 'Lotus').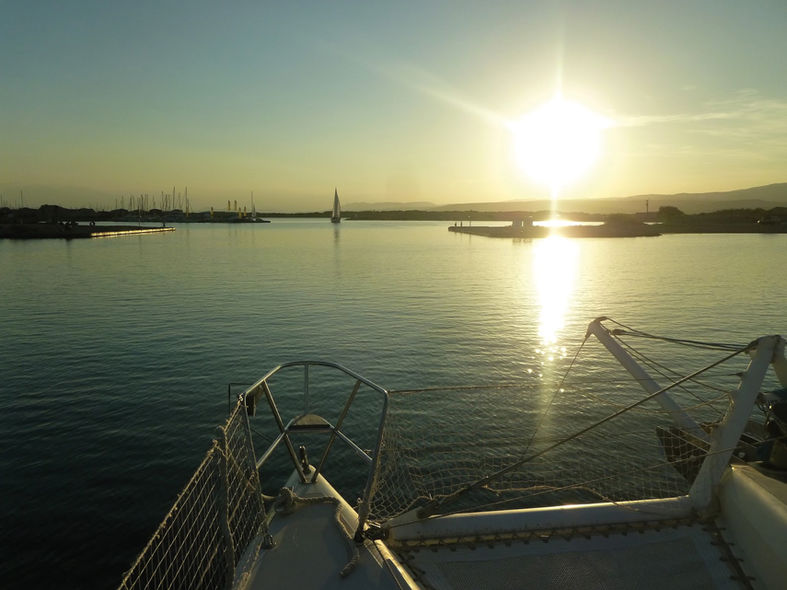 2 – A more distant memory aboard Diamantina, a Solaris 42, in an 'interesting' situation: "will it or won't it?" The remarkable and spectacular site is the famous Pont d'En Gil on Minorca.
Did it pass? Up to you to guess!

Jean-François, aboard the Privilège 465 'Lotus'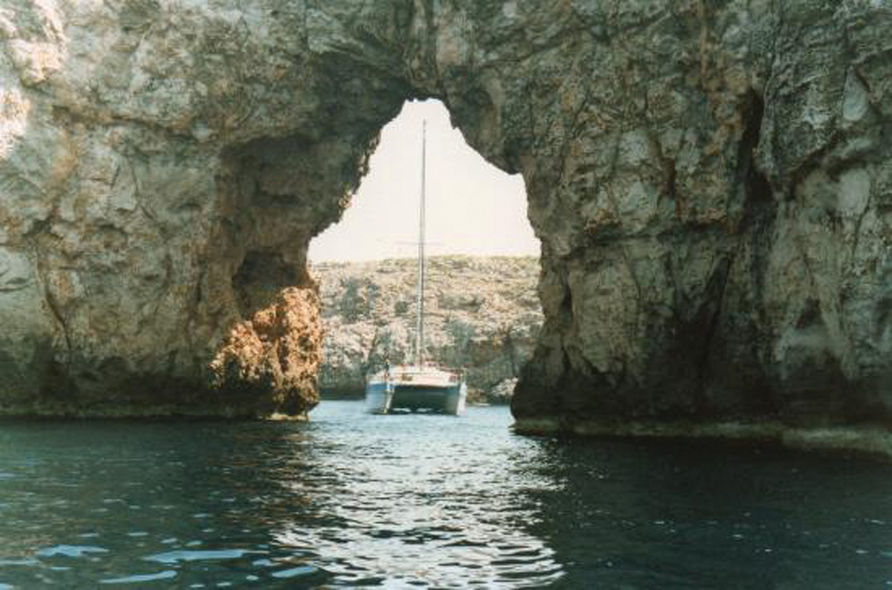 Life's really good in a cat…
Pascal is following a training course to become an independent skipper, and will certainly end up by leaving to enjoy life on his own boat.
In the meantime, he has just sent us this nice photo of the arrival in the Sormiou Calanque, on France's Mediterranean coast, after a night sail during his level 3 course with ACM (and Robin Mouret). And as often, the Multihulls World polo-shirt 'Life's good in a cat' serves as a standard...

Pascal, being trained by ACM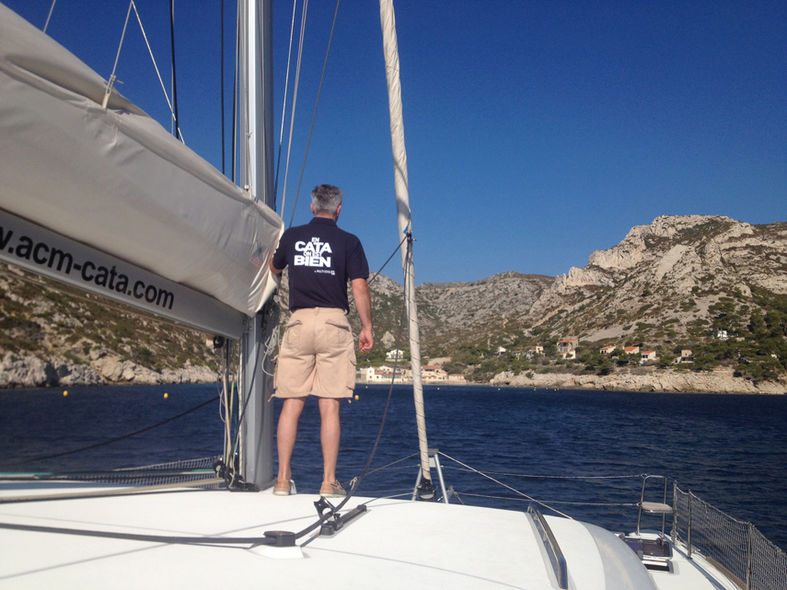 A few pictures of Caribbean anchorages
Eric has sent in a few lovely photos from his last sailing trip to the Caribbean. Anegada, as all BVI fans are well aware, is a small island to the northeast of Tortola, and he was the only one in the anchorage! And also Dog Island, to the north of Anguilla. Here too, you often have the anchorage to yourself!
Magical…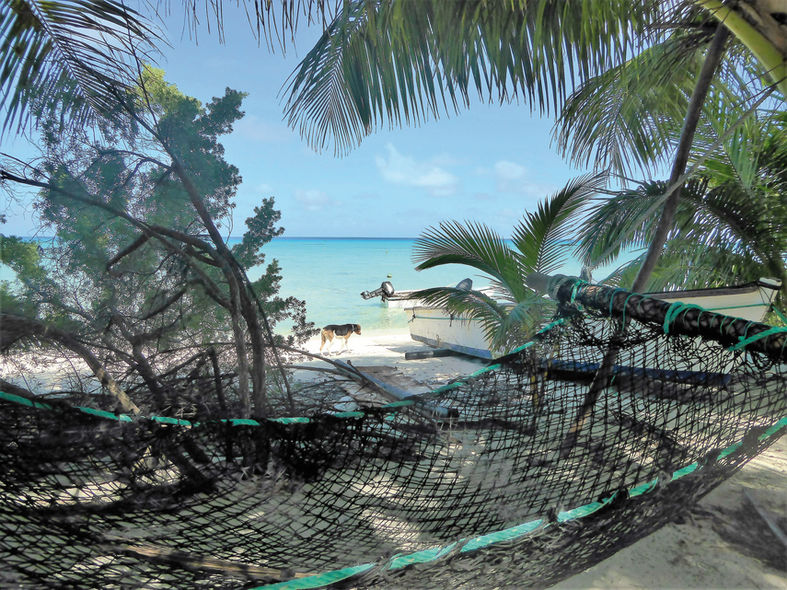 Mopélia, a perfect anchorage!
I wanted to send you a few photos of a perfect anchorage: Mopelia.
This is an atoll lost in the ocean off French Polynesia, which left us with wonderful memories.
Although there were cohabitation problems in the past, today everyone lives in harmony, and the atoll is slowly being repopulated.
The people here have their hearts set on welcoming boats with the legendary Polynesian kindness. It's not always easy to reach this atoll, but it is even harder to leave it, as the beauty of the place, the inhabitants' kindness, generosity and hospitality tends to make us feel good!
I have written a post on my blog about Maupihaa (Maupélia's Polynesian name) if you would like more details: http://levoyagedylang.com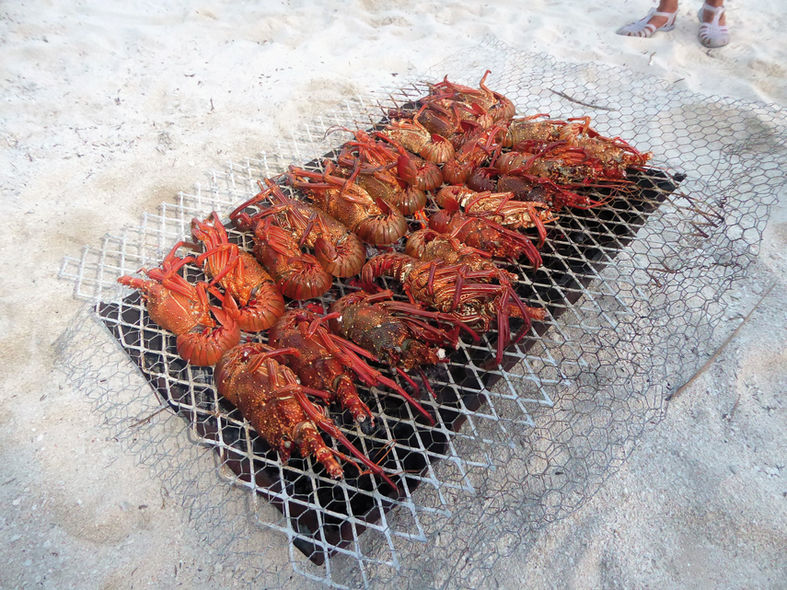 Let's share
If you too would like to share your most beautiful anchorages or memories with all the Multihulls World readers, ...
Subscribe
Subscribe to Multihulls World and get exclusive benefits.
Subscribe
What readers think
Post a comment