Lagoon 50 - Unveiled in 2017, the Lagoon 50, along with the 40, 42 and 46 represent the latest generation models designed by the world leader in cruising catamarans. When she was first launched, she fitted into the range between the best-selling Lagoon 450 and the 52. Her ambition was to remain accessible to a family crew and offer maximum comfort.
Excess 15 - The Excess range, launched by the Bénéteau Group just over a year ago, stands out from the Lagoon range by its improved performance and attention to the pleasure of sailing. The Excess 15 shares the same chassis as the Lagoon 50, and this allows us to make relevant comparisons between the two models.
LAGOON 50
50 feet - or almost - and nearly 8 tons of payload: the characteristics of the Lagoon 50 make it an ideal craft for blue water cruising with all the comforts. But is such a unit of more than 20 tons lightship weight still manageable by a family? This is indeed the objective set by the builder. While larger models are most often entrusted, in practice, to a professional skipper, the Lagoon 50 is well designed to be manageable for a family crew.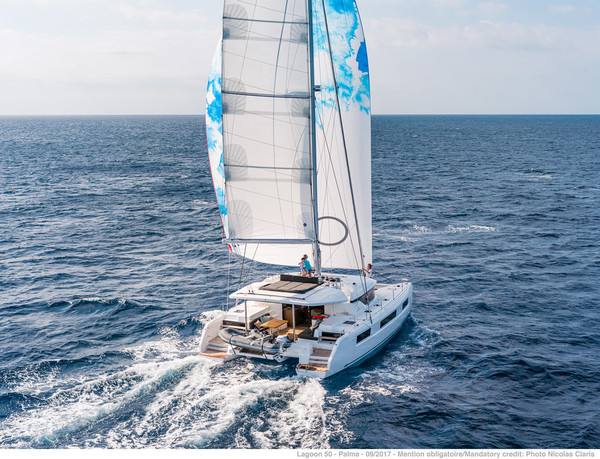 Test location: El Arenal, Majorca - Spain
Conditions: Southeast 5 to 10 knots, Sea state: slight
LATEST GENERATION LAGOON
Malgré un franc-bord et des surfaces Despite having significant freeboard and glazed surfaces, the overall style of the boat remains fluid. Longitudinal ribs, hull portlights integrated into reveals, chines, colored stripes between the coachroof windows and the bimini, the height of the plunging bows... so many small details that refine a voluminous catamaran. This design research is a direct result of the work carried out on the Lagoon 42, and it was applied with the same success on the 40 and the 50, a year later, then on the 46. If the Lagoon 39 and the 52 began the trend of the aft-set mast, back in 20...
To read in full,
Buy the boat test
Boat Test price$5.00Inc. tax
Purchase
What readers think
Post a comment
---